Review
Album Review: Spruddy - One
01/28/2016
by Gardy Stein
From St. Pauli with love!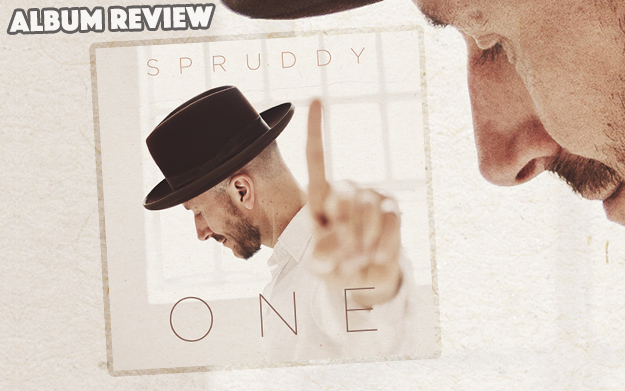 This album in a nutshell? Remember your favourite ever festival experience, think of reasoning with your best friends around a camp fire, visualize being wrapped up in warm clothes on a walk through fresh fallen snow, imagine a cool drink on a hot summer's day… coziness, that's what it feels like. But I'm rushing ahead…

Florian Kron aka Spruddy is a German artist that might not be known internationally as yet. With the release of his debut album One, this is going to change, though. The wait was long: after 20 years of doing music, countless stage shows and occasional single releases, it took the continuous encouragement of friends and fellow musicians to make Spruddy decide to get started on an album. Living in Hamburg, it was natural to connect with the likes of Jr. Blender, Silly Walks, Stefan Flad (Red Kitchen, Mastering) and Johannes Hirt aka Jo von H. The latter, a former member of their mutual band Court Jester's Crew, not only offered his professional studio, equipment and production skills, but also contributed overdubs, flute and saxophone. All riddims were provided by Jr. Blender, a name that in itself is a guarantor of high quality music. In combination with Spruddy's intense voice and intelligent lyrics, it's destined to go through the roof!

A first taste of the goodness awaiting us was given with the single release Thunderstorm last December (which is available as a limited 7'' by now as well). Featuring the wonderful Saralène, their combined vocals in this very emotional love song climb heights that make Robbie and Nicole's Somethin' Stupid look obsolete – and that's just setting the standard for the remaining seven tracks. In a variety of styles that bring to the fore the singer's adaptability, Spruddy easily switches between pensive severity as in So Sorry, touching love stories (Another Night), conscious upliftment in Who Can Stop and jubilant exaltation (Family Affair, almost a Hamburg dubplate).

The positive outlook prevails: Forward Ever, on a fabulous re-lick of the Studio-1-Classic Stars Riddim, is encouragement cast in music. And in Give Thanks, another soulful feature that is inviting Hamburg's Ras Seven to the mic, the artist expresses his gratitude of having found Rasta philosophy. Finally, Never Regret is a song so achingly beautiful it left me in tears – of joy! The similarity to Beres Hammond's Rockaway is no coincidence; Spruddy cites him as one of his biggest influences. From St. Pauli with love!

With One, Spruddy puts Reggae made in Germany on the international agenda once more and proves that quality music needs neither eccentric affectation nor aggressive promotion to seep through. Next to all of the above, this album is a delicious appetizer for more to come – let's hope that Two and Three will soon follow!


---
Release details
Spruddy - One
DIGITAL RELEASE [Ockolicious Records]
Release date: 01/29/2016
Tracks
01. Who Can't Stop
02. Another Night
03. Thunderstorm feat. Saralène
04. So Sorry
05. Never Regret
06. Forward Ever
07. Give Thanks feat. Ras Seven
08. Family Affair