Review
Album Review: Perfect Giddimani - Reggae Farm Work
03/04/2016
The album uppa Irie Ites, it just bun.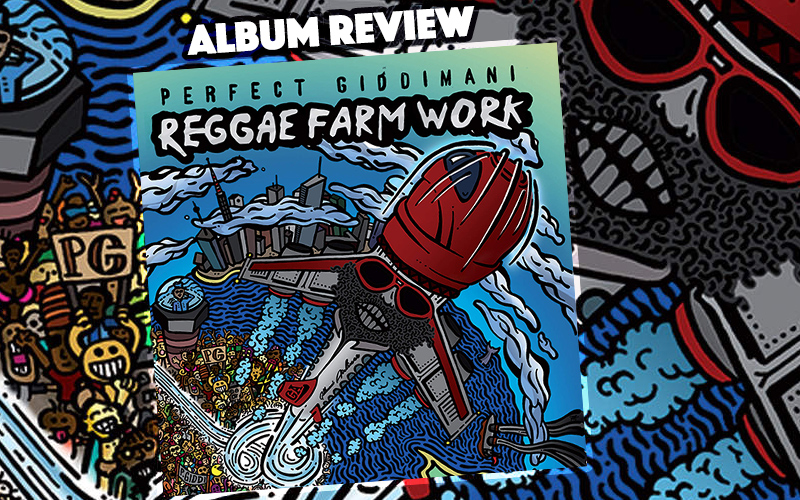 The french label Irie Ites Records and the numerous contributors to Reggae Farm Work did an excellent job supplying Greg Rose aka Perfect Giddimani with a very well produced album. High-carat musicians, like, among others, the Roots Radics, Dean Fraser or Mafia & Fluxy and a well balanced and clear mix make it a musically pleasing experience. Eventhough, due to the many creative minds behind the 14 songs and the long production process, the album is diverse in style and attitude, there is a certain kind of unity in sound that makes it appear in homogeneous oneness.

Perfect, too, is versatile in register and shows a wide spectrum of approaches to different topics. In a kind and playful way, the album's first track Nigerian Girl unfolds the singer's Lovers Rock face, his voice well merged with Dean Fraser's passionate sax harmonies. Probably most related to this positive and smooth approach is Showbiz, where on an equally dubby, yet much more up-tempo riddim, Perfect complains about the often absent pay for artistes in the biz and utters this suffering with an almost ironic positivity to his voice. A positive, forward looking Perfect Giddimani makes a mission statement with the catchy Never Will Forget Jah. River Jordan, is another conscious tune on the album, a royal Rastafari tune on a heavy riddim, with mighty back vocals and trombones. Poorman and Back to Black, also draw their strength from delicate horn lines, and the riddim's groove and musicality.

In terms of lyrical creativity, however, Perfect shines brighter in On My Corner and Straight to my Heart, two Ganja songs, the former in authentic hip-hop- and the latter in a rocksteady style, both with catchy choruses, strong penetrating verses and, by the way, both with quite entertaining Videos. In fact, the Video for Straight to my Heart had its premiere on Reggaeville as early as 2014. On S.T.F.A. (Shut the F*** Up) Perfect appears provocative, with strong lyrics and a good load of aggressiveness. This tendency to provoke is also lyrically present in Reason, a fun tune, yet with no personal highlights, just like Marcus Fi Us. A.S.A.P. feat. Spectacular is more fun to listen, with the two breddrin making a nice collaboration. The most extreme stylistic excursion, without a doubt, is Nobody Knows, a Rockstone (by Stephen Marley feat. Capleton and Sizzla) inspired Dubstep, which, when viewed as a semi-creative bonus track, still works well with the rest of the album. Lastly, Wonderful People, a one drop anthem on Mafia & Fluxy's Partytime Riddim, with its super catchy chorus, would easily qualify for The Biggest Reggae One Drop Anthems 2016.

All in all a very well done Reggae album with beautiful sound aesthetics, high in credibility and musicality, yet with some shortcomings in terms of song writing.


---
Release details
Perfect Giddimani - Reggae Farm Work
DIGITAL RELEASE / CD [Irie Ites Records]
Release date: 03/04/2016
Tracks
01. Nigerian Girl
02. River Jordan
03. Never Forget Jah
04. Wonderful People
05. Showbiz
06. S.T.F.U
07. On My Corner
08. Poorman
09. Back To Black
10. Reason
11. A.S.A.P feat. Spectacular
12. Marcus Fi Us
13. Straight To My Heart
14. Nobody Knows
Featured artists
Spectacular