Review
Album Review: Soom T - The Arch
09/11/2020
by Gardy Stein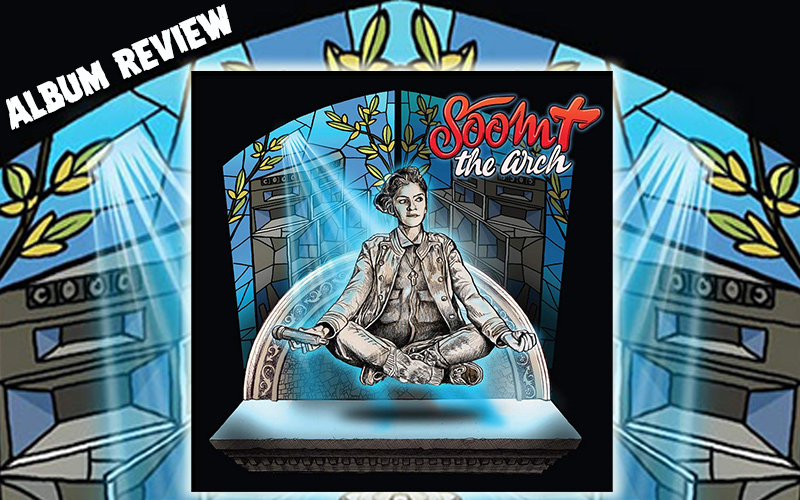 "Listen up, jump, don't run from the bass thump, I surf crowd singing bring down Trump, he's a little too orange to be a president, if he was a footie player his team would get dumped." (Soom T - Original That's Me)
The Raggamuffin Princess strikes again! A mere two years after she dropped the 13-track-strong Born Again, Soom T delivers another Longplayer containing 12 new composition. This time, it's title The Arch , along with the celestial cover-artwork by Pupa Tattoo, suggest angelic voices and spiritual hymns, but despite an explicitly stated "deep interest in the Gospel" (press release), the sound is as rough and rebellious as we have become accustomed to from the powerful singer.
Responsible for the sound are DJ Kunta, a French producer and activist now based in Myanmar, and Highly Seen, a musicians' collective consisting of David Verd, JD Peyramond, Eddy Verd & Erwan Dury. They settled on a fast-paced digital Reggae sound that leans into Dancehall in tracks like Salute To The Boss, Love The People and Son Finger - fans of Manu Digital will enjoy the ride!
Notable exceptions to this pattern are the rootical, optimistic World Be Better, a pensive, dubby What Do I Do and Master Of Your House. The latter is held in a key that gives ample opportunity for the artist's voice to glow, as Soom T sings much more relaxed and with a pleasant vibrato not perceptible in her normal high-pitched raggamuffin style.
Lyrically, Soom T touches on diverse topics (once you manage to decipher her unique accent, that is). Original That's Me is a bold assessment of her talent and convictions, including the Trump-critical line cited above. High five for that! While Sold Out To The Devil speaks of focusing on your mission in life, I Saw A Sign takes us to a mental observatory, watching the night sky.
In Likkle England, Soom T sums up both her own experience of growing up as an Indian migrant in Scotland and how British Church and State have generally forcefully dominated other cultures. Likewise, Vampire Of The Empire is a heavy criticism of existing power structures, threatening a revolution if people are continuously fed lies and pollution. It's time to wake up!
Finally, then, a little bit Gospel does shine through in the spherical Far From Home, in which she calls on Jehovah. Sitting on a stomping Steppas beat, the track is an energetic closing to The Arch, an album that showcases the equally energetic singer Soom T. Without any features, the release is a bit of a challenge to listen from A to Z all at once, so pick out your favourites and put them on replay!
---
Release details
Soom T - The Arch
DIGITAL RELEASE / CD / VINYL [X-Ray Production]
Release date: 09/11/2020
Tracks
01. Original That's Me
02. Salute to the Boss
03. Sold out to the Devil
04. I Saw a Sign
05. Love the People
06. Likkle England
07. What Do I Do
08. Master of Your House
09. Son Finger
10. Vampire of the Empire
11. World Be Better
12. Far from Home