Review
Album Review: Naâman - Rays Of Resistance
10/30/2015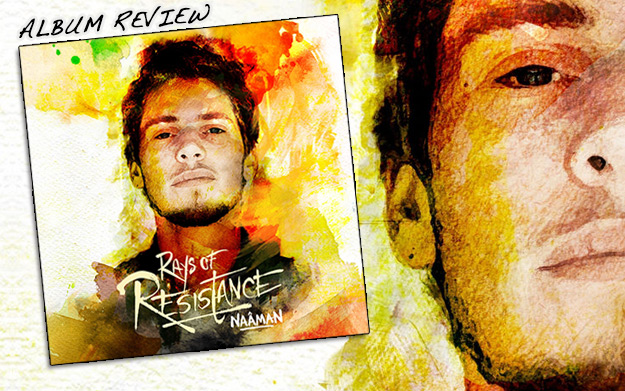 Five years ago, he dropped out of college to pursue a professional career in music. His first album Deep Rockers Back Ah Yard (2013), recorded in Kingston with Dalton Browne, Sam Clayton, Sly Dunbar, and Stephen Stewart under the supervision of Fatbabs did much to underline his status as the shooting star of the latest generation of French reggae artists. That same year, he won Les Victoires du Reggae in the category of Meilleur Album French Touch. Two years later, even the French mainstream media, known to ignore the rich French reggae scene altogether, hail him as the future of French Chanson.

Naâman presents his second album now, Rays Of Resistance, produced again by Fatbabs and recorded mainly in Paris. 15 tracks long, Rays Of Resistance is hip hop in structure, soul in feel, jazz in unconventionality, reggae in melody, and shameless in groove. Despite its positive title and some real uppers, melancholy is the overriding feeling that lingers once the needle is up again. The songwriting is as unique and tricked-out as the riddims. Unlike most other French artists, Naâman sings in English and Patois, and is thus easily accessible for the international market.

The title track, shortened to Resistance, is a general call to put up resistance against the existing conditions. Turn Me Loose asks for relief and heavenly guidance in this crazy world, while Karma celebrates life despite all its hardships. The energetic Outta Road has Naâman revel in tour life.

Those Rays is a quiet lament on the state the world is in, with a shimmer of hope. It features French rapper Nemir. Reggae fans will feel more at home with International Love, a melancholic lovers' tune with a decent brass section. Live Up is joie de vivre played in modern roots style. Big And Bad denounces the false pretenders.

The atrabilious My Days features UK singer Soom T. Pop Dem Bubble strikes a different chord with its progressively bubbling piano and Naâman's determination to rule his own destiny. Garden Of Destiny features the Jamaican singjay Massy the Creator and rapper Triple. Hold On Steady starts with a quiet acoustic interlude before it turns into sweet, classical roots reggae with a decidedly old school feel.

The laid-back lovers' track Honey employs a similar style. Hopeful World is an encouraging musical sun ray. Let Me Grow is not a call to legalize gardening ganja, but a strong call to work on us and move forward in life, "because we are the future."

The melancholy that lingers afterwards is not desperation or sadness, it is a warming feeling of inner peace, of being one with the world despite all the atrocities we're witnessing day to day. Rays Of Resistance couldn't have come at a better time. It is easily accessible to various musical tastes, and a great piece of music that grows on you. Resist the system, not this album.


---
Release details
Naâman - Rays Of Resistance
DIGITAL RELEASE [Soulbeats Records, Big Scoop Records]
Release date: 10/30/2015
Tracks
01. Resistance
02. Turn Me Loose
03. Karma
04. Outta Road
05. Those Rays feat. Nemir
06. International Love
07. Live Up
08. Big and Bad
09. My Days feat. Soom T
10. Pop Dem Bubble
11. Garden of Destiny feat. Massy The Creator, Triple
12. Hold on Steady
13. Honey
14. Hopeful World
15. Let Me Grow
Featured artists
Soom T