Review
Album Review: Solo Banton - Old Raggamuffin
10/25/2019
by Gardy Stein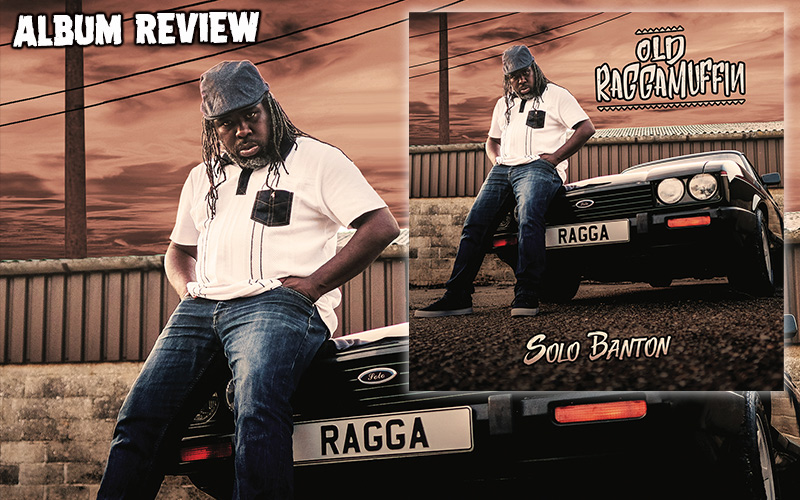 No lie, it's a challenging task to listen to a full album of Solo Banton for review. 12 tracks in a row, despite their individual brilliance, are a vocally monotone ride, as Solo's trademark voice isn't that of a virtuoso singer, but of an unequivocal, downright MC. In other words, Mr. Banton is an Old Raggamuffin! The title of his new release thus tells you exactly what you will get.
Building on the former works Walk Like Rasta (2010) and Higher Levels (2012), the current album is a continuation of the fruitful collaboration between the UK artist and producer Kris Kemist (Reality Shock), highlighting authentic Roots Reggae music, heavy bass and conscious lyrics.
The first and title track sets the pace: a driving old-school Dancehall riddim, interspersed with little sonic adventures verging on Dub at times, serves as base for Solo Banton's declaration of love to the Raggamuffin stylee. While the next track Take Aim is one of the less spectacular ones of the release, it demonstrates neatly the vital importance of background singer Amelia Harmony, as her harmonies enhance almost every song.
Sleepwalking is not only a further example of Amelia's fine vocal contribution, but also of Solo's lyrical prowess. His words are a clever observation of things that go wrong in personal life, parenting and society, but instead of just pointing fingers, he also offers advice as to how an improvement is possible. Wake up, wake up!
Equally confrontative, Awkward and First World Problem invite listeners to rethink their everyday behaviour towards and reaction to their surroundings and fellow humans - an important task, although this look in the mirror might make you feel uncomfortable. But, be honest, aren't there more pressing issues in our world than owning the latest mobile phone or waiting a few minutes for a table at a restaurant? Stop your whinging and your whining!
As for the feautres, they add a whole lot of star-quality to the release. Compatriot Macka B joins the old Raggamuffin in an edutaining delivery of Edutainment, which is out as single since June. With some big bad bass, Transitions creates an interesting contrast to Sabrina Bell's crystal clear voice. In a short preview on his Facebook-Channel, Banton describes the very personal song thus: "We all have been through various life changing moments that feel like your world has been ripped apart; whether it's losing loved ones or a relationship has come to an end, unfortunately these Transitions are a part of the journey."
Two veterans are representing for Jamaican and British Reggae: Mikey General brings a welcome singer's edge to Wickedness Trending, as does Earl Sixteen to Universal Language. The Nyabinghi-based beat turns almost HipHop in its course, and the way Solo Banton rides it makes clear that this genre is part of his musical socialisation, too.
With Smile Every Day and Rolling Stone, the album finds a worthy close. A big part of its appeal lies in the instrumental delivery of the musicians involved. Apart from producer Kris Kemist himself, who laid down and fleshed out most of the tracks, we hear the hand-crafted contributions of Christian Cowlin, Cedric Munsch, Adam Webb, Jake Jacas, Don Chandler, Ross Erlam and Patrick Williamson.
Old Raggamuffin is a must-have for lovers of the genre, an authentic example of what two brilliant minds can create when coming together in the right time and space. "Man a old Raggamuffin, we done set di trend, we first buss di style!"
---
Release details
Solo Banton - Old Raggamuffin
DIGITAL RELEASE [Reality Shock]
Release date: 10/11/2019
Tracks
01. Old Raggamuffin
02. Take Aim
03. Sleep Walking
04. Edutainment feat. Macka B
05. Drag Foot
06. Transitions & Changes feat. Sabrina Bell
07. Wickedness Trending feat. Mikey General
08. First World Problem
09. Universal Language feat. Earl Sixteen
10. Akward
11. Smile Every Day
12. Rolling Stone
Featured artists
Macka B
/
Mikey General
/
Earl Sixteen