Review
Album Review: Sly & Robbie - Underwater Dub
04/30/2014
by Angus Taylor
Sly and Robbie's best modern dub album in years.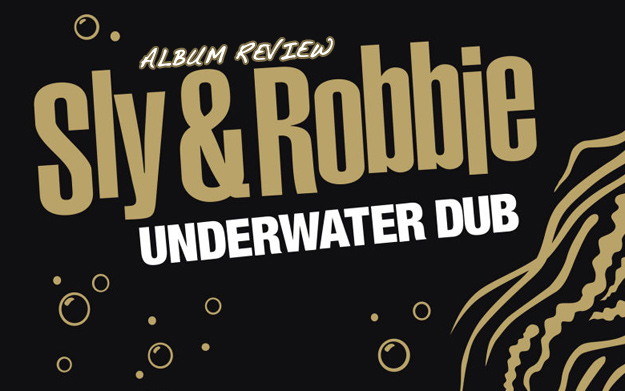 In 2012 Sly and Robbie delivered the well-received Blackwood Dub, cut at the famed Harry J's, produced by their friend Alberto Blackwood and issued via Germany's Groove Attack Records. Two years on they have created the follow-up, using the same studio and many of the same legendary musicians, with a subaquatic concept that invokes the underwater sound of Lee Perry in a far more shiny and less low-fi way. Unsurprisingly, the 10 built-from-scratch "dubs" are heavily filtered to suggest submergence. Where Blackwood Dub made use of a little reverb and chorus, here phaser, flanger and other metallic devices coat, bend and refract these drum-and-bass led reggae grooves into distorted deep sea monsters that threaten to explode when brought to the surface.

Like a flash of phosphorescence or the lure of an anglerfish, Sly's snare drum leads and misleads in equal measure, lulling you into a sense of repetitive security before suddenly falling in the strangest places. Robbie's bass is a moody and minimal anchor, although occasionally it gets unexpectedly slinky on the funky French Woman. Another departure is Spray Belly: a fanfare commenced stepper in the style of Jah Shaka and Dread and Fred.

The additional musicians are used sparingly and effectively. Mikey Chung and Dougie Bryan's guitars rarely stab, instead running muted eerily up and down the fretboard. Robbie Lyn and Lenky Marsden's keyboards emit bleeps and tones which sound in the deep like submarine sonar. As the album progresses the mood shifts from brooding minor key to uplifting major: as though we are acclimatising to a once mysterious and now familiar underwater realm. Generally in dub subtle and sparse is good. Yet if anything this is superior to Blackwood Dub in getting crazy and unrestrained with the effects. A lot of post-digital reggae recorded by live instruments is severely-processed - as if the producers are ashamed of naked instrumentation. It's nice to hear such layered cloaking serving a conceptual purpose. If you own an aquarium this is dub to watch fish to (but don't play it too loud!). A journey to the deepest darkest recesses of reggae's internal workings that will require readjustment to the real world when it ends, Underwater Dub is Sly and Robbie's best modern dub album in years.
---
Release details
Sly & Robbie - Underwater Dub
CD / VINYL / DIGITAL RELEASE [Groove Attack]
Release date: 04/25/2014
Tracks
01. Dictionary
02. Forward March
03. French Woman
04. Spray Belly
05. Great Wall
06. Stormy
07. War Zone
08. Daphne
09. Melissa
10. Thumb Drive