Review
Album Review: Sly & Robbie Meet Dubmatix - Overdubbed
01/20/2018
by Gardy Stein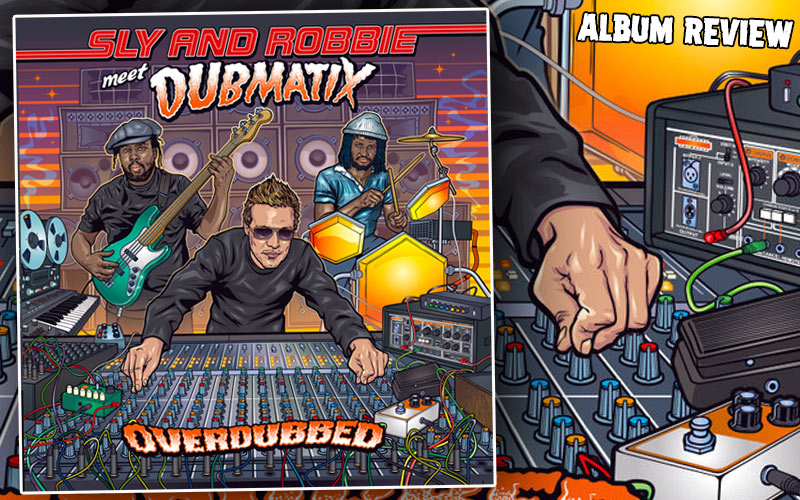 "Are you ready?"
This questioned posed in the opening track Dictionary of the newest release of Hamburg's Dub Label Echo Beach is to be taken serious and could be completed with "... for a new listening experience?". Overdubbed is one of countless albums based on the genius of "The Riddim Twins" Sly Dunbar and Robbie Shakespeare, but unlike many previous releases, Canadian producer Jesse King aka Dubmatix took utmost care to do the artistic output of Reggae music's backbone as well as his own high quality demands justice.
The concept of the album is as simple as it is impressive: Dubmatix carefully mined for existing material of Sly & Robbie, stripped it down to its bass-&-drum core and created a whole new universe of sound around it. Resulting in a respectful dialogue between these artists, the 13 tracks included sway between roots-oriented tunes, steppas and fast-paced dubs, opening a panoramic view on what feels like Himalayan mountain tops in Burro Saturday, moonlit Vietnamese meadows in Riding East and vast American deserts in its Western Remix, including gunshots, an eagle and galloping horses. This release is far more than just another Dub Album!
"The only thing original throughout the entire album are drums and bass. In some songs I've layered the drums with other drums to create something different. Everything else is hand played, since my idea was to sound as natural as possible!" says Dubmatix, who invited amicable artists and even his own father, pianist, composer and producer Bill King, to become part of the production. The hand play mentioned turned some of the underlying pieces into small sonic miracles. Pato Irie, a Toronto-based percussionist, dresses the oddly named Dirty Flirty in an expressive Afro-Brazilian carnival outfit; other percussionists heard on the release are Pablo Paul and even the 2017 deceased Scully in Shabby Attack. The Heavyweights Brass Band consisting of Chris Butcher (trombone), John Pittman (trumpet) and Paul Metcalfe (saxophone) did a fantastic job enriching five of the tracks with some brass magic, while Illorn adds some cool-ass scratching and Aaron Kazmer plays a beautiful harmonica on Frenchman Code.
The latter is also one of the few tracks that have a vocal addition, here the versatile Torontonian Trèson. Jay Spaker garnished Communication Breakdown with an amazing falsetto, and artists like Screechy Dan, Prince Alla and the full instrumental force of the Megative band makes Smoothie the fullest-sounding track and an instant favourite.
While some of the originals from the Blackwood Dub album are hard to recognize in the versions created by multi-instrumentalist Dubmatix, the playful melodies and simple ease of Ruff House are hitting home at once. Get ready for this Overdubbed experience – the album is available as CD, Digital Download and a limited Vinyl edition. A wonderful way to start into the new year!
---
Release details
Sly & Robbie Meet Dubmatix - Overdubbed
DIGITAL RELEASE / CD / VINYL [Echo Beach]
Release date: 01/19/2018
Tracks
01. Dictionary
02. Smoothie feat. Prince Alla, Screechy Dan & Megative
03. Riding East
04. Great Wall
05. Communication Breakdown feat. Jay Speaker
06. Dirty Flirty
07. Great Escape
08. Shabby Attack
09. Frenchman Code
10. Burru Saturday
11. Ruff House
12. Riding East (Original Western Mix)
13. Communication Breakdown (Dub)
Featured artists
Prince Alla