Review
Album Review: Mykal Rose - Sidewalk Steppa
05/19/2016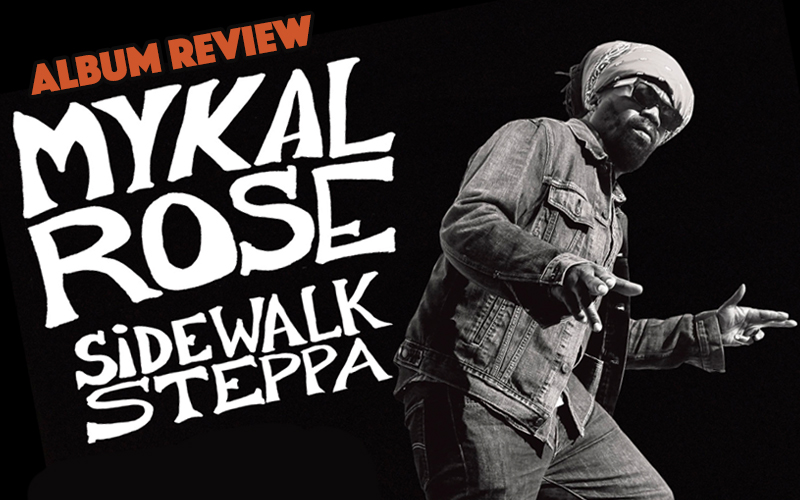 Mykal Rose, much like the morphing of his given name (from Michael), embodies the consistency of a polished professional while imbibing from an ever-changing fountain of creativity. On his latest, Sidewalk Steppa, the veteran singer is a master tailor, threading a variety of styles and tempos around his trademark vocal brilliance. Shifting with ease from rapid-fire toaster to soulful seducer to laid-way back jah-may-can, even as he enters his fifth decade of making music, Rose delivers a set comprised of both trademarks and trailblazers, often in the same track.
Reuniting with the legendary Sly and Robbie for a pair of songs, including the title track, the album lights up with the opener Sidewalk Steppa. It's deliberate and stabbing, with Rose's familiar nasal inflections rolling off the tongue on a greeting Japanese and funky. Yes, Japanese and funky.

Crown slows and darkens with a cautionary metaphor, into Bad Names, which exits on the octave slides of guitarist (producer and label chief) Siahvash Dowlatshahi against the winding horns of the Bay Area troupe Black Water Gold. Dowlatshahi's production is noteworthy, with his ability to maintain space between parts crucial to songs that could just as easily feel overcrowded. He utilizes the horns in stacks of sharp bursts as well as jazz-infused exotic twists, adding an outernational sensibility to every groove.

Dutty Babylon Road makes its appeal to the youth and reminds that Rose has always kept in close touch with the conscious as well as the conscience. Claiming repetition as his ally, the former Black Uhuru frontman turns a chorus hypnotic as it chides a spurned lover on the Black Uhuru update Sorry for the Man, and on the cycling You Never Know. Bass and drums anchor the minor-key pulses of piano and drops of guest Twilight Circus' Ryan Moore's sonic effects.

Like a desert dash in a Humvee on its way to Marrakesh, High Grade Train is a sparkling example of the album's use of both live percussion and drum programming for new flavor, driving a poly-riddim that shakes as it stomps and swirls, but still retains its center before somber horns wrestle it down. Chattabox warns of the perils of an informer, recalling Rose's knowledge of the Kingston hard life before he revisits the '70s with Sly and Robbie, and a stark piano riff, wah-wah guitar, and celestial choir of Erika Lawrence and Luqman Frank on Jungle Justice. The proper album closes on Shanty Shack, but isn't done as Rose includes a quartet of dub and instrumental versions, with the finale High Grade Train Instrumental providing a glimpse into the layered construction demonstrated throughout the 15 songs.

Mykal Rose unifies such eclectic neighborhoods as Afrobeat, Ethiopian funk, soul and jazz at the intersection of classic roots reggae. Above all the genre-weaving and threading, it's still his unmistakable voice that has survived and thrived. Sidewalk Steppa may exemplify assimilation of many into one, but that one is still a voice that stands alone.
---
Release details
Michael Rose - Sidewalk Steppa
DIGITAL RELEASE / VINYL [Foreign Key Records]
Release date: 05/21/2016
Tracks
01. Sidewalk Steppa
02. Crown
03. Bad Names
04. Dutty Babylon Road
05. Sorry for the Man
06. You Never Know
07. High Grade Train
08. Chattabox
09. Jungle Justice
10. Shanty Shack
11. Dub Steppa
12. Crowning Dub
13. You Never Know (Moog Version)
14. High Grade (Instrumental)
15. Shanty (Instrumental)
Featured artists
Sly & Robbie