Review: Ernest Ranglin, Sly & Robbie @ Respect Jamaica 50th
07/31/2012 by Angus Taylor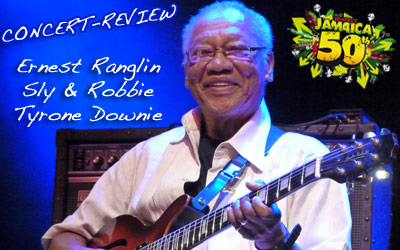 Respect Jamaica 50th @ Indigo2 - July 29th 2012
with Ernest Ranglin, Sly & Robbie and Tyrone Downie
★★ PHOTO GALLERY ★★
Of all the big lineups slated for the Respect Jamaica 50 series - only one was unmissable. Sure Jimmy Cliff's a legend on the comeback trail - but he played the Indigo2 in May. The Gaylads have reformed after 40 years but BB Seaton is based in London so they will probably play again. And yes, Damian and Stephen are kings of reggae today: but where would two of their biggest tunes be without Sly and Robbie? And where would their father be without Ernest Ranglin arranging his first hit?

Sly and Robbie playing with Ernest Ranglin is the one event that any London fan of Jamaican music should kick themselves for missing. Even if Monty Alexander, who appeared with the three at the original show at the Bluenote Tokyo that sparked the tour, couldn't make it due to illness (and was replaced by the Wailers' Tyrone Downie), witnessing Ernie touring with the Rhythm Twins for what the latter reckon is the first time since the 70s, feels extra special here in the UK.


After days of sunshine a little rain had fallen and a rainbow could be seen over O2 Arena dome when coming into Greenwich by boat. At the smaller indigO2 inside the complex, tables had been set up jazz club style in front of the stage - making it easier for those behind to get a good view of history. Collectors with buckets were on hand for the African Caribbean Leukaemia Trust (in the news recently as David Haye's chosen charity for Dereck Chisora to pay £20,000 having lost their boxing match on July 14th). A few hundred people had already gathered as DJ Rudy Ranks gave a two hour music lesson starting with ska and rocksteady travelling through roots all the way to the digital age.

"I'm not a talker but they say I got to talk" said Robbie Shakespeare (bass, wearing blue) taking the microphone as his compatriots, Ernest (guitar, in white), Tyrone (keyboards, yellow and green) and Sly (drums, wearing a hardhat, red) took their seats. "There are many types of reggae" he continued in surprisingly soft tones given his huge frame, "This a different type. A beautiful jazz type of reggae. Prepare to be operated on by doctor Tyrone Downie, doctor Sly Dunbar, OD, and doctor Ernest Ranglin, OD".

The procedure began with Drum Song which, Downie explained, was popularised by Jackie Mittoo, who inspired him to play the keys. As the organ swirled, Ernest turned his guitar into a percussion instrument, tapping the neck with two hands, making it sound like bongos and a cuica in quick succession then soloing in an unusually clean tone.

Robbie put down the bass and sang the Heptones' Fattie Fattie as the crowd laughed at the irony of a man of his stature singing its lyrics. But as the others played he kept disappearing off stage before confessing that there was "a minor problem" with his instrument. Bass issues, however, are all in a day's work for these men of medicinal music - and would never cause them to lose a patient. Shakespeare simply scatted the bassline to King Tubby Meets The Rockers with his lips - as Sly went berserk at his traps, rim shots echoing about. Robbie charged back on playing his Fender Jazz to huge cheers and the now complete group fell into a dissonant breakdown to celebrate.


Typically, it wasn't until five songs in - having stood toe to toe with Robbie during Satta Amassagana (with Shakespeare and Downie on harmonies) and duelling percussion sounds with Sly on Ball Of Fire - that Ernie decided to speak. The place erupted at the his genteel tones, as he dedicated the next tune to a friend from Montego Bay who had passed away. That tune was Surfin' which, just like the video footage for the Blue Note concerts, started with guitar and bass then slowly came to life - a cantankerous old man learning to walk while aging in reverse. Robbie, in his shaky but soothing voice swathed in reverb and delay, laid Ken Boothe's Artibella over the top. The title track to Ernest's 1996 Island album Below The Bassline, where many of these arrangements came from, turned into a medley - with Downie fitting in as if he had been on the tour all year. Robbie sang a slow and deliberate rendering of No No No - closer to KC White's cut than Dawn Penn's - strumming Dizzie Moore's trumpet part.

As the musicians took a break the host for the night - the foundation journalist and producer Mandingo - used the interlude to rightly remind the people of Ernest's role in the birth of Independence music with Easy Snappin' and Shufflin' Jug. At this point, Tyrone's keyboards swelled playing No Woman No Cry, and then Redemption Song where he sang lead with Sly's firework drums crackling behind.


Robbie, the unlikely frontman, ambled back on plucking his Taxi rhythm - before singing a humorous do over of Tracey Chapman's Baby Can I Hold You Tonight where he complained the others had left him on stage. After another amazing solo whilst keeping the Taxi running - he finished this remarkable, doubtful to be repeated London operation, by declaring "the surgery is over".

Post show Sly Dunbar told Reggaeville "It's great to be here man, trust me because London has been good to me. I first came here in 1974 with Toots, Dennis Brown, Al Brown and Cynthia Richards when we played at Hyde Park". Asked about his construction style headgear, he naturally replied "Well I build rhythms!" And of his comrades? "Before this tour we hadn't played together for quite a while but we see each other every day."