Interview with Rymo from Slightly Stoopid
08/30/2012 by Justine Amadori Ketola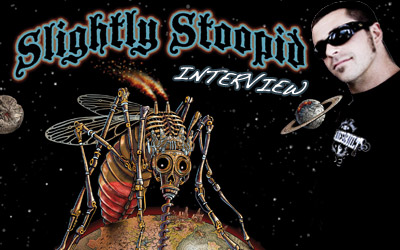 Slightly Stoopid is a Southern California-style reggae success story. Now with the release of their 7th album, TOP OF THE WORLD, Reggaeville connects with band drummer Rymo to meander through the world of the musician, the influence of reggae music on the band and the parts of surfing, skateboarding and the California lifestyle in general that shape the band concept.

How does it feel to be on "Top of the World" as the name of your new album suggests? You are a band that has gone through the ups and downs of the business, traveled in a little van with a trailer from town to town for low guarantees. What is it like now to be in this position now releasing your seventh album?
The album title came from the song title of the same name, I don't know if we really feel like we are on top of the world in that exact way that the title may imply. I think what we were trying to say is that everyone wants to be on top of the world and if you look at the album art that we're sending out with the record, there is also this dual meaning with the name, there is this mosquito that is sucking the life out of the earth and he's on top of the world and he is actually draining the earth of all of its life. The title sort of has two meanings to us. We did not want to imply that we are necessarily on top of the world, we are trying to get there just like everyone else. We are also, I guess, realists to a point and we know that the domination of humanity on the earth has had its own set of problems. So it sort of has its own meaning for us. Nonetheless, we are grateful for our current position, we toured for years and years and years doing the van thing, doing the no guarantee thing, and we are now able to be out here on the tour with 311 and SOJA from Washington DC. So we are living pretty well, we are living in buses, with catering, three squares a day. We are definitely grateful for where we are and we are looking forward to getting this record out and about.

There are several reggae artists that you have toured and been exposed to over the years, what type of experiences have you had here?
I have been with the band for nine years. And in my nine years we have worked with Don Carlos, Half Pint, Sly & Robbie, some other really huge legendary names. For us, listening to all of those musicians, ifor us that was music that really hit home, hit a nerve with us, it was music that we loved and made sense to us and we wanted to basically put our own spin on that music. We were so influenced by those artists and that music just changed our lives. So hopefully we are doing justice to it, by putting our own spin on it and making it an original form to us, but still paying homage to the greats that have showed us the way and have taught us through their recordings for sure.

Jamaica is celebrating its 50th anniversary of independence this month, and of course reggae is its greatest export, what would you say about this music that changed your lives, what would you say the reasons were for this was the case. What are your thoughts and reflections on this as part of a band that draws heavily from the culture and with so many collaborations with Jamaican artists.
I had a kind of diverse musical upbringing, my parents listened to a lot of jazz in the house when I was young, and I have two sisters, one older, and one was in to punk rock and metal and and hard music and my other sister was listening to all kinds of different reggae and Grateful Dead and more jamming music. I learned to love it all, because I knew at a young age that music and drumming were going to be a path that I wanted to pursue, it was going to be one of the most important things in my life. Anytime I was able to play music it just made me happy, leave my troubles behind, and not think about some of the struggles I had as a child. Music was an out, and I think for probably 99% of artists in the world, I would think that they would agree to that in some way. Music is an art form that really allows the musician as well as the listener to transcend our current state and get to a higher point and whether its through just listening to music or listening while under the influence of different things, there's different levels you can take it to. You can be completely pure and listen to music and it is going to change the way you feel. You can put music on to change your mood, or change your mind or your point of you about certain things. At least it has always been like that for me and when I first started hearing reggae, there was just something in the rhythm, in the bass and in the drums, that just really moved me, like no other music had been able to. Like I said I grew up with those different styles, around me all the time. And I loved them all for different reasons. Something about the bass and the drums, the fatness, the beauty but also the simplicity of the rhythms that those musicians were playing, just really hit me square in the chest and now fortunately I am able to tour and support myself doing the same thing for other people.

You are performing some of these album tunes now on tour, what is the single for the album?
The first single that we are trying to get going is actually the album title, Top of the World. Its kind of more of a hip-hop vibe and track. This album's pretty diverse in terms of style, and this particular track, we have a friend of ours from the Sublime camp doing some sequencing and programming, doing drum machine stuff as well. And the next one after that we are going to be promoting is more of a straight reggae track by Kyle, its called, Don't Stop and kind of got the 1-2 feel, more classic sounding to me. That will be the next thing we start promoting. I think each song that we're sequentially going to be putting out in hopes of getting them forward are actually really different.

Well that is the way to be these days, you have got to have something for everyone. On dreamy songs like "We Don't Wanna Go" you showcase your ability to mix Jamaica's grooves, keys, drum and bass, percussion with a more modern pop sound. What is this saying, you don't want to go to jail…or go to the graveyard?

Actually jail, you nailed it, the original lyrics Miles is speaking out against people that are detained, unlawfully for possession of herbs. For us, being from California it seems pretty silly that our friends and family members get popped if they are in other states. The penalties are rather severe for possession of herb and we have always been advocates for the legalization standpoint, most of the guys in the band smoke a ton and enjoy that part of our lifestyle. So it is something that we practice and preach and basically the song initially had that lyric, "we don't want to go to jail, Mr. Officer" and so back off, give us a break we just want to have a good time….smoke a little herb, get high with our friends. We are not trying to hurt anyone, we are not trying to start any fights or problems, we are just trying to get a little stoned and enjoy the day. Basically, most of the guys in the group, we grew up on the West Coast, being by the beach and surfing and skateboarding and living that type of lifestyle. So it was always kind of like, when you are a kid, in California you are running, skating away from the cops, and the cops are chasing you out of this parking lot. Someone's got a spliff and that turns into a whole other thing. I think Miles was kind of looking back on his upbringing, his teen years….you know, 'Mr. Officer, we don't want to go to jail, we are just smoking a spliff so just bug off, leave us alone.'

I am a huge Fishbone fan and their band member Angelo is featured on "Ska Diddy", Fishbone are now involved in the Silverback management and label company that you are part of. What is it like working with Angelo and how has Fishbone influenced how you tour and record?
Fishbone, that music changed my life. I remember I was about 8 or 9 years old. And my older sister, the punkier of the two I was describing earlier, walked into my room one day when I was listening to the Casey Kasem American Top 40, you know early '80's, listening Wham and "Puttin' On the Ritz" and all of those songs. She walked into my room and threw the Fishbone EP. The first they ever recorded, it was a two-sided cassette, it was a five songs and it was the same five on each side of the cassette, so you could flip it over and listen to it over and over. I just remember hearing it and thinking, "What is this?" I had never heard music, at that point in my life, anything like it, I had grown up with different exposure, but this was something totally new. So, I am 36 now, and so it has been 27 years since that day in my life, we have done many tours now with the Fishbone guys. Honestly all of the Slightly Stoopid guys grew up listening and respecting and appreciating the music that those guys had put out, because it was so unique and so ahead of its time. They were mixing elements from P-Funk and Parliament, Sly and the Family Stone and they were mixing that with more or less the ska thing, with metal, with all of this music, with horns,this multi-genre sort of melting pot and that was always something that I wanted to emulate in my musical career. I have learned how to play different types of music. Fishbone was really the only one I had ever heard that had done that successfully in my mind. Now the fact that we are under the same management group, Silverback Management Music, we have been able to become really great friends with those guys and tour with them a whole bunch. Honestly it is a huge honor, those guys are just OG legit you know. To be able to share the stage is a huge honor.
We also have Rebelution under Silverback's umbrella, they are a newer band out of California, maybe not newer, they have been going at it for 7-8 years. Who else do we have? The Expendables, a band from Santa Cruz, California, The Aggrolites, they were on the first lag of this tour, they are doing more of the classic, Ska, Rocksteady, Soul kind of vibe. They are phenomenal, they are out of Los Angeles. I think the common theme between all of the bands are that they are really great as people as well as musicians. All of the guys from all of those bands that I just mentioned are all good people. I think hats off to Silverback for finding these different acts and growing the roster in such a way that all of these musicians, even though we are all touching on different sort of genres and different flavors of similar types of music, all of the musicians really work hard. All of these bands that are on the Silverback label are out on tour. You can almost always find at least two to three of the six bands out on the road. There is this common theme, this common thread of being a hard working touring act and being under the Silverback umbrella.

The Don Carlos collaboration on the album "Marijuana" features moody horns that are a fixture of Don's music, what was it like to create the song with Don, was it when you were on tour together. How did this song originate as a collaboration?

We have known Don's manager for some time, and we received word that Don wanted to do some collaborating about two years ago. All of us had grown up respecting his work and his career and his legend, and when we heard that from his manager, 'Don wants to get with you guys, it would be great to do a track together or something,' we were totally honored, and floored. And when we were able to talk further about things, it made sense. He actually came on the road and we did a summer tour last year with Rebelution supporting and we had Don Carlos and we were doing about four of his tunes during our set, all of last summer. So we got a chance to really hang with Don and get to know him as a human being. He is a beautiful human being, he is totally soul, wise, he's been through some ups and downs, like so many in music. It was a total honor for us to come down to San Diego for a week, and we basically just camped out in the studio. I think we worked four or five nights the first week and maybe we did another week and we did about the same. So about two sessions where we recorded about four or five tunes with Don and a couple of them were original collaborations, like the Marijuana song. These are songs of his or were sort of like remakes, playing new music behind Don's existing lyrics. Really amazing to have him on tour, he was just totally respectful, totally calm and like a wise warrior.

Your music has such a funky and psychedelic and now hip hop sound which has been called Surf rock or Southern california reggae, what do you think it is about the So Cal life that makes bands like yours evolve, you have really created a whole genre amongst you and Sublime and your predecessors and No Doubt. What do you think it is?
I think there are a number of factors, I was born in San Francisco, so I maybe was a little more exposed to some of those acts at a young age. I moved to San Diego almost twenty years ago in about '94 and I went to school there at San Diego State University and actually studied music there. Before, when I was a kid up in Northern Cal, very different culturally, even though it is the same state, but it might as well be two or three different states really cause California is so broad. Basically having lived up there, I did sort of live a similar lifestyle to what the guys in San Diego (other Slightly Stoopid band members) lived. I skated every day, I was surfing probably five times a week, as a kid and then later when I got down to San Diego as an adult, surfing almost every single day. I don't know what it is exactly about the area. Maybe it is kind of a mix of everything. People from other states are always saying how laid back California is. I have always been within a couple minutes of the ocean and its a grounding force, being near any ocean. And I feel like that I am sure has a lot more to do with it than we can even put into words. Growing up by the beach, living that type of lifestyle, surfing, skating, smoking, listening to different types of music, music that makes sense to us was reggae music, was Led Zeppelin classic rock. It was all of these other things that people maybe had shifted from trend to trend from different parts of the country.
A lot of that more timeless music actually stuck in California you know definitely Sublime spearheaded a lot of this stuff and brought a lot of their style to the mainstream, definitely with some help from Half Pint and other artists that have a similar feel. I don't know exactly if I can put my finger on it, I know the ocean has a lot to do with it. Maybe the proximity to Los Angeles being one of the music meccas of the country aside from maybe New York and Chicago and Nashville nowadays. LA has always been right up there in the forefront for music production, the music industry in general. So I would say maybe a combination of all of those elements, the lifestyle mixed with us being punk kids running around and getting into trouble. We weren't bad kids necessarily, we weren't trying to hurt people or do anything wrong. We were out trying to have a good time and sometime that involved having little run-ins with cops and things and I don't know exactly. I guess maybe some of those are elements that contributed to that style of music.

Is there anything else you would like to tell the Reggaeville.com massive?
We just want to say thanks to the people that have supported us along the way. Our fans, in many countries, all over Europe, and now South America, Australia, Hawaii, Japan even, Guam, some of the other nations that we have been able to visit. We are just grateful that people can come out and support us, and we look forward to coming back. Big shout out to the people that have helped us out!