Review
EP Review: Skip Marley - Higher Place
08/29/2020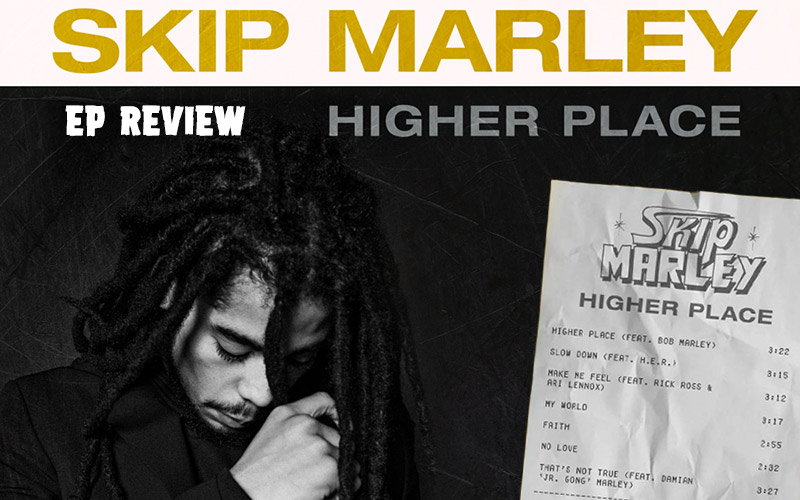 The brand that began innocently enough over five decades ago, with the emergence of a Jamaican ghetto youth singer named Robert Nesta Marley, has grown exponentially into the Marley global empire. What separates this multi-platform machine- excelling not just in its musical output, but licensing and merchandising as well- from just about every other legacy expanded by its descendants is the proclivity of those descendants - in this case, grandson Skip Marley - to produce their own unique, original content. Examine the branches of the Marley tree and one will find a wide and still widening variety of flavors within the fruit.
By nature, Skip's EP, Higher Place, aspires to be something far more distinctive than a trade on the family name. Yes, Bob does make a posthumous appearance on the title track, an interview excerpt extracted from an Oregon radio program, but Skip's musical path is his own. This is the sound of the club, and those late-night intentions after the club; seductive, soulful, and patient. He leaves room for H.E.R. on Slow Down, with its R&B bassline weaving through a Rykeyz-produced-and-programmed drum track, as well as opening the door for Rick Ross and Ari Lennox on the soft-popping and percussive Make Me Feel.
Skip, son of Bob's daughter and Marley business chief Cedella, comes closest to classic reggae on My World, giving space for The Smokin Horns to smoke. Really, the seven-track collection seems to burst through the clouds on its latter half, with Faith, and its polyrhythmic Caribbean uplift that shines on turquoise waters. There is red-needled percussive muscle anchoring a sample-laden No Love that takes the ear on a sonic trip, but it's the finale - That's Not True - that most ignites the lucky seven. Skip pairs up with his uncle, Damian 'Jr Gong' Marley, and the duo immediately excite and enliven the slow-burning reggae pulse with a lasting exclamation point.
Higher Place succeeds in the same way many of the others in the Marley lineage have prospered: by being genuine to the artist's given name as equally, if not more, than the surname. Skip Marley has found a lane that's ideal for his creative musings. Here he sounds confident, relaxed, and content to carve out his own place in the empire.
---
Release details
Skip Marley - Higher Place EP
DIGITAL RELEASE [Island Records]
Release date: 08/28/2020
Tracks
01. Higher Place feat. Bob Marley
02. Slow Down feat. H.E.R.
03. Make Me Feel feat. Rick Ross & Ari Lenoxx
04. My World
05. Faith
06. No Love
07. That's Not True feat. Damian Marley
Featured artists
Bob Marley
/
Damian Marley