Updated: Sizzla in Bike Crash - Released From Hospital
09/07/2011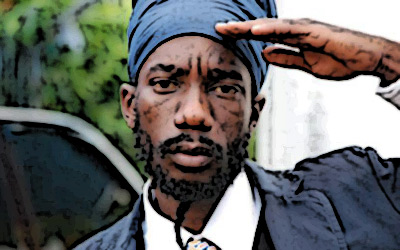 UPDATE
Sizzla Released From Hospital [Examiner - September 5th]

Internationally acclaimed Reggae singer, Miguel Collins, more popularly known as Sizzla Kalonji has officially been discharged from a Kingston-based hospital nearly two weeks following a motor cycle crash in St. Ann. [...]

Eleven days following the accident, Sizzla Kalonji was released from hospital on Sunday night. He is reportedly not 100% as of yet but will take some time to rest at home until he's returned to full strength. Sizzla's family & management team remain thankful for the mass support of fans & friends within the Dancehall/Reggae industry through the entertainer's ordeal.
Sizzla Still Stable [Jamaica Observer - August 26th]

Up to late last night, popular reggae artiste Sizzla Kalonji was still listed in critical, but stable condition in a Kingston hospital following a motorcycle accident on Wednesday evening.

The artiste was airlifted to Kingston yesterday morning after the staff at the St Ann's Bay hospital stabilised him following the accident. According to publicist, Olimatta Taal, it was an emotional moment for Sizzla's family to see the artiste being airlifted from St Ann. She noted that some members of his immediate and extended family wept as the events unfolded.
full article @ JAMAICAOBSERVER.com
Sizzla In Bike Crash [Jamaica Gleaner - August 25th]
Dancehall artiste Sizzla is now hospitalized in stable condition following a motor cycle crash in St Ann this evening.

Sizzla, whose real name is Miguel Collins reportedly crashed along the Salem main road near Runaway Bay around 8:30p.m. full news here!
The Jamaica Observer reports: Sizzla In Hospital After Bike Crash [August 25th]