Reggaeville Riddim Corner #6 [May 2015]
05/30/2015 by Dan Dabber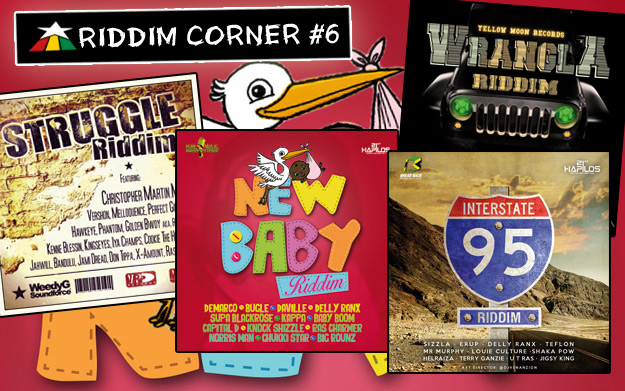 One of the more interesting aspects of riddim culture is the network of musical relationships that develop among various riddims. The most obvious instances of this kind of riddim "genetics" involve a "re-licked" riddim, a cover of a past riddim or tune. Riddims are constantly being re-licked by modern producers looking to pay homage to their influences, but in many cases the musical connections between riddims are more subtle. A modern reggae/dancehall producer may try to create a certain nostalgic vibe without recreating a specific riddim or a producer may find a formula that they like enough to re-use on multiple releases. This May there were four crucial riddim releases that illustrate how riddims are often built to the specifications of a pre-existing blueprint.



STRUGGLE RIDDIM
Weedy G Soundforce has been extremely busy in 2015. They released Gate 7 Riddim in January and their Squeeze Riddim dropped two months later in March. Another two months have passed and Weedy G has yet another riddim for the massive. Their newest project is an R&B-influenced one-drop riddim called Struggle that is both on-trend with what many Jamaican producers have been doing for about a decade and also completely different from what reggae fans have come to expect from the Swiss production outfit, Weedy G.

Since Don Corleon released his epic Drop Leaf Riddim in 2004, many reggae producers, including Corleon himself, have built riddims using the Drop Leaf blueprint. These riddims clock in at around 85 beats per minute and have a decidedly soft, synthy feel to them that is fairly danceable and also versatile enough to work with both lovers and conscious tunes.
Struggle checks all of the Drop Leaf boxes but Weedy G has, up to this point, made their name with harder, edgier roots riddims like Gate 7 and Arise & Shine. However, Struggle is done so well, and nearly all of the artistes involved in the project chose to write songs about conscious or uplifting subject matter, making it unlikely that anybody other than selectors and the most attentive fans will take notice of the change in Weedy G's one-drop approach.


Though it's been said that there is strength in numbers, an aphorism which describes one of the founding principles of riddim culture, numbers may actually be a hinderance for Struggle. With a whopping eighteen versions included in the release, the listener could easily become overwhelmed or overlook a great song. Such a voluminous project may also cause a producer to spread resources too thin and reduce the possibility of getting those standout versions that they are hoping for. Melloquence certainly did a great job with the title track, Struggle, but Richie Loop and Iya Champ are probably the artistes most likely to make noise with their versions. Loop, who goes by the alias Golden Bwoy for this project, has a catchy lovers tune called If I Miss U (One More Time); Champ's Clean Up Your Heart is a high-caliber rasta anthem with the potential to bun a fyah in the dance. Sadly, neither version really stands out in the bigger reggae picture and neither Loop nor Champ have the necessary star-power at the moment to propel this riddim into heavy rotation. Luckily, Weedy G, now backed by distribution giant VP Records, may still have all the prominent names needed to attract listeners.


I-95 RIDDIM

Richard "Bread Back" Bramwell is the producer/engineer behind Bread Back Records and their latest riddim release, I-95. Breadz, as Bramwell is known amongst his peers, started his career as an apprentice at Gussie Clarke's Anchor Studios in Kingston, Jamaica. He later started working extensively with Sizzla, making notable contributions to the artiste's Kalonji Records label. In recent years, Bramwell's Bread Back Productions has released many riddims including 2010's Tan Bad, 2012's Long Life, and 10 Speed Riddim from 2014.


The artistic connection between Bramwell and Sizzla is historic, profound, and alive and well with I-95, which is in the dark, repetitive, minimal dancehall mold that ruled the dance at the dawn of the millennium. Sizzla, who became a singjay legend in the early 2000's by voicing great versions of riddims like Martial Arts (2002) and Double Jeopardy (2001) (both produced by Cordel "Skatta" Burrell for the Kings of Kings label) is perfectly at home on Bramwell's I-95. Kalonji's version, entitled Nuh Bad Mind, is a vintage bun dem-style song from one of the greatest to ever pen such a tune. Although Nuh Bad Mind stands out as the top selection from the I-95 project, it pales in comparison to Sizzla's earlier masterpieces like Gunshot, Blaze Fyah Blaze, and Karate.

Adding to the nostalgic vibe, Bramwell voiced some artistes on I-95 that come from, and in some cases still reside in, a foregone era. Jigsy King, Terry Ganzie, UT Ras, and Shaka Pow are artistes that are as likely to pop up on 45 labels as iTunes, but Bramwell got some high quality tunes out of all of them for this new release. Most impressive, though, is the legendary Louie Culture, whose version, Love Di Ride, stands out as one of the best in this exceptionally deep-benched juggling. The riddim is strengthened even further with names that are more familiar with modern dancehall enthusiasts, like Erup, Teflon, and Delly Ranx, who all contributed some nice versions, especially Ranx with Mi Love It and Teflon with Don't Mi Ketch U.


NEW BABY RIDDIM
Delly Ranx is one of the most hardworking and prolific artistes in modern reggae/dancehall music, but Ranx is also a highly accomplished producer whose Red Bull and Guiness Riddim from 2006 helped propel a virtually unknown artiste named Mavado to global superstardom with a smash hit called Weh Dem A Do. Red Bull and Guiness became a fixture in the dancehall for many years and Ranx's label, Pure Music, has continued putting out riddims for nearly a decade, releasing three - Serengeti, Cold Justice, Dream House - in 2014 alone.


The newest Pure Music release, New Baby Riddim, is a breath of fresh air. The riddim is vaguely influenced by several diverse musical styles other than dancehall, including oriental, hip hop, and classical, creating an international hybrid with universal appeal. Despite the varied sources, New Baby is built with simple, straight-forward production and propelled by asian-style pizzicato string work and a bouncy kick drum creating a syncopation guaranteed to mek di gyal dem bubble. Ranx's experience especially shines through in the arrangement, using chants and violins to accent the main musical themes throughout New Baby. New Baby is undoubtedly unique and honed with the dancefloor in mind, but the most appealing thing about the newest Pure Music riddim is that it is phenomenally fun, a vital ingredient too often left out of contemporary dancehall.

The sexy, family-forward titular track, New Baby, from veteran singer, Da'ville, is a stellar version and its quality proves that the artiste's vocal talent and contemporary relevance are still in full effect, even after 15 years in the game. Other standouts include Bugle's We Nuh Fruity and a superb track from Norris Man entitled Rusty Nail. Ranx was able to bring out the best in nearly every artiste involved in this project, giving underdogs like relative newcomer, Baby Boom, obscure roots croner, Ras Charmer, and Puerto Rican-American singjay, Capital D, a chance to shine. But, despite all the great New Baby versions, Ranx probably has the top selection of the juggling with his infectious ganja anthem, Blaze Up Di Trees.


WRANGLA RIDDIM

DJ Sunshine hit a goldmine last year with his Wul Dem Again Riddim, which appeared in several forms and multiple releases and featured contributions from a large cast of great artistes. Versions like Vybz Kartel's Box Lunch and Demarco's Lime Chip became dancehall staples, and essentially Wul Dem Again became the most important, if not the "best" dancehall riddim of 2014. But, as the riddim's name implies, Wul Dem Again was not the first incarnation of this riddim. A less popular previous release simply titled, Wul Dem Riddim, set a musical trend that Sunshine continues to pursue nearly a year after the original release.

Sunshine's Wul Dem blueprint is easier to identify than it is to explain, nevertheless there is a definitive formula applied to create all of his Yellow Moon Records' releases since the original Wul Dem dropped last spring.
Wul Dem, Wul Dem Again (and Christmas Again), Lunch Money, and the newest release, Wrangla, all have some broad, general characteristics in common. Dark, brooding, angry vibes, a reliance on strange, spacey synths, and an undeniable danceability driven by similarly programmed drum patterns seems to be a repeating pattern, though played out in a unique way for each riddim. However the deeper connection and more fundamental raw material of the blueprint may be in the math, as all of these riddims are built at a tempo of 105 beats per minute, and the most recent three, Wul Dem Again, Lunch Money, and Wrangla, were all written in the same key.

Some may think such a formulaic approach a weakness, but it is actually a brilliant strategy that has already paid off once for Yellow Moon in a very big way, and it may pay off again in the near future. In fact, Wrangla is more similar to Wul Dem Again, mostly in terms of the caliber of artistes voiced and the collective quality of their versions, than even the original Wul Dem which eventually found its own hit song Wul De Pussy Dem, by Alkaline. Mavado, Kiprich, and Shawn Storm all contribute nice tunes to Wrangla, but I-Octane's Nuh Bwoy and Masicka's Check Again are especially strong. But Alkaline again steals the show with Whey Yuh Have, a powerful and musically complex tune that is likely to be the flagship song for the riddim. If Wrangla lives up to its potential to create a buzz similar to Wul Dem Again, and if DJ Sunshine continues to stick to his formulas and patterns, then it is likely that part two of Wrangla will be released some time this summer.


Humans naturally look for order, even in totally random stimuli. And although music is built on math and patterns, creativity is often haphazard, even with the relatively structured production and songwriting associated with the reggae and dancehall genres. A Weedy G Soundforce fan may not expect them to leave behind one tried-and-true formula to try on another, and it is likely close listeners of Yellow Moon Records releases expected DJ Sunshine to abandon his patented Wul Dem blueprint two riddims ago and, yet, he stays the course this month with what may be his baddest riddim yet, Wrangla. Bread Back Productions' I-95 Riddim, on the other hand, reached into the past to reconstitute a somewhat obscure, nearly forgotten dancehall paradigm, and the result is almost worthy of being called time travel. New Baby's riddim genetics are less identifiable, but the cultural ambiguity, uncluttered production, and cast of veteran artistes give this juggling a nostalgia that would have fit in very well somewhere around 2003 to 2006, though this connection, more than any other mentioned above, may indeed just be coincidence.


LISTEN TO THE FOUR RIDDIMS IN THE MIX: