Philip 'Fatis' Burrell, Great Jamaican Producer Dead - The Exterminator Legacy
12/12/2011 by Stan Smith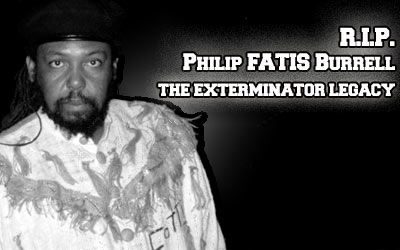 Philip 'Fatis' Burrell, Great Jamaican Producer Dead at 57. The Exterminator Legacy:

Philip 'Fatis' Burrell, 57, died at Kingston's University of the West Indies Hospital on Saturday Dec. 3 after he suffered a stroke two weeks prior and was admitted to the hospital. Later his doctors discovered a blood clot near his lungs and he fell into a coma from which he never recovered.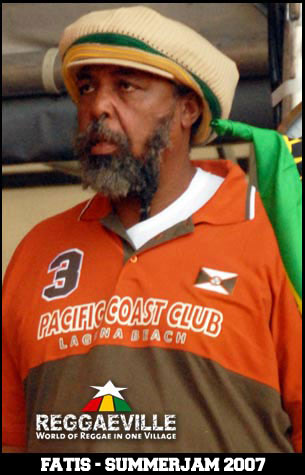 Phillip 'Fatis' Burrell was the music producer/artist manager and CEO of the Kingston, Jamaica based label Xterminator Records. At first blush his imposing stature and gruff mannerism was off putting. But as Veteran Washington DC WPFW radio personality Tony Car noted "Once you got to know him, he was easy to deal with." When I first met 'Fatis' Burrell, through my school friend Dean "Cannon "Fraser, on Luciano and Sizzla's first New York show at The Palladium in 1995 CPR's, Sharon Gordon and I in conversation with him at Island Records were impressed with Fatis, as staunch defender of cultural roots reggae music, passion as he explained to us his intention, to return reggae music to it cultural roots. Luciano and Sizzla, my fellow August Town resident, were going to be the center piece of that move. His historical accomplishments include the fact Burrell's musical productions were crucial to the growing worldwide appeal of roots reggae's digital dancehall-dominated 90s.

Burrell nurtured the careers of other roots and culture artists in establishing international careers like, Turbulence, Mikey General, and Jesse Jendau along with Luciano was considered among the finest roots reggae singers of the post Marley era.

In the 1980s he worked with some of that decade's top acts like Ninja-man, Capleton, Sanchez and Garnet Silk. 1986 Burrell created the Vena imprint, releasing singles by upcoming singers including Sanchez, Pinchers and Thriller U, Frankie Paul, veteran Gregory Isaacs and sing-jay Charlie Chaplin. In 1989 he debuted founded Exterminator records renamed Xterminator.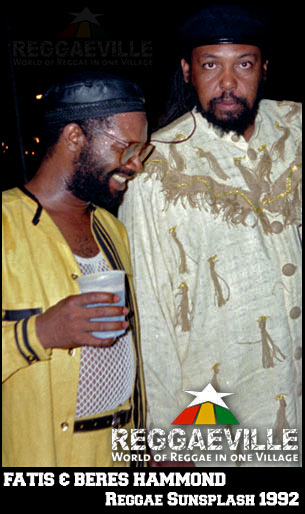 The 1990 was the Xterminator label most fruitful and commercially successful period. He released some of the biggest singles in Jamaica throughout that decade. Fatis worked with established acts like Nadine Sutherland to produce her monster hit Babyface. The Cocoa Tea and Beres Hammond sessions yielded big hits songs by Cocoa Tea like 'Good Life' and Hammond's Full Attention and Love Means Never To Say I'm Sorry. Burrell's first international hit was with Ini Kamoze's big platinum-selling 'Here Comes The Hotstepper' which dominated the urban and billboard charts in America even ended up on a movie soundtrack.

Fatis' Exterminator musical productions were the province of his house and road touring band The Firehouse Crew. Comprised of some of capital's best musicians, the dub rock roots-reggae rhythms section, renowned for its hard driving riddims ushered a roots dub rocker reggae renewal in Jamaican music in the computer driven dancehall-dominated 90s.

In the mid-1990s aside from being Exterminators' musical producer, Fatis doubled as artist management for Luciano and Sizzla Kalonji. With roots and culture themes of a better humanity as the anchor of Exterminators songwriting lyrical approach, encouraged by Fatis,this lyrical style came to define the Luciano's aka the 'Messenger 'lyrical song writing catalogue as well as the Exterminator label identity. 'One Way Ticket' was one of Fatis' first hits with Luciano.

In 1995 Fraser joined Burrell in producing Luciano's breakthrough album 'Where There Is Life.' Distributed by Chris Blackwell's Island Jamaica Records imprint it contained the anthems, It's Me Again Jah and Lord Give Me Strength, the radio friendly Who Could It Be, Your World and Mine and Good God. Burrell also as he guided the career of sing-jay Sizzla Kalongi to international (reggae) stardom which began with Sizzla's 1997 album "Praise Ye Jah".

Luciano's second album "Messenger" broadened his growing international fan base and received widespread critical acclaim. Known for his ability to allow artistes and musicians to explore and experiment with their craft, Sutherland noted "He never tried to contain me. Instead, he encouraged me to tap into all sides of my personality." For Sutherland, poignant songs To My Ancestors and Pair of Wings are examples that this approach produced great music.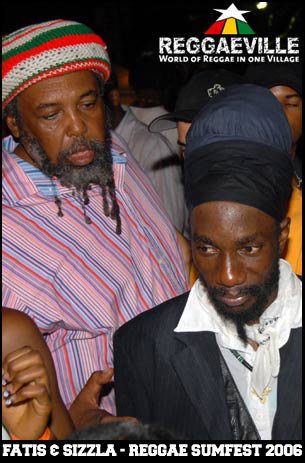 Throughout the decade of the 2000's Fatis continued to produce albums and numerous singles for a new generation of cultural Rastafarian chanters and sing-jays including Turbulence, Lutan Fyah, Chezidek and most recently Jesse Royal. After his passing, Chezidek described Burrell as "a father to I and to most culture artists in Jamaica; him push reggae and stand up for roots and culture and Rastafari music to the fullest".

Though he parted company with Luciano in 1999 and continued to work with Sizzla, the Xterminator name will always be remembered and celebrated as it will forever be to the great works of both artists. Burrell's son Kareem, who is continuing his father's legacy, released and co-produced two popular reggae rhythm tracks "Danger In Your Face" and "Long Day Short Night", which featured Sizzla hit single Burn Dem Schism.