Review
Album Review: Sister Carol - Live No Evil
02/03/2014
by Angus Taylor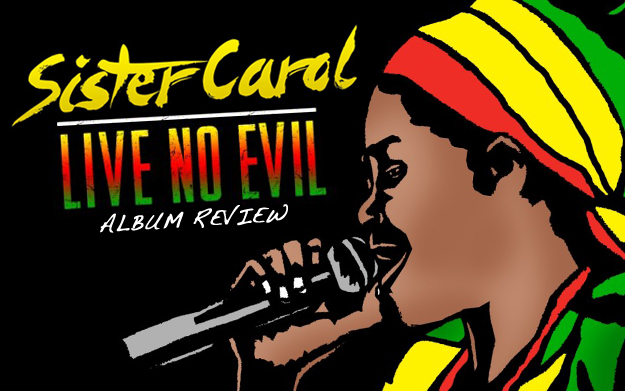 With a number of female Rasta artists in England whose names are prefixed by Sister European readers unfamiliar with cultural deejay Sister Carol might assume she is from the UK. In fact Carol is a Jamaican who lived in New York for much of her career and goes by the nicknames of "Mother Culture" or "The Black Cinderella" - after the Jimmy Radway penned Errol Dunkley hit. Her father was RJR radio engineer Howard East and she was mentored in deejaying by no less than Brigadier Jerry. She has released 12 albums since the 80s picking up a 1997 Reggae Grammy nomination in the process.

As well as a toaster Sister Carol is also a womens' rights activist, actor and entrepreneur – who has lately concentrated on her Black Cinderella clothing line. Her last album was 2011's all-star collaboration Sister Carol and Friends. 2014's Live No Evil on her own Black Cinderella label is her first solo outing in 8 years.

Live No Evil finds her holding forth on a diversity of topics from ecology to "Afromance" over a grab bag of rhythms sourced from contributors including Noel Alphonso, John Altino, Yellow Wall Dub Squad, Soja, Glen Adams and Firehouse Crew. Several of the 14 tracks are adaptations of famous songs from inside and outside the reggae arena.

Carol is an old school deejay – no autotune for her – and like Anthony B, Chuck Fenda and Sean Paul her attempts at singing will divide opinion. Yet her considerable personality comes across in her vocals – particularly when she injects Jacob Miller stutters, chalice-like bubbles and African "calls of the ancestors" to her chatting to make her point.

Most of the album is chanting hard roots music in the traditional fashion. Decadence is fearsome judgment of the first order. The superb spoken blessing The Word rises and falls to a shimmering live sounding backdrop including Ethio-jazz sounding horns. There's an ecologically themed cover of Dennis Brown's Melting Pot on Israeli producer Piloni's very respectable relick of Niney's classic rhythm (a backing that doesn't get used enough these days), while Serendipity reworks Burning Spear's Tradition. Carol also pays tribute to ska in a binghi style on the environmental plea Green (bearing a sample from the movie Rockers). She even pulls off some acoustic bashment on Titti Titti, celebrating the female breast in a cleverly conscious subversion of slackness.

The more experimental forays into melodic singing are the weaker moments. On Servitude she pushes her voice too far and The Prayer (a Rasta reading of the Impressions Queen Majesty) she is judiciously shrouded in backing harmonies. Likewise the diversions from Jamaican music are less successful: not because - shock horror! - a reggae artist is trying something other than reggae, but due to the instrumentation. The Afro-Latin Mating Season and a duet of Paul Simon's Mother and Child Reunion with her daughter Nakeeba Amaniyea suffer from ersatz synth strings – which don't suit the organic messages. The overall mix feels a little rough although not to the point of hampering enjoyment.

But while the sung parts will be an acquired taste there are 8 good roots numbers to be found here. There is plenty to like and lots worth supporting in a rootical sister who is doing it for herself.


---
Release details
Sister Carol - Live No Evil
DIGITAL RELEASE / CD [Black Cinderella]
Release date: 02/04/2014
Tracks
01. Go Green
02. Mama Earth
03. The World
04. Servitude
05. The Prayer
06. Muma N Pickney feat. Nakeeba Amaniyea
07. Mating Season
08. Jill-Cuzzi
09. Serendipity
10. Decadence
11. Titti Titti
12. Legacy
13. Dutty Livity
14. My Thing