World Reggae Contest 2015 - Meet The Finalists... SHANTY
08/05/2015 by Gardy Stein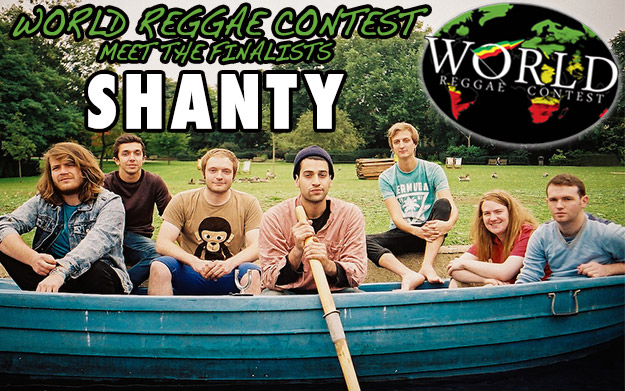 Shanty is a relatively young band. Formed in 2013, they have quickly managed to convince fans and bookers alike of their live qualities, playing countless gigs at festivals throughout the UK. The Londoners Ben Willis (vocals), Sam Raywood (guitar), Mindaugas Juozapavicius (keys & sounds), Jake Butler (bass), Luke Bunce (drums), Levi Gordon (MC/ Rapper), Kenneth Brown (trumpet), Vij Prakash (trombone) and David Lindsay (saxophone) describe their music as "stomping bass, soulful hooks and party vibes". Their sound is indeed infectious: assure yourself by listening to their freshly released debut EP Leave Me Out or check one of the several videos they have online, most of them dripping with the proverbial English humor (suffice it to say that in one of them, you'll encounter a boat, a gondolier and a gorilla).
This year, they dare leaving the British Isles and introduce themselves to mainland Europe. As one of the five finalists of the World Reggae Contest, they will perform on Saturday, August 8th on the main stage of Ostroda Reggae Festival.

Let's hear what they themselves have to say about the following topics:

Your expectations of/connection to Poland:
Ever since we found out that we had a chance of playing the mainstage at Ostroda this year, we've been watching all the previous highlights with some of our favorite artists playing the same stage that we're appearing on. We're really excited and ready to get up and do our thing!

What can people in Ostroda expect when you appear on stage? What does your live performance look, feel and sound like?
Pure energy, emotion and vibes - the live show is where we really come to life. There are parts where people can dance, but also some melancholy songs as well; we don't want people to just feel it in their hearts but also in their belly. We hope to take the people of Ostroda on a journey.

Why do you deserve to win the contest and in which way will Reggae fans benefit from you as a champion?
That's a tough question! I think all the bands in the contest have a strong sound and are in with a good chance. I like to think we offer something new; this is our take on a genre we love so much. We're not trying to mimic anything, or do anything under false pretenses. Our music is real to us!

If you are the lucky winner of the contest, you will have the chance to record at Harry J Studios. What does this mean to you? Do you have plans for that recording session already? Share your thoughts…
It would be pretty surreal and a great accomplishment for us as a band. To think we would be visiting the birthplace of Reggae music and to have in the back of heads that we're working in the same studio where Bob and loads of other greats have recorded. I think this energy would reflect when it comes to the tracks we would be laying down. It would be heavy and we would have a lot to take in at the same time.

If you could choose freely, who would join you in the studio to record a feature/ combination track and why?
So many artists out there we'd love to work with. If we had to choose one of the top of my head it would have to be Sir Jimmy Cliff. We played a festival last summer back in the UK and he headlined the Sunday night. The man is 67 and still hitting all the right notes and shapes, pulling flying kicks in the air and jumping around the stage like a mad man! He's got so many great songs, classics that are and will still be heard in years to come – maybe together we could achieve another classic. The offer is out there, Jimmy! Haha...


THE FINAL WILL BE STREAMED LIVE ON REGGAEVILLE.com - AUGUST 8th 2015
CLICK HERE FOR ALL DETAILS!