Concert Report: Protoje & The Indiggnation in London, UK - May 12th 2017
05/14/2017 by Angus Taylor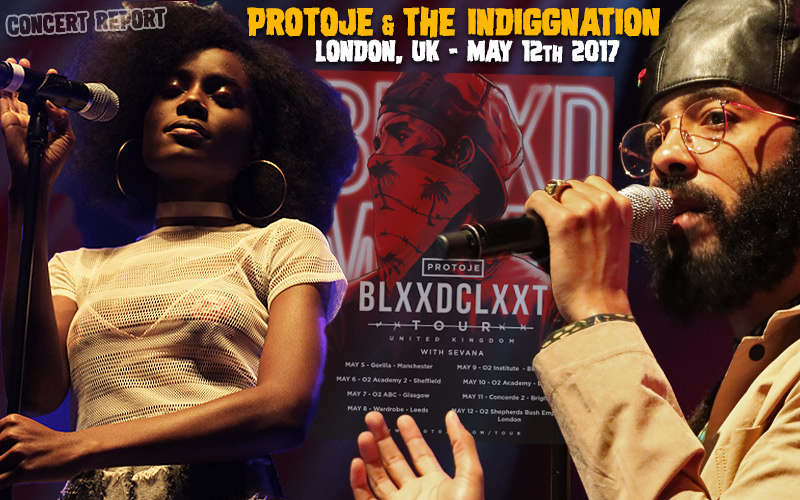 Protoje & The Indiggnation closed their eight date BLXXDCLXXT UK Tour at a packed Shepherd's Bush Empire in London on Friday night.

The Jamaican vocalist and his locked-in band thrilled the jumping 2000 capacity theatre for one hour forty minutes - demonstrating how they'd grown their fan-base since they first visited in 2014. The collective played a familiar mix of songs from Protoje's three official albums, 7 Year Itch, 8 Year Affair, and Ancient Future. To these they added the grime-influenced, Dennis Brown inspired Can't Feel No Way and the Blood Sisters sampling Glad You're Home, off 2016 leaked download project Royalty Free. The lights turned red for scathing 2017 single Blood Money.

There were plenty of signature segues hailing Jamaica's foundation and recent reggae resurgence. Sudden Flight, featuring the flawless voice of support act Sevana, begat Anthony Johnson's Gunshot, Eek-A-Mouse's Wa Do Dem and the Sound Dimension's Darker Shade Of Black/Norwegian wood. Bubblin morphed into Jah9's Steamers A Bubble and This Is Not A Marijuana Song. A fragrance hung over the venue (among the first to adopt the smoking ban before it became law).

London didn't get a surprise appearance from Chronixx on Who Knows (he doesn't arrive until next week). Instead, Sevana's fellow Indigg signing Lila Iké guested her song Biggest Fan and Peetah Morgan of Morgan Heritage came on for England Be Wise. "This is my last show on tour. You get the last show before I go home" said Protoje "If I show you I'm not tired… you show me you're not tired" bouncing during a blistering Hail Rastafari. He warned there would no encore – but none was necessary.

As well as an opening set by Sevana - sounding exactly like on record – MTV's Becca Dudley and 1Xtra's Seani B hyped the crowd with recognised reggae-dancehall hits. Protoje made sure to thank David Rodigan, who gave him his debut London gig, watching in the wings.


Watch a fan video of Protoje performing Who Knows in London: