New Seeed Album - A Brilliant Disappointment
10/10/2012 by Markus Hautmann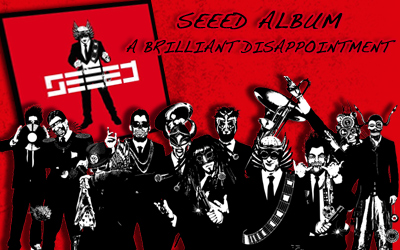 The expectations were sky high. Seeed, the self titled fourth studio album of Germany's premier reggae and dancehall act (yes, that's Seeed and not Gentleman) hit the streets two weeks ago. After a hiatus of five years since the release of the gold winning predecessor Next. Seeed had managed to get reggae into the mainstream in the German speaking countries (for some time at least), sold more than 700,000 copies of their records, had world wide success with their riddim productions (amongst them Doctor's Darling), won three prestigious ECHO awards and even performed at the opening ceremony of the football World Championships 2006. Two years ago Singer Pierre Baigorry even gained superstar status with his solo project Peter Fox. At the upcoming tour they will play the biggest arenas the nation has to offer, some with a capacity of up to 17,000 people. It cannot get any bigger. But perhaps even better?


The new album Seeed immediately hit the No. 1 spot on the German album charts. Dozens of reviews in dozens of newspapers and magazines come to the same conclusion: the album is brilliant. Indeed it is. But still it's a disappointment. How is that possible? The two 2011 pre-releases Wonderful Life and Molotov had already raised fears among the reggae heads that Seeed might have changed their typical sound, a unique blend of reggae, tough dancehall beats with a flavor of hip hop that caught just everyone, no matter if the listener was a reggae fan or not. Seeed affirms these speculations. It is a very good piece of music. Versatile, modern, catchy. You find jazz, swing, "urban", electro, ballads, pop. But almost no reggae. As said before: that does not make Seeed a bad album, in fact it is a really good one. But it does not meet the expectations of reggae fans. That's okay, there is plenty of good reggae music out there. The pity is that Seeed, like only a few other acts, had the power to get "mainstream people" into reggae and thus create a hype that is needed so much in these days of declining reggae sales and sparse concert turn outs. Of course, it is not Seeed's job to save the reggae industry, no blame on them, but still it is a pity.

To get into the groove for their mega tour Seeed performed a four secret gigs in small clubs during the past eight days. They showed the same power, the same enthusiasm as always and left their audiences absolutely satisfied. Seeed are still the party kings. Their shows can be recommended to every reggae fan. So reggae and dancehall purists should go for the live experience. But not for the album.
Watch the video for the single Beautiful: