Review
Album Review: Sebastian Sturm & Exile Airline - The Kingston Session
04/12/2015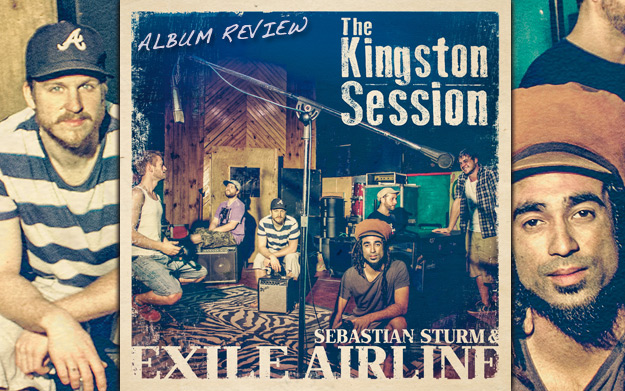 One and a half year after the release of his last album, the critically acclaimed A Grand Day Out, Sebastian Sturm & Exile Airline are back with a fifth studio album. This time, they followed the current trend in European reggae to fly to Jamaica and record in the very country where it all started in the 1960s.

They spent two days at Harry J's studio together with Samuel Clayton Jr., known through his collaborations with class acts like Toots & The Maytals and Steel Pulse and as the producer of A Grand Day Out, as well as with Stephen Stewart, where they re-recorded nine tracks in just two days. A stunning amount of support from their loyal fan base had Sebastian Sturm & Exile Airline collect more than 10,000€, enough money to release the aptly named The Kingston Session on CD, LP, and digital download.

The Kingston Session does not contain a single new song. The original material stems from Sebastian Sturm's previous albums, plus a cover version of Freddie McKay's Free Man. The selling point here are the new versions of these songs that have been recorded mostly in one take, the old-fashioned way, and are closer to the versions you hear when you attend a concert of Sebastian Sturm & Exile Airline. Thus, even long-time die-hard fans of Sebastian will discover new aspects of the songs they're already familiar with.

There is a warm, analog feeling to it that suggests you get the vinyl version of The Kingston Session to fully enjoy all its subtleties. The album sounds as if it had been recorded in the early 1970s. Between bubbling and rolling organs and jazzy arrangements, there is enough air for Sebastian Sturm's unique, fragile but rough voice to fully unfold. Fans of handmade roots reggae have to give The Kingston Session a shot.

Sebastian Sturm & Exile Airline even top up their previous records with The Kingston Session. If we had needed any more proof that they are serious musicians and songwriters, this would be it.


---
Release details
Sebastian Sturm - The Kingston Session
DIGITAL RELEASE / CD / VINYL [Rootdown Records]
Release date: 04/11/2015
Tracks
01. True Music
02. Get Going
03. This Change Is Nice
04. Free Man
05. Grand Day Out
06. Time
07. One Moment In Peace
08. Don't Look Back
09. Faith