Playing For Change presents Rasta Children by Dennis Brown
07/04/2018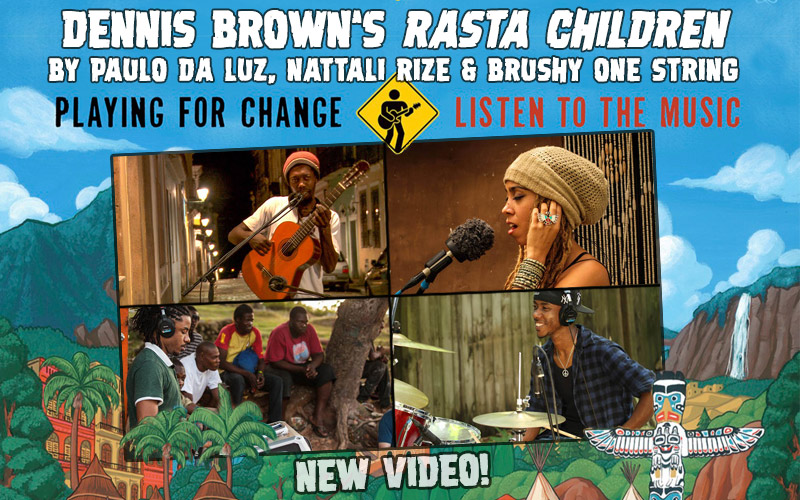 The new album by Playing For Change called Listen To The Music is out since April 2018 and includes a cover of Dennis Brown's anthem Rasta Children. Paulo Da Luz from Brazil is joined by Nattali Rize, Courtney "Bam" and Sean "Pow" Diedrick (from Damian Marley's band), Brushy One String, Nikki Burt and more musicians from all over the world.

Watch the brand new Rasta Children video below!

Playing For Change CO-Founder Mark Johnson talks about the song: "One evening, a few years ago in Bahia, Brazil, the PFC crew and I were waiting for an 80-year-old cuica player to perform on a Song Around The World. I remember it seemed to take forever for him to make it down the hill, as he would stop off in every bar along the way for a drink and some conversation. As we waited I looked and saw a Rastaman walking across the street with his acoustic guitar in hand. I waved to him and he came over to see what we were doing with all our equipment. I told him about Playing For Change and he agreed to play a song for us while we were waiting. The result was an incredible, spontaneous performance of Dennis Brown's Rasta Children. Paulo Da Luz' voice reminded me of Peter Tosh and he sang with so much soul that we realized this could be an amazing Song Around The World. Just one man and his guitar playing on the street set the tone for this song and we added a worldwide band of roots musicians around him."

About the new Playing for Change Album and Series:
Featuring artists such as famed American legends The Doobie Brothers, Buddy Guy, Warren Haynes, Dr. John, Preservation Hall Jazz Band, and more, collaborating alongside street musicians, gospel choirs, an array of international music luminaries (including Tuareg guitarist Bombino, Malian kora master Mamadou Diabaté, Cuban tres player Pancho Amat, and Congo's legendary TPOK Jazz Band), and the Playing For Change Band, Listen to the Music, is part of Playing for Change's historic Songs Around The World series and presents 12 new interpretations of iconic music classics.

Enhancing the multinational flair of the project, each of these artists were filmed recording their parts for each song against scenic backdrops in their home countries, a process that took roughly three years to realize. The result is a compelling series of performance videos in which Playing For Change's unique global multi-tracking recording process is documented to their most broad-reaching effect so far, featuring over 200 artists of diverse nationalities in 25 countries.

100% of Playing For Change's profits from this album [check the album details here] will go to the Playing For Change Foundation, helping to support music education across the globe. Listen to the music; change the world!