Review
Album Review: Ward 21 - Still Disturbed
01/22/2014
by Gardy Stein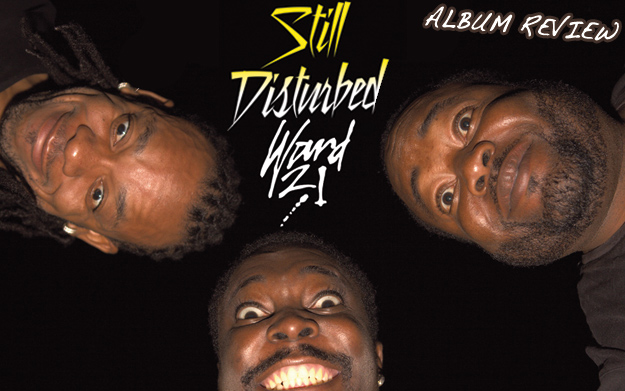 Still around, still kickin, still… disturbed! Well, I wouldn't dare say that to any Jamaican artist, but I guess I'm on the safe side here since this statement is just a quotation of the title of their fifth album: WARD 21 is finally back with a high dose of antidepressants!

To those of us who have been out of the sandbox for more than twenty-five years now, the reference to both their debut album (Mentally Disturbed, 2001) and the band's name (Ward 21 is the name of the Psychiatric Ward at the University Hospital in Kingston) becomes clear at once. Apart from this, nomen est omen: Still Disturbed is a crazy collection of infectious tunes, barking mad lyrics and maniac black humour.

Produced at the Leipzig-based Germaica Digital label, Andre "Suku" Gray, Kunley McCarthy and Mark "Mean Dawg" Henry joined forces with artists such as Konshens and Sean Paul to deliver twelve new pieces of Dancehall history. While the intro is a condensed discography in itself, bringing to our attention the most successful gems of more than one decade of warden creativity, the subsequent tunes take us on a trip through Dancehall's past, present and future.

First stop: Stalag. The riddim that has seen around 300 official releases in its forty years of existence is turned into a Gangsta Anthem in War Start, and we are thrown back to the golden raggamuffin era of the early 90s. You better buckle up now, because the following Mic Magician will take you on a speed ride over Niceness Avenue. A fine remix of the all-time-classic Heavenless (including an original sample of the great Super Cat), this boom tune has been the first single release of the Album, including a video, and is by now mashing up dances all over the planet. DeeWunn and Marcy Chin (the latter also featured on Wife Versus Mate), both of them members of Ward 21's recently established Bada Bada Gang, seize their opportunity to add some versatile glamour to it, something that Sean Paul fails to do on Ben`U Back. His performance is just a little too monotone for the powerful riddim, and although Ward 21 manage to save the overall mood, they should have asked someone else o collaborate. Shaggy maybe.

Up next is the first of two so-called Skits (admittedly I had to google what this means)... Dear Parents, in case you mindlessly happen to play the album in the presence of your children, THIS is the moment where you should either send your kids out or grab your headphones or press stop. It's really, really disturbed. And uproariously funny. Just you listen!

Clappin' U Back, Cut Inna Face and U Shouldn't are a visit to the rough and tough side of Dancehall, complete with a lot of swearing and gun shots and all. After these tracks, Skit number two is a welcome return to the groups' hilarious black humour (I'm talking about falling-off-the-chair-laughter here), directly followed by the compulsory Ganja-Song Herbs Man.

While Out featuring Konshens is an average "assessing di ladies" tune, its predecessor is a truly remarkable piece that doesn't compare to anything I've heard so far. Is there a world record of using swear words in any given text? Spot The J would certainly beat it. My count amounts up to 125 times explicit mention of the F***-word during its 215 seconds. That should guarantee the "parental advisory" button!

Puncie is another display of the boys' insane vocal and lyrical prowess, and I can well imagine the cover photo being taken while recording it. However, my personal highlight is We A Danger, terminal stop and perfect placement. The Far East Riddim being an ear catcher in itself, Ward 21 excel in their on-point delivery of the threefold goose-bump-voices and surprising remix-elements (like the recurring baby-laugh-jingle and some weird crackling noises in the background).

Unfortunately, our crazy journey comes to an end here. Fortunately, once purchased, you'll be able to just press replay over and over and over and over again. You know how we roll!!!


---
Release details
Ward 21 - Still Disturbed
DIGITAL RELEASE [Germaica Digital]
Release date: 01/22/2014
Tracks
01. Still Disturbed
02. War Start
03. Mic Magician feat. Marcy Chin & D
04. Ben' U Back feat. Sean Paul
05. Wife Versus Mate feat. Marcy Chin
06. Rufus Loved Desrine Skit
07. Clappin' U Back
08. Cut Inna Face
09. U Shouldn't
10. Emergency Skit
11. Herbs Man
12. Spot The J
13. Out feat. Konshens
14. Puncie
15. We A Danger
Featured artists
Sean Paul
/
Konshens