Review
Album Review: Spragga Benz - Chiliagon
09/27/2019
by Gardy Stein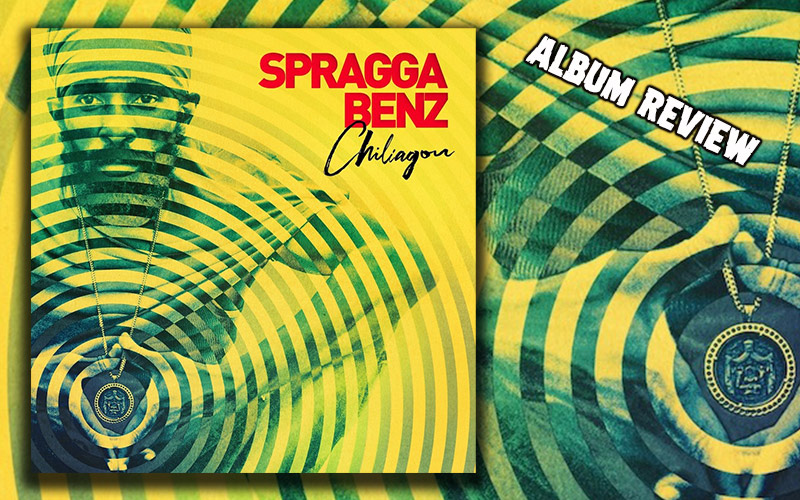 Chili… what? Before taking any step further into this review, let's first define what we are talking about. In geometry, a chiliagon designates a figure with 1,000 sides. In philosophy, it was used by Déscartes to illustrate the difference between intellect (which is able to understand the concept of a 1,000-angled polygon) and imagination (which isn't able to picture it), thus distinguishing ideas from images.
In music now, Chiliagon is the title of the new album of Carlton Errington Grant aka Spragga Benz. One of my favourite DJs in Dancehall's golden 90s, I kind of lost track of his output after the turn of the millennium, a time when he conquered the US-American market with collaborations with Foxy Brown, Wyclef Jean and KRS-One. Curiosity thus peaked when a new release was announced, especially since his last album Shotta Culture dates way back to 2010.
Judging from the singles released so far (e.g. If Yuh Ready, Differ and Wicked Love - details below), we are in for a treat. And indeed, Chiliagon turns out to be a multi-faceted experience, showing us 15 different moods of an artist who has managed to mature into permanent relevance in an era of rapid change and discontinuity.
Executed by Andrew Oury, Paul Fowler, Cristy Barber and Spragga himself, most of the album was produced and recorded in the UK, giving it a clearly distinguishable touch of British HipHop, Drum'n'Bass, Garage and Grime - just you listen to the powerful Trilogy bringing to your attention artists like Killa P and Harry Shotta!
In fact, some of the tracks are far-flung from the Reggae-Dancehall-core an artist like Spragga seems to suggests, making the playlist a fascinating discovery-ride. While, for instance, the opening Move To The Music sounds pretty old-school HipHop, including a melodious delivery of featured artist Rebel ACA, the Illaman-combination Hustle and Flow is raw Rap.
More experimental notes are struck in Link Up or King On The Throne, fearturing the legendary Rodney Panton. Peaking in the mind-boggling Found Me, producer Zed Bias as well as singer Anna Blue and a lyrically firm Spragga open a whole new universe of sound (at least for me). Mad stuff!
Back on more common ground, Mr. Benz has something in store for the junglists as well. Teaming up with grandmaster General Levy, the above-mentioned If Yuh Ready is the perfect antidote for the autumn fogs creeping in slowly, as it's just pure fire, burning away tristesse, fatigue and bad mood alike. Those who are in for some hardcore Dancehall vibes will enjoy Wicked Love, a Toddla T production, or, even wikkider, the refreshing Hype & Fever combination Spread Out.
At this point, we have reached the climax section of the release: Differ. What a tune! While the original is already a class of its own, the Toddla T Remix featuring Sean Paul, Agent Sasco and Chi Ching Ching is going through the roof. Pure joy!
After all this excitement, it's nice to cool down with the softer tunes No Regrets (featuring Jamaican singer Saine Rapley) or, one of my personal favourites, the velvety Believe with Brixton-based Tanika. "Fulfilling that a di perfect adjective mi no need no more than you girl…" Pure vibez!
With very few exceptions (e.g. Good Suh or Some Of Us Love Rum), Chiliagon will stay on heavy rotation in my player and can be considered a special release in every aspect. The sheer number of talent involved in production and voicing alone is worth getting a copy and prompted Spragga to say: "These are artists and producers I've worked with and admired as friends, as a fan, and as idols I looked up to. Dancehall is the foundation of so many genres, and being surrounded by so much talent for Chiliagon brings my joy of making music full circle."
Well, the joy is ours. Thank you, Mr. Grant, for sharing this gem with us, and for the teachings involved in its investigation!
---
Release details
Spragga Benz - Chiliagon
DIGITAL RELEASE / CD [Easy Star Records]
Release date: 09/27/2019
Tracks
01. Move To The Music feat. Rebel ACA
02. Believe feat. Tanika
03. Good Suh
04. Wicked Love
05. Spread Out feat. Hype & Fever
06. Differ
07. If Yuh Ready feat. General Levy (Uncle P Jump up Mix)
08. Link Up feat. Matthew Allman, Illaman & Black Josh
09. Hustle and Flow feat. Illaman
10. King On The Throne feat. Rodney P
11. Some Of Us Love Rum feat. Rebel ACA
12. Found Me
13. Differ feat. Sean Paul, Agent Sasco & Chi Chi Ching (Remix)
14. Trilogy feat. Killa P & Harry Shotta
15. No Regrets feat. Saine Rapley
Featured artists
Sean Paul
/
Agent Sasco
/
Chi Ching Ching
/
General Levy