Review
Album Review: Sean Paul - Live N Livin
03/11/2021
by Steve Topple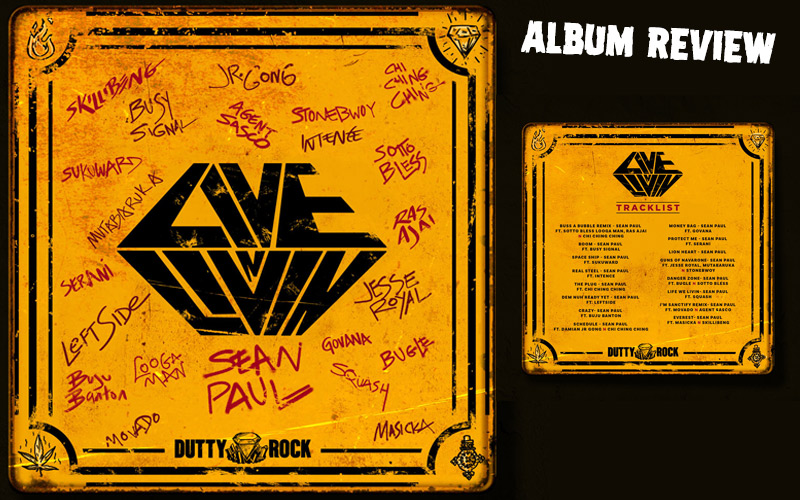 Sean Paul has returned with his first full studio album since 2013's Full Frequency. But is the legendary artist back with a finely-tuned, radio-friendly 'bidda bang', or is it a case of 'RRR'? Naturally, it's both - with the focus being on 'collaboration over confrontation' as Paul himself said. And naturally, it's superb.
Live N Livin, released via Dutty Rock Productions, sees Paul team up with a swathe of both producers and artists across 16 tracks. Some songs are brand new; some have already been released and others are remixes. There's little that needs to be said about the production quality, as it is of an extremely high standard (as expected) - with Dutty Rock (and Paul himself) co-producing all the tracks. Vocally and lyrically, Mr 'SP' is still as compelling, creative and powerful as ever. But it's the breadth of styles and genres that Paul has dived into which is most impressive. It's clear that he has intentionally trodden a tightrope between bringing his sound bang into 2021 but also keeping his signature style alive. And, Paul has done it extremely well.
AfroDancehall features heavily. The smooth Life We Livin featuring Squash was first dropped in 2019. Production from Money Matters Entertainment and East Link Records focuses on stuttering Afrobeats percussion, some choral-like strings and a delicate balafon. Then, Money Matters are back for the remix of the 2020 AfroDancehall release Guns of Navarone, this time with Stonebwoy featuring as well as Jesse Royal, and an intro/outro sampling Jamaican poet Mutabaruka.
Boom with Busy Signal, the most recent track to drop, is a slightly harder sound from Money Matters with its heavy vocal engineering – but it still centres around an AfroDancehall rhythm ('oneeeeee-twooo-and-[three]-and-fourrr') along with some African percussion. And Crazy, with another legend Buju Banton, is an even more brooding sound than previous tracks. Money Matters lean harder into Dancehall with the track's stabbing strings and G-Funk whistle - but you cannot ignore the Afro-style broken and stuttering percussive arrangement.
Modern Dancehall is repped across Live N Livin – with some of it being the abrasive end of the genre. Dem Nuh Ready Yet, featuring Leftside with production from his Keepleft outfit, was originally dropped in 2020. It goes heavy on the 'oneeeeee-twooo-and' x2 Dancehall clave beat across the drums. Add in sparse arrangement with the focus on shrill horns and it's bang up-to-date. Danger Zone features Bugle & Sotto Bless, and winds the abrasive sound back slightly with production from Misik Muzik. The Dancehall clave beat is halved and but those synth horns still feature and some choral samples are prominent. Everest takes the arrangement complexity up a gear while maintaining the Dancehall sound, with production from fellow artist Demarco's True Gift Entertainment. The fairly rapid percussion line is offset by an intricate string arrangement, but Masicka and Skillibeng's hard vocals cement the track's Dancehall creds.
Then, the album displays the smoother side of Dancehall, too. The radio friendly and groove-led 2019 single Buss A Bubble across Pure Music's Firestick Riddim gets the remix treatment - but only in terms of additional vocals by Bless, Looga Man, Ras Ajai and Chi Ching Ching. Protect Me featuring Serani is Dancehall, but it almost wants to be an RnB track, too - with Dutty Rock's production focus being on vocals, the syncopated, melodic bass line and its use of an electric organ. Suku Ward joins Paul for Space Ship with Money Matters showing its production versatility. The track is almost throwback Dancehall with its persistent kick on every beat versus the rhythmic clave – and the G-Funk whistle is fyah.
But then Trap also gets a distinct look-in, too. February's release Real Steel, featuring Intence and with production from One Time, sees that rhythmic clave smashed apart; hi-hat buzz rolls littered throughout; strings stabbing and some haunting choral-like samples. The solely Dutty Rock produced Lion Heart goes a bit more Hip-Hop – but with Trap buzz rolls, a delicate yet frantic Dancehall-beat bridge and then a grandiose, almost Soul-Pop chorus. Pure genius. And the track encapsulates the more experimental moments on Live N Livin well.
The Plug is a fascinating creation from Jordan McClure and David Hayle's Chimney Records – with Ching back on vocals. Its sound comes in waves of genres: taking you on a voyage through Trap-influenced Dancehall, to abrasive Dancehall to then hard AfroDancehall. Schedule featuring Damian 'Jr. Gong' Marley and Ching is superb, again with production from Money Matters. It is almost Funky Soul meets AfroDancehall, with its rasping electric organ line but stuttering percussion and Doo-Wop backing vocals. I'm Sanctify originally dropped way back in early 2018 with Mavado. Now, the remix features Agent Sasco, too. Rhythmically complex and with intricate, highly orchestrated AfroDancehall production from Troy Hinds' Troyton Music, it's extremely solid work and pleasing on the ear.
But it's perhaps Money Bag with Govana which sums up Live N Livin's mantra best. Production from Teetimus Muzic has smashed modern, abrasive Dancehall (choral, low pitch strings and synths, Trap buzz rolls and a four-to-the-floor kick) with chord progressions and a melodic arrangement that feel like the old skool Paul we used to know, with the vocal-led performances to match. It's pitch-perfect and one of Live N Livin's strongest tracks – the old Paul meets the new.
So, the album gives us a journey across the subgenres of Dancehall, and in some respects also a voyage through Paul's ever-changing sound. But what also stands out is that Live N Livin is almost divided into two acts. Act one, if you like, sees Paul focus on the party right up until the Buju-collab Crazy – with its telling look at how material wealth doesn't always make us happy. As Buju says: "Me know that you feel like you don't own a thing. What about the mansion that you living in?"
Then, act two sees the album move into conscious territory – with some thought-provoking tracks. Guns of Navarone (Remix) is a searing and poetic diatribe on the system's devaluing of human life (seemingly inspired by the 1961 war film of the same name) and the violence it perpetuates. Protect Me is almost a 'Song of Praise' to Jah and a declaration of humble resilience in the face of those who are against us in life; "I say a prayer for my betrayer, they can't push me under". Schedule deals directly with haters 'puffing up their chicken chests'.
Danger Zone deals with the entrenched poverty and classism that the system ensures is ever-present – and how many people ignore it out of self-interest. I'm Sanctify (Remix) once again focuses on faith, but this time personal strength and maintaining positivity in the face of adversity. And Lion Heart is a direct message about Dancehall itself, with Paul calling out the clash culture and gang-based warfare and violence that exists in the scene. It also sums up his "collaboration over confrontation" message perfectly. So, the dividing of the album between party bangers and heavily conscious work is highly commendable.
Overall, Live N Livin is an expansive, powerhouse Dancehall album. Paul gives us a condensed overview of the genre and its derivative sounds – and has totally kept pace with modern style developments versus his last album. Every track is quality; the compositions and arrangements scintillating and the whole thing bodes well for Paul's second album, out later in the year. An RRR bidda bang – which totally delivers his mantra of "collaboration over confrontation". Superb.
---
Release details
Sean Paul - Live N Livin
DIGITAL RELEASE [Dutty Rock Productions]
Release date: 03/12/2021
Tracks
01. Buss A Bubble feat. Sotto Bless, Looga Man, Ras Ajai & Chi Ching Ching (Remix)
02. Boom feat. Busy Signal
03. Space Ship feat. Suku Ward
04. Real Steel feat. Intence
05. The Plug feat. Chi Ching Ching
06. Dem Nuh Ready Yet feat. Leftside
07. Crazy feat. Buju Banton
08. Schedule feat. Damian Marley & Chi Ching Ching
09. Money Bag feat. Govana
10. Protect Me feat. Serani
11. Lion Heart (Radio Edit)
12. Guns Of Navarone feat. Jesse Royal, Mutabaruka & Stonebwoy (Remix)
13. Danger Zone feat. Bugle & Sotto Bless
14. Life We Livin feat. Squash
15. I'm Sancity feat. Mavado & Agent Sasco (Remix)
16. Everest feat. Masicka & Skillibeng
Featured artists
Damian Marley
/
Stonebwoy
/
Jesse Royal
/
Serani
/
Govana
/
Chi Ching Ching
/
Masicka
/
Mavado
/
Skillibeng
/
Agent Sasco
/
Mutabaruka
/
Intence
/
Busy Signal
/
Buju Banton
/
Leftside
/
Squash
/
Bugle