Review
Review: Richie Stephens & The Ska Nation Band - Internationally
04/13/2016
by Munchy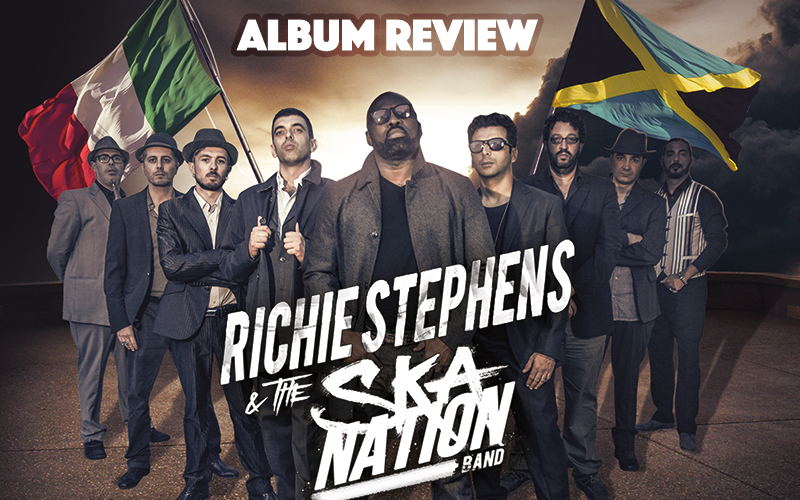 Richie Stephens is a jack of all trades and genres. Ever embracing different styles of music he has praised the Lord with Gospel, revived Real Reggae Music with a same-name album in 2013, and merged EDM and Ska to create the uptempo madness that is Ska-Tech. With the latter he stuck for now – at least for parts of it. The electronic aspect of the fusion is gone, leaving us with "the original sound, Jamaica's first big music" how the singer describes it in Foundation Sound, the opening of the 14-track record Internationally, that hits the stores on April 15 through Pot of Gold and Adriatic Sound/Zojak World Wide, and was done in a collaborative effort with The Ska Nation Band from Salento, Italy.

"Man, I've got to say, it's more like magic. Something 'bout the sound so fantastic makes me realize, there's no beat like that." - Foundation Sound
 
As we press play we dive right into the history of the genre, salute the greats such as The Skatalites, Prince Buster, Derrick Morgan, Byron Lee and the Dragonaires, and Toots & The Maytals, and cannot help but immediately lift and shake a leg to the amazing upbeat that originated on the Caribbean island in the late 1950s. It is the brass section of the nine men Ska ensemble from the heel of the Italian boot as well as veteran Dean Fraser's saxophone that crown Foundation Sound with extensive solos: dry, raw, modern, classic!

"Big up the man and woman dem, every boy and girl. Salento to the world and Kingston to the world. A love and unity we a go spread inna the world." - Kingston Salento

Kingston Salento, a somewhat sinister and powerful track again driven by the mighty horns, captures the connection between Richie Stephens' capital and The Ska Nation's home region, that is widely known for their immense enthusiasm for Jamaican music and considered the "Jamaica of Italy". Three verses are presented by the singer and fellow vocalists Papa Leu and Rankin Lele, all singing and deejaying in their native language. Their mutual love for Ska connected all parties of the production from the different countries, continents, all the way across the Atlantic Ocean.

"You're breaking my heart, baby. You're thrilling my soul, baby. 'Cause every time I look at your body, I'm out of control." - Fire Fire

Previously released was the first single Fire Fire, a high-spirited uptempo track and passionate ode to a blazing lady that lights up the vocalist's heart, that came with a colorful, fun video. Again emphasizing the aspect of internationality it includes scenes from both Italy and Jamaica and dancers from all corners of the world, also icons Keiva The Diva and Kimiko Versatile. Of course also Richie, who is known for his physical skills not just since his stunning video for Everybody Dance where he split and slid down stair railings, masters his moves.

"Been denigrated all my life, but I'm still fine. I don't listen what they say about me. They try to relegate me, still I'm flying high. They can never kill this fire inside me." - Born To Be Great

The motivating Born To Be Great is an anthem to endurance, confidence and self-esteem, that features the greats of Sly & Robbie on drums and bass, and Lenky Marsden on keyboard. The song's spirit may remind fans of Warrior, the combination with Gentleman from their 2012 joint album Live Your Life. And as we speak of him… naturally Richie's German bredda is also on board of this current project. On Original Style he and Sean Paul spit some tight rhymes inna original old school DJ style, promoting good vibes and music instead of guns and violence.

"Mek me big up the crew dem wha' nuh deal with no idiot ting. 'Cause we nuh want no violence, we nuh want no gunshot ring. Just tun up the music, everybody keep rocking and swing. Ska Nation deh bout yah, so we nuh leave 'til a morning." - Original Style

It may have been the uplifting beat and the characteristic walking bass line of the Ska, or possibly the sweet weather in the musicians' regions that has this record burst with positivity and puts a smile on its listeners faces.

"When there's love and happiness a smile just can't be replaced." - Smile

Bright, sun-shiny Smile is among the strongest songs on the record with a rhythm taken from Jimmy Cliff's The Harder They Come. It is one of the few tracks that was produced entirely in Jamaica featuring the legendary Brownie Bunch of Clevie on drums, Danny as producer and backing vocalist, and Dalton on bass, guitar and keyboard, and a fiery sax solo by Dean Fraser.

"The Japanese dem a represent Ska Nation. The whole a Europe a celebrate Ska Nation. Up inna Canada, America and England, straight from Jamaica now the world is catching on." - Internationally

Of course, when working with someone from Salento, there is one act, that has got to be featured: Sud Sound System. The pioneers of Italian Raggamuffin drop it heavy on the title track Internationally with three verses by Nandu Popu, Terron Fabio and Don Rico. Especially the latter rocks it with his speedy rhymes that accelerate like a Ferrari on the tricky drum rhythm with the off-beat saxophone dots.

"I truly think Ska music should be preserved and respected by us as Jamaican people for being our first international music." Richie Stephens explained in a press statement previous to the release. With Internationally he and The Ska Nation Band succeed right down the line even on a global scale. Skillfully all artists involved closed the geographic and historical gap to present an organic original, that is yet modern and diverse, and highlights the different facets and aspects of this wonderful and often underrated genre.


---
Release details
Richie Stephens & The Ska Nation Band - Internationally
DIGITAL RELEASE [Pot Of Gold / Adriatic Sound]
Release date: 04/15/2016
Tracks
01. Foundation Sound
02. Kingston Salento
03. Fire Fire
04. Born To Be Great
05. Original Style feat. Sean Paul & Gentleman
06. Smile
07. Internationally feat. Sud Sound System
08. Stau De Sciana
09. Cry To Me
10. Free Up Yourself
11. Beautiful Lady
12. Everybody Dance (Remix)
13. Jamaica Sunshine (Remix)
14. Rock The World
Featured artists
Gentleman
/
Sean Paul
/
Sud Sound System