Review
EP Review: Agent Sasco - Sasco vs Assassin
11/21/2020
by Steve Topple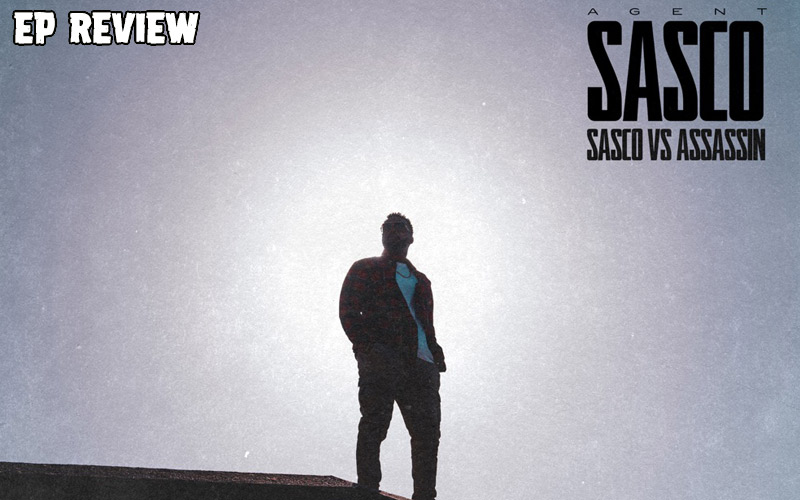 Agent Sasco is back with his latest EP: a deep dive into modern Dancehall which pits him against his previous musical incarnation.
Sasco vs Assassin, released via Out Deh and Soul Circle Music, sees Sasco produce a small but perfectly formed project. It's a testament to him that some of Jamaica's biggest acts have come on board. Moreover, there's a wealth of production talent across the EP, too. The end result is a fascinatingly detailed project.
It opens with Do Mi Thing. Production comes from Nigerian producer P2J, and the track features Sean Paul and Brazilian act Tropkillaz. It's a fascinating fusion of some Afrobeats sensibilities with elements of Samba thrown into the mix – the chord progressions, bold bridging sequences and keys/guitar lines being endemic of the genre. The percussive line also represents this, although Soca may be a more appropriate description. But the arrangement of the bass, the inclusion of strings and the vocal performance are more Afrobeats – creating a head-swaying, infectious opening for the EP.
Next up, and Revival king Chronixx features across Represent, with production from Fanatix. It is a mind-blowing amalgamation of genres, charting the recent evolution of Dancehall. The opening is pure Trap (note the hi-hat buzz rolls) with a booming Dancehall bass on a half-clave. But the rasping mizmar (or maybe its north African equivalent, the rhaita) signals where Represent is headed. Next, Afrobeats enters with its syncopated drums, stuttering kick, tinkering balafon and claved bass. But the mizmar going up in pitch quickly signals a move into straighter AfroDancehall, with its on-the-beat kick and bass. Represent continues flipping between these two genres – and it's a stroke of genius. "Every black man African" is the perfect lyric – because Fanatix's mashing of genres that all have their roots in the Motherland is the perfect musical accompaniment to Sasco and Chronixx powerful vocals about recognising and 'representing' your heritage and its accompanying values. Inspired.
Loco, produced by Teflon, was the first release from the EP – and is again another ingenious fusion. Overly AfroDancehall, that clave is back again across the deeply engineered bass and kick. A heavily dampened electric organ appears at points running stretched-out chords, as does a nice use of choral synths and a wooden flute – all combined forming the 'Afro' elements of the track. But Teflon has cleverly interspersed all this with nods to other genres: some high-passed, reverbed and decaying keys run brief Roots/Reggae bubble rhythms; frantic scratching and pull-ups nod to Hip Hop – and overall, Loco is another smart composition.
Kranium, whose album Midnight Sparks was a particularly strong release at the start of the year, joins Sasco on No Stranger To Danger. Producer Riff Raff has taken Sasco vs Assassin to yet another musical place, here – bordering on the Revival sound. Drums are winding in their almost Hip Hop arrangement, and also smartly accentuate lyrical moments (check the double snare hit on "shotgun"). But Afrobeats gets a look in via the bongos/djembe. The bass is on a drop-beat, syncopated rhythm; all a bit Reggae – as are the keys, stripping back a bubble rhythm. The pure Funky Soul sax line is gorgeous; the theremin screams Revival and overall, No Stranger To Danger is effective and thought-provoking.
Sasco vs Assassin closes with the title track. UK-based legendary DJ Toddla T put his producer hat on, here. And it sums up the EP perfectly: musically, it's bang up-to-date, intricate AfroDancehall – but lyrically offers a retrospective on Sasco's spiritual and musical journey. The Afrobeat, stuttering snare dominates the drums, with some slightly elongated rolls thrown in. an unfussy bass works across straight, on the beat notes creating smooth momentum. But it's the additional instrumentation from Toddla T which elevate the track to higher plains. There's something of the Funky Soul in much of the arrangement, not least in the affecting minor to major chord progressions; a punctuated use of horns and the riffing sax (except for the distinctly South American, tongued trumpet solo on the bridge), and layered, call and response harmonies across the backing vocals. But then we're dragged back to modern Afrobeats, with the delicate use of an electric organ and just out of earshot electric guitar performing an incessant riff. It's urgent, imposing and highly compelling – and the composition and arrangement are perhaps the strongest of the EP.
Sasco is at the peak of his powers across the album. It's fascinating not least hearing him take a completely conscious narrative and weaving it among harder and intricate sounds. His voice is as fluid as ever – gliding between the gruff, rasping and engaging tone he is known for but also bringing in softer and gentler elements at points, too. Lyrically, he's also crafted something very powerful – introspective in the extreme (No Stranger… being the prime example); displaying a journey that fits with its musical counterpart perfectly, but also brutally honest about where he's come from, been – and going to – the moving and heartfelt title track encapsulating this with its 'duet' format.
Sasco vs Assassin is a highly competent release from 'Mr Agent'. Musically complex and extremely well-constructed and executed, Sasco clearly had a vision for this project which the producers and additional artists have all ran with. The result is a record full of synergy, smart and intricate songs and powerful lyrics and performances from Sasco. Superb work.
---
Release details
Agent Sasco - Sasco vs Assassin EP
DIGITAL RELEASE [Out Deh, Soul Circle Music]
Release date: 11/20/2020
Tracks
01. Do Mi Thing feat. Sean Paul & Tropkillaz
02. Represent feat. Chronixx
03. Loco
04. No Stranger To Danger feat. Kranium
05. Sasco vs Assassin
Featured artists
Sean Paul
/
Chronixx
/
Kranium