Reggaeville Riddim Corner #8 [July 2015]
07/31/2015 by Dan Dabber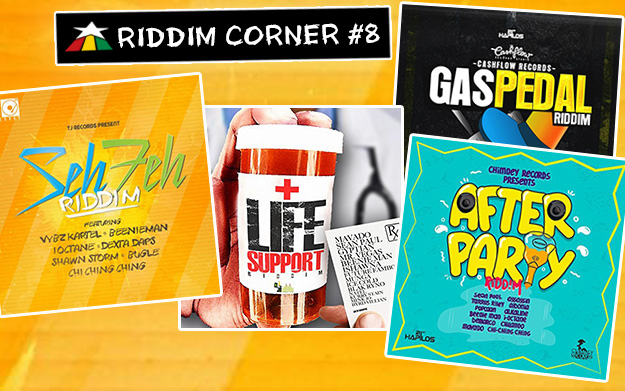 July was a big month for dancehall, as four of the most important labels in Jamaica released serious jugglings that are likely to close the summer with a bang and run strong well into the colder seasons. These riddims are built for the party and include contributions from Jamaica's most well-known and most influential artists, making it possible for all four to have multiple versions that achieve hit status. Of course nothing is ever guaranteed in the music industry, but these four riddims are about as close to a sure thing as there is in dancehall.

JA PRODUCTIONS - LIFE SUPPORT RIDDIM

Not many dancehall producers can claim that they have earned it on the level that Justus Arison has. He studied at Full Sail University and spent several years working in studios before forming his own label, JA Productions, with his business partner and co-producer, Patrick "Roach" Samuels. Roach was a well-known manager and producer in Jamaica who had worked with the likes of Vybz Kartel and Sean Paul. JA's first juggling, Overproof Riddim, produced a multitude of crossover hits in 2011 and 2012, and the riddim itself was hailed by critics as a game changer for the dancehall genre. JA's unique sound would score another hit with Mavado feat. Nicki Minaj's Give It All To Me on the Overdrive Riddim in 2013-14, but that success would be tainted with tragedy with the loss of Roach, who was gunned downed by unknown assailants in September 2013.

Roach was a brilliant businessman and talented producer who made a significant impact on Jamaican music, but Justus has always been the primary creative force behind JA and the main architect of the label's iconic pop/dancehall sound.
That sound thrives on Justus' newest juggling, Life Support, which bears notable similarities to the riddims that brought the producer initial success. Like Overproof, Life Support is a synth-heavy party riddim that is constructed around a framework of crisp, syncopated snare drums and ethereal strings, creating a dreamy vibe that contains elements of both elation and melancholy. Brilliantly arranged, Life Support has moments of spaciness that build to towering, powerful movements reinforced by big bass and prominent synthesizers. Although Life Support relies heavily on vibes and does not have a distinctive melody like Overproof, the end result is no less musical overall and, between skillful production and a talented artiste lineup, there is great potential for more megahits from JA's newest juggling.

With so many great artistes included on the Life Support release, it is difficult to predict which tracks will make the heaviest impact in the months to come. Mavado helped fuel JA's success in the past with Settle Down from Overproof and his aforementioned Overdrive contribution, Give It All To Me. His Life Support version, True, has what it takes to perpetuate that success, but Mavado, as well as dancehall icon Sean Paul, both wrote inspirational songs that play to the melancholic side of Life Support, making their versions less likely to surface in a party setting. Conversely, Beenie Man's Pool Party and Fambo's Drink About are perfect anthems for the dance, but both versions are rather shallow in terms of subject matter, which may limit their staying power. Gyptian probably contributed the most fitting song to the release- a clever gyal tune called Let Dem Een, which is reminiscent in both vibe and substance to his 2010 smash, Hold Yuh.

TJ RECORDS - SEH FEH RIDDIM
His name is Linton White, but he goes by "TJ" and has established himself as one of the biggest players in dancehall over the last decade. His label, TJ Records, has released a plethora of riddims and many of them have made significant impacts on both reggae and dancehall music. TJ's most successful juggling was probably Unfinished Business Riddim, a project that was co-produced by TJ Records and DaSeCa Productions. Unfinished Business featured two hits that received attention beyond the dancehall sphere- Mavado's So Special and Serani's No Games. It also scored minor hits from big names like Vybz Kartel, Beenie Man, and Buju Banton. 2011's Smudge Riddim had similar crossover credentials with Popcaan's Party Shot (Ravin' Pt. 2), and Toasted Riddim made a some noise with an explicit tune from Aidonia called Boom Flick in 2013.


Employing a classic, fun dancehall vibe, TJ's newest release, Seh Feh Riddim, features catchy synthesized horns that, used in any other context, would likely be considered cheesy and antiquated. However, the most prominent musical element of Seh Feh is a simple, yet infectious synth melody that is hard to escape- even hours after hearing a song from the juggling. In addition to its uncanny ability to invade a listener's headspace, Seh Feh is dance-friendly, party-centric, and carries an undeniably cool energy that is as likely to incite smiles as it is to spark action on the dancefloor.

As is usually the case with Vybz Kartel, he steals the show with his Seh Feh version, Lobster, but many other artistes made powerful contributions to the juggling as well. Worl' Boss' co-defendent, Shawn Storm, took a unique falsetto approach on the hook for Wine, a song that accurately showcases the artiste's often underrated talents. Singjay, Dexta Daps, who has gained popularity amongst dancehall fans over the last year, proves his newly found success is well-deserved with his particularly strong Seh Feh version, Who Bad. Even the "King of the Dancehall," Beenie Man, who announced this month that he intends to take some of the spotlight back from the incarcerated Kartel, contributed to Seh Feh in wicked fashion with his song Burning You. Kartel and Beenie are both likely to have at least minor hits on their hands with their Seh Feh versions, but the overall strength of this TJ Records' release make this riddim a force to reckon with.

CASHFLOW RECORDS - GAS PEDAL RIDDIM
Ever since they dropped their first juggling, Orange Hill Riddim, in 2010, the Jamaican musical collective known as Cashflow Records has been voicing the best artistes in dancehall over a vast and varied catalogue of riddims. Their collaboration with Cham for their 2012 School Bag Riddim, a tune called Wine, was probably their most broadly disseminated production. The sexy video for Wine, which was also produced by the diverse crew behind Cashflow, even captured the attention of WorldStarHipHop.com, a website known for posting sensational amateur videos for shameless voyeurs. While much of the World Star audience and, indeed, much of the globe may be scandalized by the video's beautiful girls and their lascivious acrobatics, the truth is there is nothing new or sensational to dancehall fans about the Wine video. Much like Cashflow's music, the video for Cham's tune merely put an updated and creative spin on classic dancehall concepts.


Drawing again from classic dancehall ideas, Cashflow's newest riddim is called Gas Pedal and its high-octane energy level is likely to fuel madness on the dancefloor. It is yet another summer party riddim with a distinct throwback feel, giving it a sense of familiarity, even for ears with only a modicum of exposure to the dancehall genre. However, the true power of Gas Pedal is derived, quite strategically, by how beautifully the riddim changes gears. From the synth-driven melody of the intros and hooks, Gas Pedal shifts to a fast and furious barrage of syncopation during the verses. Just when the listener thinks they know where they are headed and can slip into cruise control, Cashflow stops traffic with a stripped-down, double-time kick component that acts as a bridge between the verses and the chorus.

Cashflow hired some big guns for Gas Pedal, but they were also able to get strong performances from lesser-known dancehall artistes like Patexx and Deablo. Their versions add viability to the project as a whole, and they may very well extend the amount of time selectors spend running versions of Gas Pedal in the dance. However, tunes like Mr. Vegas' Go Thru Di Gate, Elephant Man's Gone Wid Di Place, and Demarco's Nuh Badman Fi We are quality contributions voiced by familiar vocalists and they will play a crucial role in how this riddim is presented to party-goers. The throwback nature of Gas Pedal is particularly suited for the 50-year-old Gully Bop, who has only surfaced as an artiste in the past year, despite possessing a style that is, in itself, rather nostalgic. But out of all of the great versions included in the Gas Pedal project, the top selection is likely Zunggu Zunggu by I-Octane, an artiste who rose to prominence alongside Cashflow in 2010 with his Orange Hill Riddim version, Puff It. Octane finds inspiration for Zunggu Zunggu in Yellowman's classic Zungguzungguguzungguzeng, but he adds his own ganja tune twist, resulting in a track that boasts a unique blend of fun, familiarity, and popular subject matter.

CHIMNEY RECORDS - AFTER PARTY RIDDIM
Chimney Records is one of the most prolific and consistent labels in contemporary Jamaican music. The duo behind Chimney, Jordan McClure and David "Hizzle" Hale, have built some crucial riddims, including their most well-known juggling, Tropical Escape, released in December of 2012. Tropical Escape Riddim featured two hits, both of which propelled the exposure of the featured artistes beyond traditional reggae markets. Tarrus Riley's Gimme Likkle One Drop certainly helped to boost his standing in Europe and the United States and Chronixx's career took off right alongside the popularity of his Tropical Escape contribution, Ain't No Giving In. Chimney had similar success, though to a lesser extent, with their 2013 juggling, Rising Sun Riddim, which also featured big tunes from Riley and Chronixx, and their 2014 project, Happy Hour Riddim, is still a dancehall staple nearly a year after its release.


Although Chimney's newest juggling is called After Party, this riddim is guaranteed to get the party started. Combining electronic elements like modern synths and heavy filters with the fun vibe that epitomized the dancehall sound of the late 80's and early 90's, Cashflow creates a computerized dancehall soundscape that is grounded in good, old-fashioned drums, bass, and percussion. After Party is rather straight-forward, with few surprises, and although it has no distinctly memorable melody, the riddim is so well-constructed and entertaining that even the most critical listeners will be left wanting more of this riddim.

After Party is another project with so many big names involved and so many quality versions, that it is very hard to call which one(s) will make the biggest impact. When it comes to name recognition, no dancehall artiste has the global popular influence of Sean Paul, who has continuously put out crossover hits for well over a decade. His After Party version is a weed anthem called Ganja Mi Smoke and, given the progress made for marijuana rights worldwide since the release of Paul's massive tune, We Be Burnin', it is possible that he could again win the hearts and minds of stoners everywhere with his latest tune dedicated to the controversial plant. Popcaan has also managed to break into crossover markets in recent years, and the musically diverse fanbase he has managed to build with songs like Party Shot (Ravin' Pt. 2) and Only Man She Want will likely be into his contribution to After Party, titled Inna Yuh Belly. There are other tunes that stand out in this juggling, like Demarco's Who The Fuck Cares, Assassin aka Agent Sasco's Everybody Rock, and Beenie Man's We Run Road. However, it is likely that Aidonia will make the most noise with his version, No Man To Mi Spliff, which is another ganja tune that doubles as a lesson for foreigners on Jamaican weed etiquette.


LISTEN TO ALL FOUR RIDDIMS IN THIS MIX: