Grammy Nominees Announced For Best Reggae Album
12/06/2012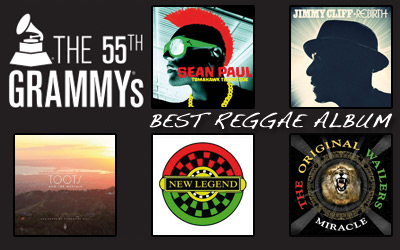 The Grammy nominees have been announced last night:
Category 50 - Best Reggae Album
Jimmy Cliff - Rebirth
The Original Wailers - Miracle
Sean Paul - Tomahawk Technique
Sly & Robbie & The Jam Masters - New Legend - Jamaica 50th Edition
Toots & The Maytals - Reggae Got Soul: Unplugged On Strawberry Hill



Obviously these 5 artists are the big names in Reggae and all deserve a Grammy for sure, but you need to take a deeper look at these releases...
The Original Wailers release is not really an album. It's a 5 track EP as digital release. 8 tracks on CD.
Toots & The Maytals's release is an unplugged album plus DVD. It doesn't contain any new songs.
Does Sean Paul's Tomahawk Technique contain 51% Reggae as the category requires?
Sly & Robbie & The Jam Masters' New Legend is a double surprise. Not only as nomination, but also as album release in general.
Jimmy Cliff's Rebirth is a strong album and a high chance to get the Grammy!

The soundtrack for the movie MARLEY is nominated in the category Best Compilation Soundtrack For Visual Media!


Reggae in the year 2012 is not well represented by these 5 nominations... again a a missed opportunity to get Reggae back in the spotlight with highly rated artists and strong releases by Busy Signal, Mr.Vegas, SOJA, Gentleman, Romain Virgo, etc... Take a look at the full entry list to see, which releases didn't make it to the final round HERE!


The Grammy Awards take place on February, 10th 2013 in Los Angeles.