Reggae Sumfest 2016 - Free 360° Video Live Stream
07/19/2016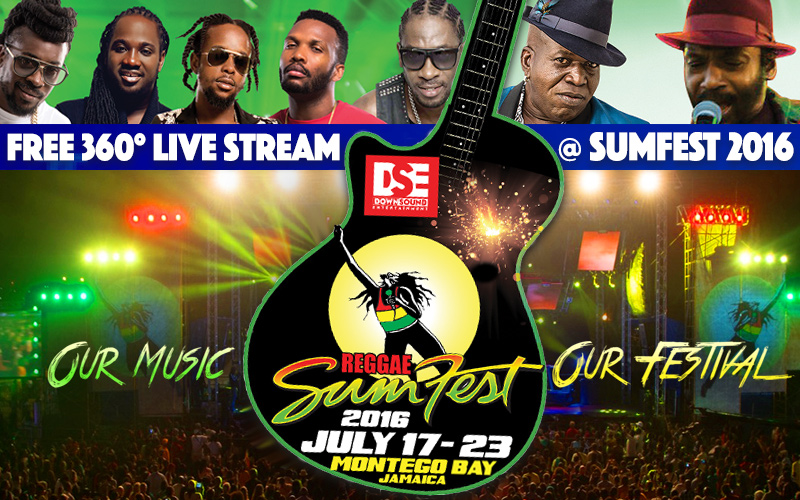 FREE REGGAE SUMFEST 2017 LIVE STREAM HERE!
Three months ago, in April 2016, Joseph Bogdanovich of DownSound Records & Entertainment acquired Reggae Sumfest.

This year's motto is Our Music, Our Festival and the a concept provides a line-up with Jamaican artists only. As a result, there will be no international night featuring foreign artists. The major line-up includes Super Cat, Barrington Levy, Beenie Man, Bounty Killer, Busy Signal, Popcaan... FULL LINE-UP HERE!

For Reggae lovers worldwide this year's Sumfest is closer than ever. Dancehall Night and Reggae Night on July 22nd/23rd will be streamed live for FREE!
Check all details below and log on to the LIVE STREAM PAGE here!


There will be two Streams from the show. The first is "A" An interactive 360° Surround Video Live Stream, and the second "B" A traditional broadcast type television stream.

A. 360° Interactive Surround Video Live Stream

1. For Smartphone and Tablet viewing of the 360 Stream, viewers will download an app from either the Apple App Store for IOS devices, or the Google Play Store for Android devices. These apps should be completed and up on both of these stores in around a week, and links to them will be on the reggaesumfest.com website. There is no cost to them, just download and use. The 360° Surround Video Stream will also be viewable on the Stream page of the reggaesumfest.com website with an imbedded player by laptop and desktop computers on almost any mac or windows computer using a variety of browsers such as Safari, Chrome, Firefox, Internet Explorer, and a few others. All the viewer will need to do is to click on the stream button at the time of the show and start watching in 360° Surround Video.

2. The 360° Surround Video Live Stream of Reggae Sumfest will be unique, even within the emerging world of VR (virtual reality) and 360° Video.
Viewers on the all devices when they view the stream will see a "Navigation Bar" along the bottom of their screen. This "Navigation Bar" will have selections in text labeled, " Stage / Front Row / Partycam / Backstage". Each of these is "clickable" to a different Camera view presenting a 360° field of view." Stage " will be a camera actually on the stage where the viewer will feel like they are in the band and part of the show…close up…and able to rotate their field of view a full 360° from this camera postion, and all the others. "Front Row" will be up front close to the stage, again with a fully controllable 360° viewer controlled field of view. "Partycam" will be a roving mobile camera postion seeking out the best party and dance action at the festival. "Backstage" will be a camera position backstage with artist interviews, artist meet and greets, background festival information and stories, and highlights of Reggae Sumfest events during the festival week.

3. Actual use of the 360° Surround Video Live Stream is as follows on a mobile smartphone device or tablets. When you open the app and click to join the stream, you will be defaulted into the stream from the camera position "Front Row". You will then be able to touch the Nav bar to chose one of the other camera positions if you desire. You will also be able to touch on the mask or google carboard symbol and convert this image into a stereoscopic image for viewing on google cardboard or other 3D VR Headset if you wish. If you want to go back to normal 360° viewing, you click your "back button" on your phone. To rotate around 360° to see everything surrounding any camera position and stream feed, you either just move your phone around as the stream is gyroscopically controlled, or you swipe with your finger in the direction you wish to move to. The intent here is to replicate as much as possible the experience of being at a festival…you can look all around, you can go up on the STAGE, be in front of the stage, go dancing and partying, or go hang out backstage.

4. The experience with a laptop and desktop is similar, but you control your camera view choice and field of view, with a mouse or trackpad.

B. Traditional Broadcast Style HD Live Stream

1. Reggae Sumfest will be also streaming a high quality broadcast style video stream on YouTube to the Reggae Sumfest Live Streaming & Video YouTube Channel.

2. The YouTube channel Live Stream wil have one stream called "Show Stream" coming from the "front of the house" from multiple camera positions, and a second stream coming called "Backstage Stream" which will have backstage action and festival week highlights and festival information and background.


FREE REGGAE SUMFEST 2017 LIVE STREAM HERE!