Festival Report: Reggae Geel 2014
08/10/2014 by David Katz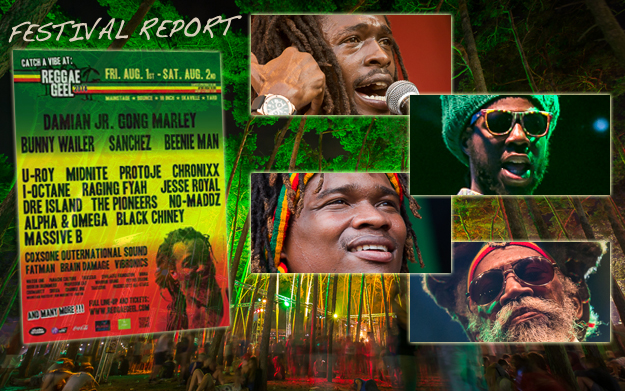 Reggae Geel felt like a real triumph this year. The main draw was its superior line-up, which had a good balance of reigning 'reggae revival' champions, seasoned veterans, upcoming hopefuls, and dancehall A-listers on the main stage, along with sound system supremos in the 18-inch Corner and ska maniacs in the Skaville Circus tent, plus more dancehall delights in the Bounce Dancehall, as well as quiet contextual space The Yard, where lectures, discussions, and public workshops are held. Doubling the area of the Aspergen park that the festival occupies was a very good move last year, since there is now much more space in which the events can be staged, which certainly contributes to a feeling of greater openness. As Reggae Geel grows, it seems there is more to enjoy each year, and the quality of the musical acts simply gets better and better. It has remained a family-friendly event too, which means that entire families do come out en masse to spread their picnic blankets on the field before the main stage during the afternoon, basking in the glorious sunshine that blessed the festival again this year, turning Geel into Reggae Heaven for the first Friday and Saturday in August.

I reached the venue just after 9pm on the Friday, which turned out to be excellent timing, since Chronixx was about to take the main stage, resplendent in a green cap; anticipation was running high, and a big crowd had already gathered before the set started. Although his recent appearance at New York's Central Park had him crowned as reggae royalty, and his spot on the Tonight Show with Jimmy Fallon saw the individual sing-jay conquer US network television and increase his status in Jamaica even further, the set he delivered at Reggae Geel felt somewhat uneven to me. Songs like Nah Give Up and Smile Jamaica had the man on top of his game, with his strong vocal command matched by fine musical interplay with his seven-piece Zinc Fence Redemption backing band, the keyboardist embellishing the former tune and the drummer and the percussionist spicing up the latter. But in contrast, Take My Love For Granted sounded unfocussed (a rambling interlude mid-way through did not help), and Somewhere felt pretty weak. Of course, Here Comes Trouble drew the greatest applause, though delivering it in an extended fashion wasn't necessarily a good move, since Chronixx's mimicking of Jesse Royal's and Junior Gong's takes of the same rhythm didn't add anything, and trying to tackle Jah 9's high notes was a real mistake. His attempts to hype the crowd into action any time that they fell silent also showed his inexperience (though Tarrus Riley used to make the same error not so long ago); I'm hoping Chronixx will realise that running to the front of the stage and trying to get a reaction from his fans makes him look foolish. Nevertheless, there were more positives than negatives during this performance, and many of the numbers sounded truly excellent, including the moving closer, Feel It. My overall feeling was that Chronixx has fantastic potential and his band remained on top form throughout; no doubt with a bit more experience under his belt, he will soon be more in command of a live festival setting.

When Chronixx was finished, I made my way over to the 18-inch Corner, better known as the Dub Forest, the sound system area that is in the midst of some very large trees, between which dub heads often sling their hammocks. It was nearing 11pm on what the MC reminded us was Emancipation Day, and the mighty Fatman was in session, with Father Fats in full control, and the first track I caught was an exclusive dubplate mix of Bunny Wailer's Rise And Shine, sounding thoroughly excellent. Then came an unknown dub of a Willi Williams track, and a cut of Prince Alla's Lot's Wife, all deep roots music to thrill everyone's soul. Once Fatman moved to the side of the stage and his son Flip took over, things got a bit more mainstream, with Toots' Time Tough and Culture's I'm Not Ashamed sounding alright, but not unduly brilliant. Recently-voiced dubplate burners of Niney's Blood And Fire' and Kiddus I's Graduation In Zion were not executed that well either, making us hearken for the original recordings. Thus, it was time to check out Festus in the Skaville Circus tent, playing the likes of ancient Maytals and Prince Buster tunes, and later, back in the 18-inch Corner, where Lloydie Coxsone was now selecting, with Gappy Crucial on the mike, dropping earth-shaking dubs like Clive Hylton's From Creation.

My view is that having Beenie Man perform on the main stage on Friday night, after Chronixx but before Bunny Wailer, was a bit of a mistake in terms of the sequencing. That is not to say there was anything wrong with his performance—he is still 'the King of the Dancehall' in terms of live performances at festivals (or 'the King of Everything', as MC Ron Muschette declared), and he remains very good at what he does. However, since Chronixx and Bunny both have bands that are so very musical, a somewhat two-dimensional dancehall set is bound to feel out of place between them, which it did on the Friday night at Geel. The gig opened with a medley of snippets that gave a reference to the incarcerated Buju, and on to Barrington and other favourites, but even though Beenie displayed his usual energy on stage while delivering his best-known hits, we all simply could not wait for highlight of the evening, or perhaps of the entire event, which was the two-hour set delivered by Bunny Wailer and the latest version of his Solomonic Reggaestra.

The band began with a lovely take of the Skatalites' Freedom Sound, delivered in roots reggae style, and showing off the talents of the horn section, though a take of Bob and Marcia's Really Together sounded a little less crucial, with only some unknown backing singers to deliver its words. Then, after a lengthy invocation, Mr Wailer took to the stage, wearing white as usual, and sounding very vocally strong with Bald Head Jesus. The action never dropped for a moment, as classic after classic was delivered in style; The Rastaman, Armagideon, Battering Down Sentence and Dreamland all sounding thoroughly magnificent. Later, Rock N Groove, Rootsman Skanking, Ram Dancehall and Cool Runnings gave us the dancehall side of Bunny, with plenty of verve. The ten-piece band sounded totally integrated, the result being a simply superb set with never a dull moment, taking us up to 2am, and time to get a little rest.

May Saturday afternoon experience began with Raging Fyah, the self-contained Jamaican band who met at the Edna Manley College of the Visual and Performing Arts. They have diversified their sound a bit since I'd last seen them perform, and have thankfully maintained their integrity in the process. Songs like Music Isn't Biased and the new Jah Glory both had strong vocal harmony and good lead guitar work, and the sentimental Back To My First Love had virtuoso keyboard work too. By the time they hit Judgement Day, with its extended dubwise portion, the audience was fully with them; the future looks bright for this band, so if you've not seen them yet, don't miss them when they reach your area.

Midnite were up next on the main stage, playing a lengthy set of slow reggae grooves, St Croix style. Although on par with the performances I've seen them do during the last decade, my view is that the set lacked any kind of diversity or dynamism, though the audience response was certainly positive. You can hear from the sound that the band does not come from Jamaica, and it is interesting to note that many of the younger artists making waves in Jamaica right now are getting inspiration from Midnite too.

It was unfortunate that I missed the performances by I Octane and Jesse Royal (but with so much taking place at Geel, it's not usually possible to catch everything in total); both artists have issued strong material of late, and since Royal is working with Fatis' son Kareem Burrell (and getting managerial assistance from noted VP staffer Neil Robertson), he may soon breakthrough to the next level. In any case, one of the day's unexpected highlights for me was the DJ set from Yaadcore in the 18-inch Corner. This tasteful selector came up with Protoje and he's a real natural in the sound system arena, giving just enough of an introduction to the music he plays, and certainly never spoiling the flow. Beginning with a digital cut of Dennis Brown's Emmanuel, he moved on to an unknown dub cut of the Lion Vibes production, Rastafari, and then some tracks by upcoming singer, Hempress Sativa, as well as some Micah Shemaiah dubs. It was a great peek into some of the more noteworthy sounds shaking up Jamaica's dub underground right now, and I thoroughly enjoyed it, so if you get the chance to see Yaadcore in action, don't pass it up!

Protoje on the main stage was also one of the day's stronger moments. He took the stage at about 7pm and was soon into stirring versions of I&I and This Is Not A Marijuana Song. He even went into a bashment section during Who Knows, and Kingston Be Wise got the audience singing along with him. The Indiggnation band remained on form throughout and their musical interaction with Protoje is part of what made the performance such a success.

After a glance at the Gorgon Sound in the 18-inch Corner, where Bunny 'Striker' Lee's son, Little Striker, was dropping some Johnnie Clarke 'Blood Dunza' dubs, it was back over to the main stage for another great set from Daddy U Roy, waking the town and telling the people with his timeless classics like Chalice In The Palace, Africa (on the 'Exodus' rhythm), as well as a nice version of Israel Vibration's The Same Song, and of course, Natty Rebel (on the 'Soul Rebel' rhythm). Newer number Pray Fi Di People and U Roy's cut of Bitty McLean's No Love (Plead My Cause) sounded great too, and the backing band, featuring Bo-Pee Bowen on guitar, kept things on track for the duration. The bits I caught of Phoenix City All Stars and the Pioneers in the Skaville Circus tent were mightily enjoyable too, both bands presenting driving early reggae beats for our dancing pleasure.

The portions I saw of Sanchez's set proved that he's looked after his voice. Never Dis Di Man and Praise Him sounded as good as they ever did, and the backing musicians gave the dancehall crooner the kind of quality support he deserved. Of course, Damian Marley's arrival on the main stage just after midnight resulted in a complete roadblock, as all attendees headed en masse to witness it. The energy level remained high throughout, with Junior Gong spitting his lyrics like a fire-breather, and my view is that his delivery on numbers such as the Exodus re-cut Move! were always going to be better than his attempts at trying to deliver War/No More Trouble in his father's image (in other words, he should stick to what he does best, which is deejaying his original lyrics, instead of trying to handle his father's vocal works), but in any case, there were no disappointments for fans of Damian Marley at all during this performance—his set clearly got the entire Reggae Geel massive's approval with the highest rating, hands down.

Over in the Skaville Circus tent, vinyl selector Wassie One did an admirable job keeping his public interested via original ska and rock steady 45s, with a smattering of rockers at the end getting the dancing crowd to move their feet, despite a minor power cut around 2AM. Then, Masa Rocka Shacka's ace vinyl selection was the perfect way to end the night, with rare nuggets from Prince Buster, Studio One, Duke Reid and Sonia Pottinger being just some of what he treated the crowd to, til 4am. They didn't want to let the Osaka-based selector leave the stage then either, but all good things must come to an end.

Overall, Reggae Geel 2014 was simply fantastic…here's looking forward to next year!