Buju Banton @ Riddim Magazine #95
12/08/2018 by Reggaeville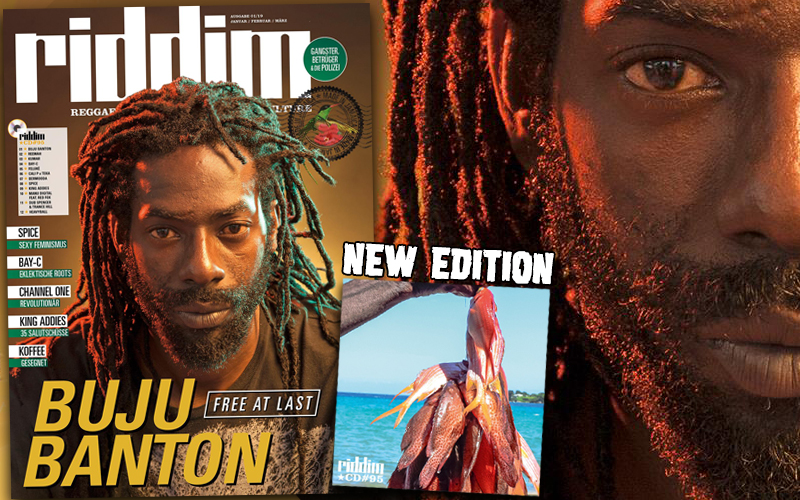 The brand new edition of germany's Riddim Magazine will hit the streets next week thursday December 13, 2018.

Subscribers received the edition #95 already and none other than Buju Banton is gracing the cover. Perfectly timed with Banton's prison release and return to Jamaica. Buju reached Kingston on friday evening (December 7, 2018). Check all details about Buju Banton's release and the return HERE!

Team Riddim is usually based in Cologne (Germany), but this edition was Made In Jamaica. They spent the past weeks in Jamaica to make sure it's All About The Vibes.

The Buju Banton cover story features some exclusive statements by Banton, which were submitted during his sentence. A must read!

ORDER YOUR COPY OR BECOME A SUBSCRIBER HERE!
This issue contains articles, interviews, features about...
Spice
Koffee
Channel One
Bay-C
King Addies
Kumar
Manudigital
Feluké
Sam Clayton
Rygin King

The included CD features 12 songs:
01. Buju Banton – Mighty Crown Dubplate Mix
02. Reemah – Givwe Thanks Every Day
03. Kumar – It's Alright
04. Bay-C – My Love Away
05. Feluké – Revolution
06. Teka & Cali P – Baddest
07. Bermooda – Unsterblich
08. Spice – Black Hypocrisy
09. King Addies – Dubplate Mix
10. Manudigital feat. Red Fox – Bye Bye Boom Boom
11. Dub Spencer & Trance Hill – Jingle Bells Dub
12. Heavyball – Internet Detective