Review
EP Review: Runkus - Move In
02/06/2016
by Gardy Stein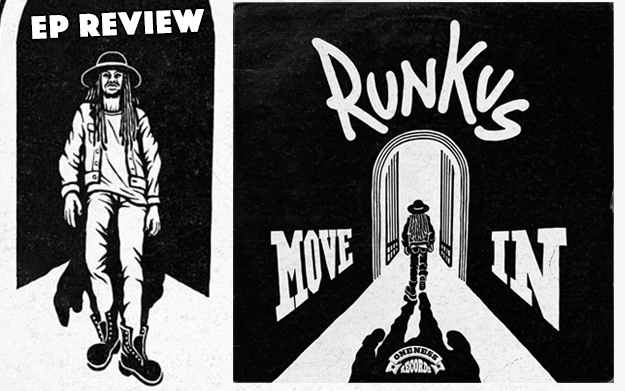 Asked, on the most recent episode of Wha' Gwaan Munchy?!?, what we can expect to hear on his upcoming release, a smiling Runkus said: "Music! As simple as it sounds. You'll hear love, energy… medicine, that's what I like to believe!"

And right he is. Listening to his debut EP Move In is like a rejuvenating spa treatment for body, mind and soul. It's hard to resist the infectious joy (and smile) of Romario Sebastian Anthony Bennett, offspring of Dancehall Deejay Determine and manager/ booking agent Paula Francis, and why would you? The first time I stumbled across his name was last July, while working on the album review for K-Jah's Link Up. Back then, I wrote about Runkus: "His dynamic Run is clearly a gem of the album, well delivered in different vocal flavours by the versatile singer, a wellness re-lived in the Umberto Echo remix track." As much as this statement is still true for the current release, I'd have to add 6 more tracks to the gem-part – every song is a little uni(que-)verse in itself! Moritz v. Korff and Benjamin Zecher (Oneness Records) as well as Umberto Echo (mixing & mastering) did a wonderful job producing this special masterpiece, and the expertise of a whole array of international musicians (hailing from Germany, Jamaica, France and Poland) ensure the immense quality of the beats, sounds and melodies touching our ears.

Looking at the titles, it seems to be all about motion. Apart from above mentioned Run, we find opening track Move Yuh Feet (a wonderful starter: Ska-freshness and elaborate introduction to Runkus' amazing range of style and voice in one), a gospely Move Yuh Self and the only feature Ride, bringing the strong voice of Treesha and the easy flow of Royal Blu to the fore.

Energy takes a step back speed-wise, sweet flute and all, but a step forward when it comes to the conscious choice of words delivering his message. In this case, Runkus manages to cram so many allusions and ambiguous metaphors into the song (including references to his father Determine, Marcus Garvey, Melchezidek and Haile Selassie) that you have to listen 3, 4, 5… several times to catch it all. Vocalize!

Indeed, all that energetic movement shouldn't stop you from paying close attention to the singer's lyrics. The way Runkus swirls through topics is a revelation, his phrasing carrying semblance of the likes of Protoje, Kabaka and Jesse Royal. Nevertheless, the artist always keeps a distinctive edge to his delivery, a style that is extremely authentic exactly because he doesn't try to copy anybody. Thumbs up for originality!!!

Speaking of: not on the original Retro Locks Riddim but in a stunning acoustic version comes Kindness, made especially interesting by an intro that seems to have been recorded randomly during a jam-session or something. It's a passionate plea against violence, suggesting to face rough times with faith, motivation and, yes, kindness. Music a di weapon a mi choice!

One for the ladies, Skin Tone combines Soul with biblical verse and a tender ode to her (whoever she might be). The three dub versions that close the album leave plenty room to do what its title tells us to: move in! Not in that mansion on the hill, but, according to the artist, into your self, to reflect, re-connect and grow. He once said that, to describe his style of music, you'd have to come up with the new term Runkus. Trust me, after you listened to Move In, you'll know what he means. And you'll understand the impatience that has befallen me to finally get a chance to see this exceptional artist perform live with his Old Skl Band! Moving back to Munchy's interview, here is one more quote to carry you through the day: "Music is a form of passing down knowledge, of passing down stories… it's an energy ting!"


---
Release details
Runkus - Move In
DIGITAL RELEASE [Oneness Records]
Release date: 02/05/2016
Tracks
01. Move Yuh Feet
02. Run
03. Kindness (Acoustic)
04. Skin Tone
05. Move Yuh Self
06. Ride feat. Treesha & Royal Blu
07. Energy
08. Dub Yuh Feet
09. Run Dub
10. Energy Dub (Umberto Echo Dubmix)
Featured artists
Treesha
/
Umberto Echo
/
Royal Blu