Bob Marley 72nd Birthday Celebrations Launched
01/24/2017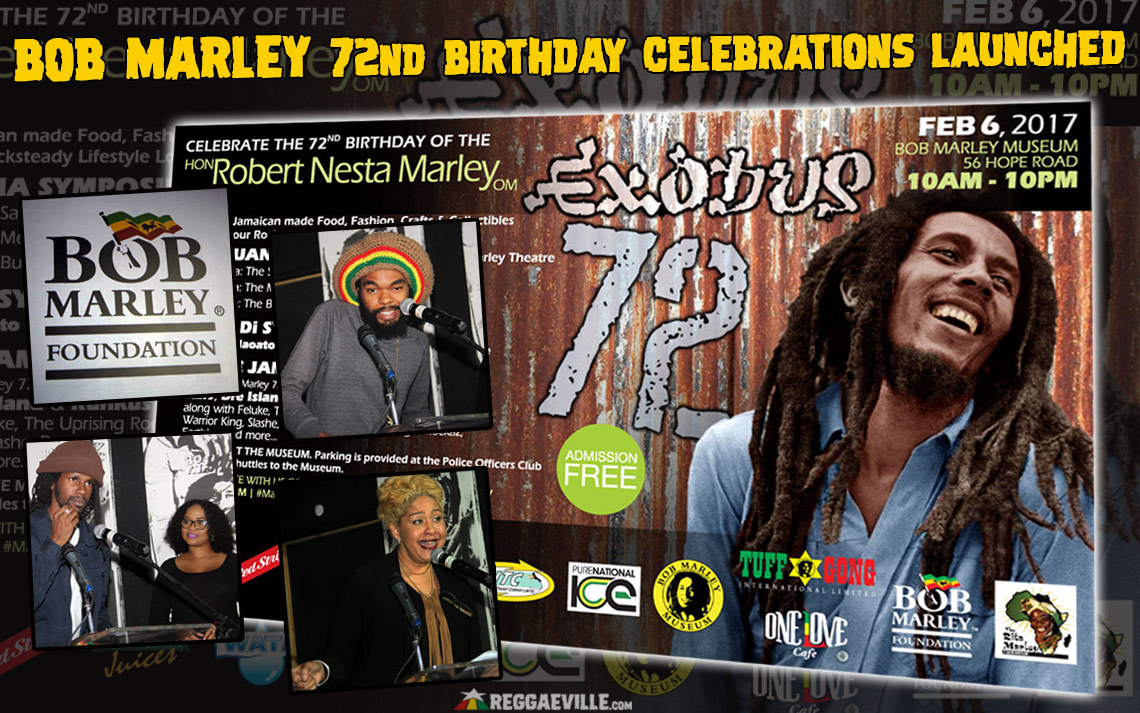 Plans for the 72nd birthday celebrations of the Hon. Robert Nesta Marley OM were unveiled at the official media launch held on January 12 at Marley's 56 Hope Road home, the Bob Marley Museum under the theme EXODUS.

CHECK THE PHOTOS HERE: BOB MARLEY 72nd BIRTHDAY MEDIA LAUNCH

On February 6, 2017 the museum will come alive as early as 6:30am with the morning ceremony that will feature, the daybreak blowing of the abeng, Nyabinghi drummers, releasing of the doves and the cutting of the ceremonial birthday cake. The Museum will be open to the public at no charge come 10:00am for a full day of activities that will include a three part symposium on Marijuana; The Sacrement, The Medicine and The Business. Marijuana based products will be on location along with a pseudo lab, that will feature extraction demonstrations and will give insight into the evolving world of the Cannabis.

A live outside broadcast by Irie FM's Elise Kelly with the popular show Easy Skanking will be present on location from 10:00am to 2:00pm. At 4:00pm music will ring from the venue in the "Sound Di System" segment with DJs Naoto, Rasarella and Fire Wayne spinning the best music on Vinyl and digital. This will be followed by the Reggae Jam Session featuring Marley 72nd Ambassadors, Jah9, Runkus & Dre Island along with reggae artists Feluke, Notis Heavyweight Rockaz, Iceman AKA Slashe, Uprising Rootz, EarthKry and others. Additionally, Partners Digicel, Red Stripe, Wisynco and Loop have recommitted their support to the birthday celebration.

General Manager Marie Bruce noted "This year we are certainly on the move as we honor the 72nd birth year of our founder the Hon. Robert Nesta Marley OM. The Marley Family and Group of Companies will be on the move with several projects to commemorate the 72nd year. These include, Tuff Gong International's resumption of Vinyl production with our Miami partners Sunpress Vinyl and also the Bob Marley Foundation's 'Uplift and Upgrade Eris Schader Home project', where we will improve the lives of the residents of that home located in the community of Trench Town, just to name a few. We ask Jamaica to get involved, as we honor the legacy of the legend".

The annual Redemption Live Concert by Digicel and Red Stripe is set for February 5 in Half Way Tree and will feature headline acts Ky-Mani Marley, Capleton alongside Richie Spice, Ikaya and many more.