Review
Review: Foresta & Royal Blu - Sing With God EP
11/24/2017
by Gardy Stein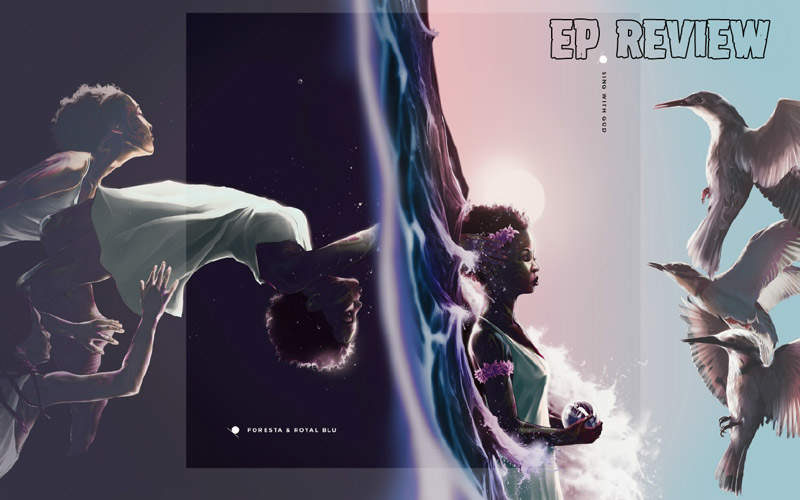 Up-to-date but timeless, exciting but not over-excited and fascinating beyond fascination - the freshly released EP SinG With God is a musical revelation not comparable to anything I've heard so far. With the calm force of a tree breaking through rocks and fences in its growth, Royal Blu and Tim Foresta managed to skirt any expectations people or the genre might have and created something completely, utterly, surprisingly new. The two sound magicians have connected through serendipity (or was it fate?), a fortunate coincidence that put the Berlin-based producer in touch with a voice that is the perfect match for his delicate riddims.

The five tracks included are hopefully but an appetizer for releases to come, as each single one of them is bound to leave you yearning for more. Piano, a simple but commanding beat and Royal Blu's gentle voice is all it takes to enchant us in Let's Get High, for instance, a song that may seem to centre on weed at first glance, but indeed is full of metaphorical allusions to a cooled-off relationship.

"I need you more than ever, I need to know you better, we need to roll together in this…" Believe is the first single of the EP, presented to the world over a year ago in the form of a video that is as skilfully orchestrated as the song is composed and arranged. In it, Royal Blu is joined by the elfin Lila Iké whose angelic voice seems to absorb and echo his emotive plea cited above.

We move on with a bit of plant lore: Blue Mahoe is a variety of mallow scientifically called Hibiscus Elatus, found exclusively in the Caribbean and in South America. After Royal Blu revealed in our interview that the second verse of Blue Mahoe is his favourite ever, making him stand in awe of his own creation, I re-listened the track a few times. While I had been smitten by the beat alone before, there is indeed a whole galaxy of words to dive into, and the way his voice plays, constructs, de- and re-constructs the lyrics is pure art. "Perfection is perception!"

The same can be said about On The Side as well. There is such a deep, intricate relation between the beat and the way the singer wraps his voice around and through it, that every note seems to condition the letters of the words riding them and vice versa. An explanation for this achievement is the following statement of Tim Foresta concerning their work flow: "The original beats always changed drastically after Blu voiced them, since I responded to his vocals." Would that all producers put in such effort!

Faster than the rest, the title track ties the almost otherworldly release to the modern world of dance music, offering a mysterious protagonist the choice between dancing with the devil or singing with God. In his inimitable flow, featured artist Runkus poses further essential questions that are fully understood only after several listening rounds.

Embedded into the ethereal artwork of Taj Francis, the EP SinG With God is a synthesis of the arts that sets new standards in terms of quality and innovation. I'm well aware of the fact that these words don't really do this sparkling gem justice, so make sure you get a copy and let yourselves be embraced by its glow. Utmost respect to the creators, and, please, don't ever stop this manna from falling!
---
Release details
Foresta & Royal Blu - Sing With God EP
DIGITAL RELEASE [Foresta Music]
Release date: 11/24/2017
Tracks
01. Let's Get High
02. Believe feat. Lila Iké
03. Blu Mahoe
04. On The Side
05. sinG with God feat. Runkus
Featured artists
Runkus