New Roots of Creation Album - Grateful Dub @ Pledgemusic
10/10/2017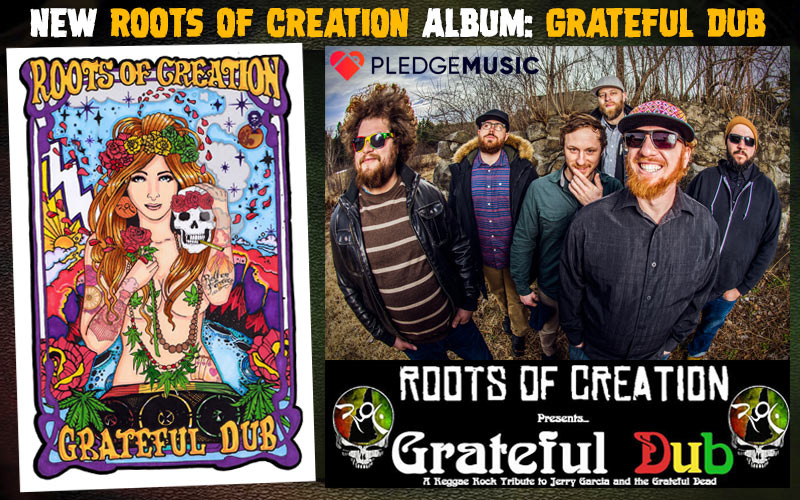 Roots of Creation has always loved the Grateful Dead and been inspired by their music, and in January of 2017 they set out to capture the spirit of the Dead in a reggae dub style. The resulting effort is titled Grateful Dub and was recorded at the band's hometown studio in Brookline, NH with the legendary 5 time Grammy winning producer/engineer Errol Brown (Bob Marley, Rebelution, Peter Tosh). Recorded over a period of ten sixteen hour days in the Dead of winter, the album translates some of the world's and Roots of Creation's own favorite Grateful Dead songs.

Brett Wilson, lead singer and guitarist for Roots of Creation, has been influenced by the Dead from the time he picked up a guitar, cutting his teeth and developing his jam band chops by playing over GD bootleg cassettes in the heyday of tape trading. This vibe has always resonated in Roots of Creation's music, eventually leading up to a Halloween show of all Dead songs that sparked the idea for the album, Grateful Dub.

"We've invested our own funds into this project and exhausted our budget. Now we need your support to get epic special guests to join us, mix and master the record, duplicate CDs/Vinyl, and spread the music worldwide. Thanks to input from our fans, we have created some excellent incentives, experiences, and merchandise as kick backs from your contributions to helping create this new album."



By pre-ordering the album or any of the exclusive offers, bundle packages and experiences. You will receive a download of Grateful Dub before it is available anywhere else and access to behind-the-scenes updates (sneak peeks at tracks, artwork etc..) leading up to the release! So pledge NOW and hop on board this new exciting "Long Strange Trip!"

ALBUM TRACKLIST
01. Fire On The Mountain
02. They Love Each Other
03. Friend Of The Devil
04. Deal
05. Casey Jones
06. Black Muddy River
07. Ripple feat. G.Love
08. He's Gone
09. Sugaree
10. Shakedown Street
11. Standing On The Moon
12. Row Jimmy (Errol Brown Mix)