Review
Album Review: Romain Virgo - Lovesick
03/30/2018
by Gardy Stein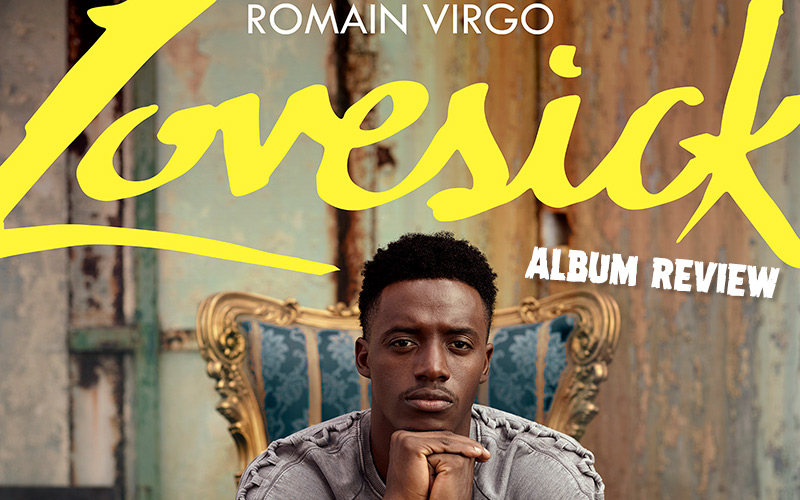 How many words do you know that start with the four letters L, O, V, and E? Loveable, loved, loveless, lovelorn, lovely, lover, lovesick… there are quite a few, actually. Even more in number are the stories that can be told about the feeling behind these letters, this biggest feeling of all. Sixteen of them have been collected by Romain Virgo for his long-awaited release Lovesick, his third full album so far. A variety of producers has taken part in the creation of this love-themed release, but it was Niko Browne of Lifeline Music who brought all the threads together, creating five of the tracks himself and accompanying the recording process of most others.
Most likely, he also had a say in the arrangement of the songs - and found the perfect introduction with Face to Face. A soft strumming that sounds like a Ukulele and gives the tune an almost Hawaiian touch accompanies the distinctive voice of Mr. Virgo, who not only introduces himself to the lady of the song but also, while it builds, a kind of tender expectation for what is to come. More yearning is brought across in Cannot Close My Eyes, an achingly beautiful piece produced by Lifeline Music, while Cruise (on a crisp, tinny Reggae-beat by Sting International) and In This Together (by Donovan Germain) celebrate the strength and wonder of true love.
Heralded by the warm saxophone of the one and only Dean Fraser, the title track wraps us in a warm embrace of jazzy One Drop, to which Romain's enticing vocals add exactly the right amount of languor, pining for the woman of his dreams (and, ladies, who wouldn't like to be that?).
The difficult sides of a relationship are reflected in songs like Day In Day Out, where everyday arguments put stress on the love initially felt, or Sweet Liar, in which the true face of a person once fallen for is discovered. The equally problem-ridden Trouble is brought across with a smirk, though, and despite the tricky situation depicted, you can't help but sway to the danceable beat of Kurt Riley's Chancery Lane riddim.
Less Reggae, more Pop: productions like Will You Be There, Now or Still speed up the tempo considerably, opening the release to listeners who might not be into Lover's Rock and Reggae too much. And those who prefer a slower pace, check out Heartbeat… "I feel your heart beat with mine!"
With so many wonderful pieces to choose from, it's hard to pinpoint a favourite. For me personally, however, Unbreakable stands out clearly, a perfect fit for the Silly Walks riddim that already graced their most recent album Smile Jamaica. Also, the Sting International production Hold On is a gem on its own, the skanky beat and soulful hook-line making it an instant sing-along. Can't wait to hear this with hundreds of voices united in chorus at a concert! Of course, singing along is what will happen to Stay With Me as well, as this cover is one of the best-known pieces of the artist. And, finally, the outro deserves special mention too: with an extended Dub of the Dennis Brown cover Caress Me, we are left with the tender touch of music.

This is a touching, well-conceived, high-quality release right here. Let's all get Lovesick!
---
Release details
Romain Virgo - Lovesick
CD / DIGITAL RELEASE / VINYL [VP Records]
Release date: 03/30/2018
Tracks
01. Face To Face
02. Lovesick
03. Cruise
04. In This Together
05. Day In Day Out
06. Cannot Close My Eyes
07. Sweet Liar
08. Unbreakable
09. Trouble
10. Hold On
11. Will You Be There
12. Now
13. Still
14. Heartbeat
15. Stay With Me
16. Caress Me