Interview with Romain Virgo
11/09/2015 by Angus Taylor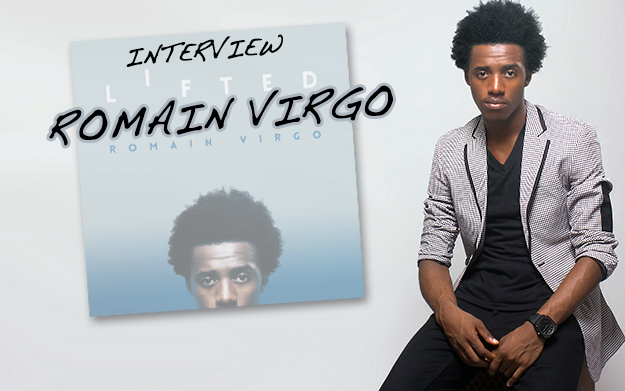 If you had to summarise Romain Virgo, "good example" are two words that suit him very well.

He's a good example of how a singer who cameto attention through a TV talent show can maintain a relevant and successful career; of how to conduct oneself in the public eye without attracting controversy; and of how to make reggae that fits comfortably into the pop mainstream while retaining its raw reality. Since he won Digicel Rising Stars in 2007, he's assembled two albums of exemplary quality, 2010's Romain Virgo and 2012's The System. Subsequently, he's been quiet on the long-playing front – flirting briefly with a dancehall direction and making a mixtape, Go Hard and Beyond, in 2013. Given recent changes in the way we consume music, it seemed possible that one of the few reggae artists who can fill an album had put the traditional format aside.

In fact, he was just biding his time. Last week he released new six track EP Lifted via distributor VP Records. And as he explained to Angus Taylor during this exclusive, wide-ranging interview, it is a signpost for his recently announced third full-length project Love Sick due for 2016…



How important was the church in encouraging you to sing when you were a child growing up in Stepney, St Ann?
The church was somewhere we had to be every Sunday morning because that was the tradition. Every young child had to be in church. If anybody saw you on the road they would run at you and tell you go and get ready and go to church! My family on my dad and my mommy's side, are Christian. So I had to be in church every Sunday, at Sunday School then stay for church service until it was over at 2 o' clock. I was a church boy from day one and it was very important for us – well, that's how our parents saw it. They wanted us to be in church so we would learn something about the Bible and it would help us to be better men and women of tomorrow.

And do you think that has worked? Is that why you've remained on the path that you have?
I believe that is a strong part of it. Because I still have the respect and the love and am trying to do something so anybody that knew me growing up would feel proud to hear the lyrics I put on the rhythms I get to sing on nowadays. I live with that: trying to make everyone that knew me from that age going to church feel proud that they can listen to my music, even though it is not sacred music, without feeling any sense of disappointment.

Many singers have crossed over from sacred to secular music – in the USA you have people like Sam Cooke, Marvin Gaye, even R Kelly. Did you face any opposition at all in doing that or did everyone understand?
They understood. It was something that happened without even thinking. By the time I started singing secular music I was at high school where they had all of these traditional events that go on in Jamaica. They have a thing they call the JCDC; the Jamaica Cultural Development Commission. I was a part of it from high school days doing speech and drama and singing. Most of the songs were secular music and that's where it started for me. We did a thing called All Together Sing where the majority of the songs were reggae songs.

But the good thing was we were always sticking to the positive side of it. We never got caught up in the negative lyrics or anything like that. Those are the small things that helped break us into what we have become today. It wasn't anything planned. It was probably the works of The Almighty that just led us to this point. But we try to keep it grounded and as clean as possible for the people can knew me from day one.

Recently you posted a video on your social media accounts of someone pulling a truck made from a bottle on wheels – did you used to do that in Stepney growing up?
(laughs) Yes man! As a youth we used to make a lot of them and drive out running around the community with that. A lot of the communities in Jamaica used to do that but I don't see a lot of youths doing that nowadays. Young youth are mostly interested in the internet and video games. In my time we weren't fortunate to have video games so that was our form of entertainment to make box trucks, drive them around and make the sounds of the vehicle while running around! So it was amazing to see this youth pass and I just ran downstairs and said "I need to video this! I need the world to see where I am coming from!" It brought back memories of my time and what I used to do when I was growing up.


In May this year, you donated $500,000 to the music department of your old school, Aabuthnott Gallimore High School in St Ann. Was that something you had always wanted to do?
Yes man! Because when I was going to high school there were no musical instruments. I remember the first morning I performed at high school in Devotion it was just a mic! That's all they had. Just a microphone and a PA system and that was it. You didn't even have music teachers. You had a teacher who was responsible for the cultural part of the whole thing. Now it's a part of the whole CXC syllabus so now schools have trained music teachers but for the first two or three years I was at high school it wasn't a part of the syllabus.

They introduced it at grade 9 so that's when I started to learn a little bit about music in high school and I started loving it even more. Mr Cross was my music teacher and then Miss Walker and Miss Gordon were the cultural teachers at the time. The love for the music started there even though we didn't have many instruments. The first instrument we had was the keyboard. We didn't have any drums or anything like that.

So I always had it in mind that whenever I started to have a little bit of success I wanted to do something for my school. And that thing was to get more musical instruments so young people like myself who wanted to do music had something to play and to learn from. It was a blessing to give them a start. I still want to do more but everything takes time and little by little I will continue to do my part. It's a blessing and I could see the appreciation on the faces of the teachers and the students after we made this donation. We just want to continue so you can find more Romain Virgo's coming out of the school.

Which instruments can the school have thanks to the donation?
They can now have drums, bass and rhythm guitar. They will have Akette drums they can play and recorders they can blow. We bought a keyboard and all of the percussion instruments like shakers and… (laughs) I don't remember all of the names! I think for high school the ones they will definitely need are the bass guitar, the rhythm guitar, the drums and the keyboards. But they will also need a guitar amp and bass amp so we got those as well. I want to give them a proper PA system so they can hear themselves and everybody at the school can hear the sound they are making. As I said, we aren't going to stop now. Instruments always lose strings and they will probably even lose instruments. Because when the youths are using them they won't understand how to use them at their first try. So we will want to replace them.


Back in 2011 you attended an event for the charity Help Jamaica on the morning of your college exams. A lot of people would have preferred to concentrate on their exams!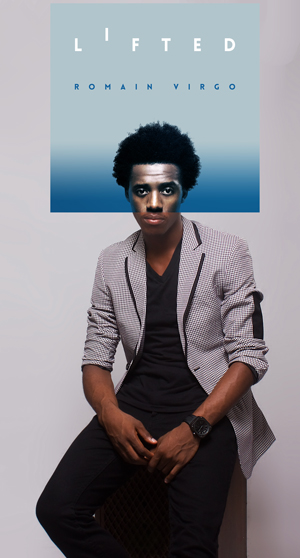 (laughs) Yes I had exams that same day so I had to run in and run out! But it was a good thing. I think what HELP Jamaica is doing for Jamaican children and for Jamaica overall is amazing. There are so many places around the world who would need this kind of help. I believe in the whole movement so whatever way I can play a role I want to do that. That was why we made the effort to make sure we were there that morning and whichever way we can represent we will always try. I want to congratulate HELP Jamaica for the work they have been doing. The community and the children are benefitting from this movement a lot so I want to tell HELP Jamaica thanks on behalf of the children and communities of Jamaica.


How did you do in your exams? Have you completed your degree in Visual and Performing Arts at Edna Manley College?
We reached in that morning and I got to do the exam. The only thing is I am not finished with school as yet. We always have to be on the road doing tours so I took a break from school. I want to go back when I won't be on the road and I will be in Jamaica so I have more time. I always wished they had some online programme so you can be on the road and doing school at the same time. If they had that I would probably be finished already. It is something I want to do because I want to be a more rounded musician – not just an artist that runs on stage and sings a few lyrics but somebody that can play a musical instrument.

You already mentioned the Jamaica Cultural Development Commission where you won two medals before Rising Stars. Does the government do enough for the music?
(pauses) Boy, I would love to see more. Apart from JCDC and helping to cultivate the students from primary school level up to high school, I would love to see more in terms of after high school. There should be centres and some form of foundation that helps to develop the craft. This is where reggae music is from but if people want to do reggae music nowadays you have lock off at a certain time. I believe there need to be things in place so people can do music without any form of restriction. For most artists this is the only way of survival. This is how we feed our families and there are many young people coming up wanting to do the same thing.

If you put restriction on the time and where people can perform then put other things in place. Develop a set place where young people interested in reggae music can perform and there will be no restriction on the time. When I come to Europe you see people doing shows at so many different times. Festivals start in the middle of the day and go from early until the evening. We don't have places where we can put on things like that in Jamaica. That is what I would love to see our government investing in because reggae music really put this country on the map.

Edna Manley College is somewhere that is doing extraordinary work for the youths. Most of the reggae artists that are performing nowadays like Chronixx, Kabaka Pyramid, Protoje, Iba Mahr, Jah9 and Kelissa, their bands they are carrying in the road are all students of Edna Manley College. It would be good if the government could step in to help them not to pay such a big school fee because Edna Manley is very expensive and most young youths who want to do music can't afford to go there. So I would love the government to look at how important it is for the development of the youths to continue to learn this thing. It can only help this genre to get bigger and better.

Speaking of festivals in Europe, how did you survive the extreme hot weather at SummerJam 2015?
(laughs) Wow it was probably the hottest I've ever been in Germany. I was wondering if it was Germany or Jamaica? It was extremely humid out there and for the first 15 minutes of my performance I was extremely tired because the sun was just beaming down on me. It was a different kind of weather in Germany and we're glad we got to pull through and tried to give the people an energetic performance. The people were showing their involvement. They were singing and waving and we really appreciated it. To see the love that the people show at SummerJam, it's always overwhelming. We give thanks to the organisers for bringing forth young people like myself to these big stages so the world can see them perform and hear what they have to offer.

You have a new video out for your song Fade Away featuring Assassin. How did you link him - through your mentor Donovan Germain at Penthouse Records?
Yeah, we'd been through Penthouse. When I started in 2007, Assassin was one of the artists that always passed through. He was one of the Penthouse artists around Donovan Germain when Buju was around with Wayne Wonder and everybody so from that time the love and the respect was always there. I always wanted to do a song with him but I thought I wasn't ready yet! At that time I thought I needed to create and build my own thing first because the stronger both artists are in terms of their popularity, the better when they come together and do a collaboration. In my mind I wanted to do something in the future with Assassin but I just wanted to work on Romain Virgo until we reached that point. He was an artist I would see and we'd always show the love and respect at a studio or a concert. It was always musical brotherly love from then until now.

This song came about when I was writing the chorus for the rhythm. I was hearing somebody else's voice. If it wasn't Assassin it would be Buju but we know Buju's situation! Or maybe Busy Signal but I have quite a few songs with Busy already so I was saying "Assassin would be the perfect voice". Myself and Nicholas Browne from Lifeline called him in. He was listening to the chorus and saying "Wow, I have something for this" because he had a vibe like this already so he started singing some lines from his verse. It was just perfect and matching with everything I was saying in the chorus so right away we recorded it. From that day until now everybody that hears it has been loving it and now we've done a video all the DJs are calling, they want this song to play. I think it is one of the songs from the EP that is going to get a lot of love because so many people can relate to the lyrics.

How much of an influence was the original 1975 Fade Away song by Junior Byles on yours?
I have to mention that I want to pay some respect to Junior Byles and that song. I must say our Fade Away is influenced by Junior Byles' Fade Away. I always loved that song. It's one of the biggest reggae songs that ever came out of Jamaica. That's how I see it personally. I think that's a powerful song. Everywhere I go and hear that song playing it's always the same kind of reception from the people worldwide. It has a whole heap of meaning to them. Even now, when we perform this song on stage we always do the first part of his song: (sings) "He who seeks of only vanity and no love for humanity shall fade away…" and then we start our song. His song has a whole heap of influence and a big impact.

There's a similar connection between the theme of your song Rich In Love and Dobby Dobson's 1970 hit Loving Pauper. Do you like to take a theme or a title from history and create a new song that carries the theme into a new generation?
Exactly. It's a new sound. Sometimes people do things without even realising. You hear a melody and wonder where it's coming from but the music is a cycle. Sometimes I take a little bit of this from this song and try to put my own understanding and experience to it to come up with something else. I think this is a way to help preserve the music. It makes no sense to sing about things we know nothing about. Some songs come out of Jamaica that I know personally none of us know anything about! (laughs)

I think it's better to take a little bit of this and a little bit of that from the people who helped create this genre and put our own understanding and experiences that we go through to come up with something new. That's what I did with most of my songs. Songs like Who Feels It Knows It. Bob Marley sang about Who Feels It Knows It already. It's the same thing man. Just putting pieces together and creating a new sound, a new way of saying it. People will appreciate it just the same and I will continue to do that and try to preserve this sound, this reggae music we love so much.

On the song, God Inna Mi Corner, from your new EP you sing about someone "wave gun in my face". Have you ever been threatened with violence?
Well, not necessarily, but I have friends and most of my songs get inspiration in so many different ways. Sometimes friends tell me about their situation and I know there are so many people in the world, in my community, in my circle, in my parish that go through the same thing. Sometimes they are things I go through but sometimes I try to reach out to people who have been though some kind of situation like this. A line about pointing a gun in my face isn't necessarily Romain Virgo with guns in my face. But there are so many friends who have been through that so we try to sing and put their life on a rhythm and people seem to relate to it most of the time.

What was it like to work with Sly and Robbie on the track Stars Across The Sky?
Sly and Robbie sent that rhythm to my management team Vikings when they were doing their first Reggae Power album. It was nominated for the Grammys. They wanted me to be a part of it which was huge because I have a lot of respect for Sly and Robbie for their involvement in reggae and dancehall music. It was an honour and a blessing man so right away we got the rhythm and started humming melodies and writing. Myself and Nicholas Browne from Lifeline Music wanted the first song we did with Sly and Robbie to be something big.

So we took one day in the studio to find melodies and then the next day we tried to find the lyrics. It wasn't a one day "hurry come up" thing. We spent a lot of time on writing the song and going to Sly and Robbie to record. Robbie wasn't there at the recording because he had some engagement overseas but Sly, and Kaz who worked alongside them on that project, was there. It was a wonderful experience to be recording at their studio. I felt good walking out of the studio knowing what we left there for them to mix and work with. It was a good feeling to say "Yeah, I have done some work with them".

Sly is a very cool person. I haven't met Robbie as yet but Sly and Kaz – they are people I would enjoy to continue to work with. I did a next song with them for this other album they have out Reggae Power 2. It's called Dancing In Love and a lot of people have been talking about it since it was released. Sly and Robbie, man, they are talented, talented musicians and their production is different and like a breath of fresh air.


On the EP you cover Michael Bolton's Soul Provider and Sam Smith's Stay With Me. In the past you've covered Adele and even the Gatlin Brothers All The Gold in California for the Reggae Gone Country project. What you look for in a cover song?
Well we always want people to understand that it's not about covering a song just to cover a song. I always look at the song and see "What can I do to this song to make it more interesting? So when people who know this song hear it they can feel something different?" For example, Sam Smith Stay With Me, Niko Browne introduced me to that song. He called me when he was watching Sam Smith performing it on Saturday Night Live. When I heard it I said "Yow, if we put some reggae music to this song we can make it a totally different song." We thought it was a powerful song but it was simple, just a keyboard playing and drums. We thought that if we put that heavy reggae bass-line to it, gave the drums a nice groove, put some nice harmonies and some modulation in it we could make it sound like a brand new song. That's what we did and people seem to love it ever since that day.

For Soul Provider, Silly Walks in Germany sent me the track and wanted me to record on it. I grew up listening to people like Michael Bolton, Percy Sledge, Otis Redding, Marvin Gaye. These are songs that always played inside the house. When I was listening to the rhythm track the chord progression was sounding like Soul Provider. I was trying to write my original song on the rhythm but I was singing melodies that sounded so much like Soul Provider that I couldn't get it out of my head.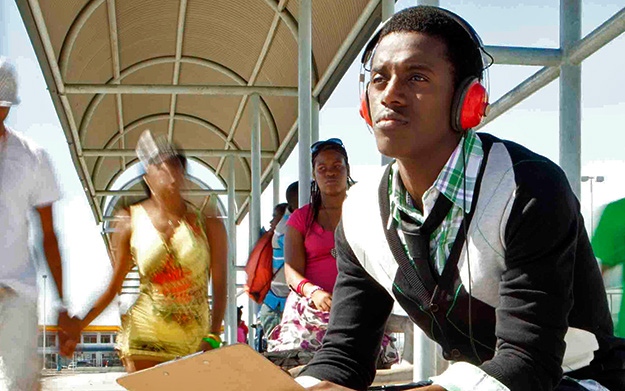 An original song using somebody's melody wouldn't make sense because it would sound like I was not showing enough respect. So instead of taking somebody else's melody, putting lyrics to it and saying 'This is mine' I just said to Silly Walks, "I'm just going to do a cover of Michael Bolton Soul Provider". They said "You're sure that can work on the riddim?" and I said "It is the exact key, the progression sounds similar so might as well cover the song". A lot of younger people who don't know Michael Bolton, thought the song was mine. I think it is because of the difference. So it is not every song that I jump and cover because it's popular. I cover songs I know I can put a new twist to and make it interesting for the listeners.

For now we are kind of taking a break from cover songs because from Don't You Remember to Stay With Me to Soul Provider it's probably a bit too much. And it wasn't planned. I never would have known that today I would be putting two cover songs on my EP but the love the people are showing meant we had to. Probably for now, I will be putting focus on the original side and focusing on the album Love Sick for 2016.

It's good news that you have recently announced your new album. Many artists are concentrating on EPs and mixtapes these days. How near is Love Sick to completion?
This Lifted EP is a teaser to the upcoming Love Sick album. We already have the name of the album and are probably at 65 or 70% in completing it. We have been working on it for over a year now. It's going to be interesting because Love Sick is a story and it will be something that people who continue to support Romain Virgo's career from day one will look forward to. And for those just getting to know me it will be something they should make sure they get. If this is their first project from Romain Virgo I think it will be a perfect one.

Love Sick is a story line. It is like a book and we want the people to get their copy of this story. We are excited working on it and we are taking the time out to make sure all of the songs make sense. And in terms of the visuals we have already done music videos for songs that haven't been mixed as yet. That shows you how serious it is. It is going to be out next year for sure. VP Records are the ones who going to be distributing and we are really looking forward to it.

You've kept recording with certain people throughout your career. You are still working with your management Vikings and with Niko Browne who contributed to your second album the System. Are you still keeping links with Donovan Germain?
Yes man, I'm always interested in bringing people to my team who believe in the team and will help it to grow. Vikings has been my main manager from day one, Donovan Germain is a producer that I've worked with from day one at Penthouse. He's always there encouraging me and making sure the music is sounding good, whether I'm recording for him or for producers outside. He wants to make sure the music continues at that level and standard I set at Penthouse. The team is there, man. It's not the team that knows everything but it is a team that is willing to learn. That is what is helping us grow from strength to strength every step of the way. We're just growing as a unit and moving forward so we think in years to come we will definitely reach the goal we set out for. That is to be well known across the four corners of the world.

People who haven't visited Jamaica often don't understand that people there listen to lots of kinds of music. In Kingston you will hear a lot of Sam Smith or Ed Sheeran playing. People show a lot of love to music from outside Jamaica. Do you think people abroad show enough love for Jamaican music? Is your goal to be big in the mainstream around the world in the same way that Jamaica accepts foreign music?
Yes man. That is always my dream. I think reggae music is big and I also think it should be bigger. Because when you travel to some continents reggae music is not mainstream music. That is what I would love. I would love reggae music to become mainstream music so that wherever you go, whatever station is playing, you would be hearing R&B and hip hop but you would also be hearing reggae music. I want to see our music reach to that level.

I think a lot of respect is out there for the music – especially with this new batch of artists that are continuing to push the reggae music. There is only room for improvement and growth. I have no doubt that the music will reach the mainstream but it's something we just have to work hard at. For example when you see an award ceremony like the Grammy Awards normally you don't see the reggae artists go up like the other artists to collect their awards. I would love to see reggae music up there with these other genres. To show that our music is just as important as any other genre of music.