Review
EP Review: Rocky Dawuni - Voice Of Bunbon Vol. 1
11/05/2020
by Gardy Stein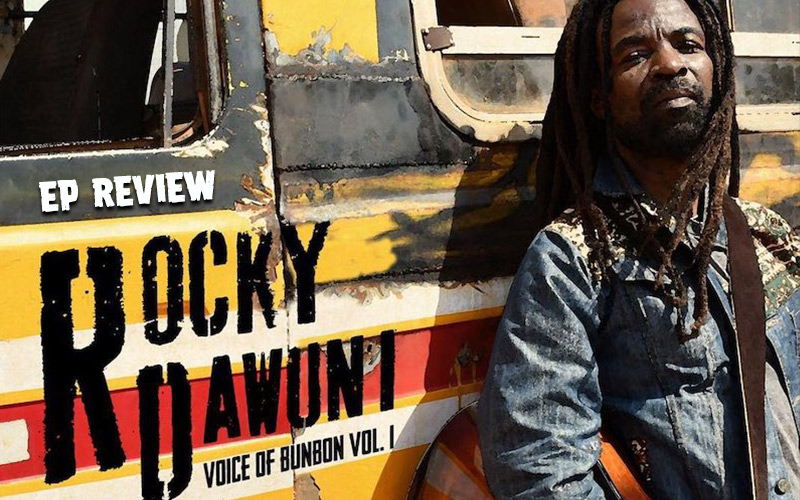 "In a time of uncertainty, we need songs and hymns that can touch our emotional nerve and remind us that love and hope are an indestructible aspect of the human experience that no amount of fear can take away." (Rocky Dawuni)
A mere 20 months after his fine Beats Of Zion album, Rocky Dawuni is back with an EP entitled Voice of Bunbon - and the Vol. 1 suggests that we can look forward to a second part as well! Bunbon, a tiny town in the dry regions of Ghana's far North, is the birth place of the singer, musician and social activist who was brought up with the traditions and culture of the local royal family. This upbringing and his strong connection to his home country is reflected in the eight tracks included, tracks that speak of current events (Ghost Town), love (My Baby), empowerment (Beautiful People), faith (Difference), hope (Born To Win) and the little joys of life (Gonna Take It Easy).
A host of instrumentalists made sure that Rocky's ideas were faithfully translated into music (among them John McKnight, Anthony Brewster, Andre Morris, Ed Dixon, Akablay Anthony, Tony Chin and Prince Annan), resultig in an authenticity that caresses our ears. My Baby, for example, includes skilfully played percussions and guitars that transport us to the Highlife traditions of West Africa. Sung with the local flavour of Ghanaian Pidgin English, the love song is an instant favourite of mine (being a fervent proponent of linguistic diversity). "If I no get money, would you still love me oh?" - no way you can evade this charme!
Naturally, the subsequent track will make the hearts od world music lovers beat faster as well. In a style that bears proof of the roots of Jamaican Mento, Woara sings about... well, I can't tell you what exactly, but the infectious melody invites hum-along all the same.
The Corona-inspired Ghost Town is a calm, acoustic piece that describes the dramatic effects of the global lockdown on a local scale, resulting in empty streets and a disquieting fear, a fear that the singer promises us to disappear.
With Gonna Take It Easy, Reggae enters the picture, clad in a beautiful Roots robe. The song talks about the daily grind of work and the relieving feeling of an evening or a weekend of rest. The ride is continued with Beautiful People, an uplifting livication to us in which Rocky explores his full vocal range. Leaning more towards Pop, Born To Win convinces us that "which way your life will turn is always up to you."
Modern programming was part of the production process as well, however, and can be heard on tracks such as Hustlers (which tells an autobiographic tale) or Difference. The latter plays with Afrobeats elements and is made extraordinary not only by the lyrics, which are among the most touching of the EP, but also by the amazing transition at 00:50. "We cannot go wrong if we cherish what will make us strong."
The Voice Of Bunbon has spoken! Those who like Rocky Dawuni's former works will love this EP - it adds a new flavour to the artist's output without losing his characteristic style. Well done, Team Rocky!
---
Release details
Rocky Dawuni - Voice Of Bunbon Vol.1
DIGITAL RELEASE [AQUARIAN Records]
Release date: 10/30/2020
Tracks
1. Difference
2. My Baby
3. Woara
4. Ghost Town
5. Gonna Take It Easy
6. Beautiful People
7. Born to Win
8. Hustlers