Review
Album Review: Rising Tide
03/20/2016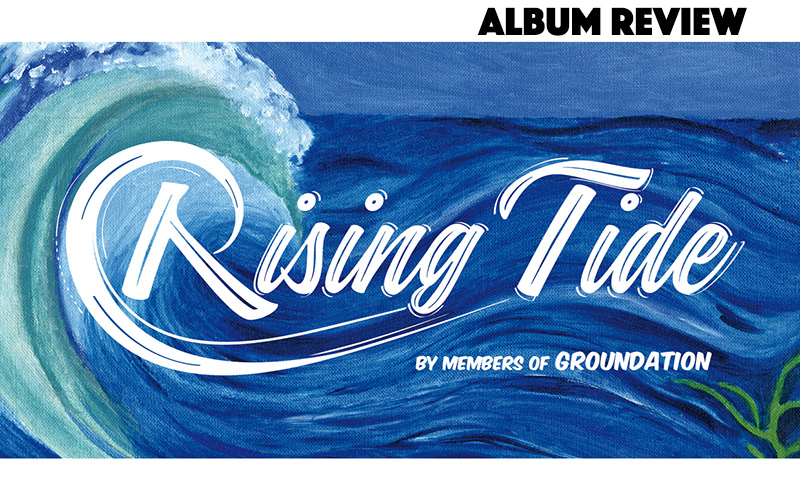 Groundation lead singer, reggae intellectual and workaholic Harrison "Professor" Stafford has been busy with various side projects for years now besides relentless touring with Groundation. Now the rest of Groundation comes up with a side project of their own to channel their excess creativity. Named Rising Tide, it unites current members of Groundation–minus the Professor–with former members of the successful Californian band.

The current members of Groundation participating are Marcus Urani as the producer and, of course, on keys, Ryan Newman on bass, and Kim Pommell and Sherida Sharpe (vocals). The former members partaking in Rising Tide are Kerry-Ann Morgan (vocals), and Paul Spina on drums. New is Jason Robinson on saxophone and flute. Quite outstanding is the engagement of New York City guitar god Yotam Silberstein, whose skills add ornaments of gold to Rising Tide's debut album.

Self-titled, this LP comes with eleven tracks, each between 4:27 and 6:59 minutes in length. Stylistically, Rising Tide isn't far from Groundation with its jazzy approach to playing reggae music. It carries a message of conscious livity and ecology: "Rising Tide is a hymn to nature and our mother earth. One that witnessed our birth and that we must protect. One we have damaged, but still have time to heal. The message is clear. Today and for years to come we must realize how we are all linked to the land, the roots, the trees and the animals."

Is It Right has Kim Pommell asking us to unite and fight right (Check out the official animated video clip to it!). Me And You kicks off with a soothing brass section and is an unusual, deep lovers' tune. Rising French reggae star Naâman is featured on One And All, again asking us to unite and fight for justice together.

Like Is It Right, Seven Times Rise has been released as a single already. "Nobody's gonna help you/if you don't help yourself." The lyrics of Positive Vibes are a bit too unsubtle, giving the tune the feel of a kindergarten song, despite the correctness of its message. The jazzy Time Bomb reminds us that we're running out of time to save the planet we're living on.

Let It Out features Jacob Hemphill of SOJA fame as lead vocalist. "Let it out/let it out/when it ain't you/set it down/set it down/when it's not good for you." Despite all the evil that's going on in this word, we need to give thanks and praises to the Most High for life and enjoy it, says So Many, otherwise we could end up bitter. The underrated Jamaican singer/songwriter Lymie Murray lends his voice to Whoap, and Damian Marley's backing vocalist Roselyn Williams is featured on Young, Strong and Beautiful. Only Human seals the deal: "Teach di youths dem seh/music is life/and life is love/and love/love is music."

Rising Tide is the strong debut album of a very promising project, and will surely be lauded as one of the most outstanding releases of 2016 thanks to its ingenious compositions and simply jaw-dropping musicianship.


---
Release details
Rising Tide - Rising Tide
DIGITAL RELEASE / CD / VINYL [Soulbeats Records]
Release date: 03/18/2016
Tracks
01. Is It Right
02. Me And You
03. One And All feat. Naâman
04. Seven Time Rise
05. Positive Vibes
06. Time Bomb
07. Let It Out feat. Jacob Hemphill (SOJA)
08. So Many
09. Whoap feat. Paul "Lymie" Murray
10. Young, Strong And Beautiful feat. Roselyn Williams
11. Only Human
Featured artists
Naâman
/
SOJA