Interview with Richie Stephens
04/14/2016 by Munchy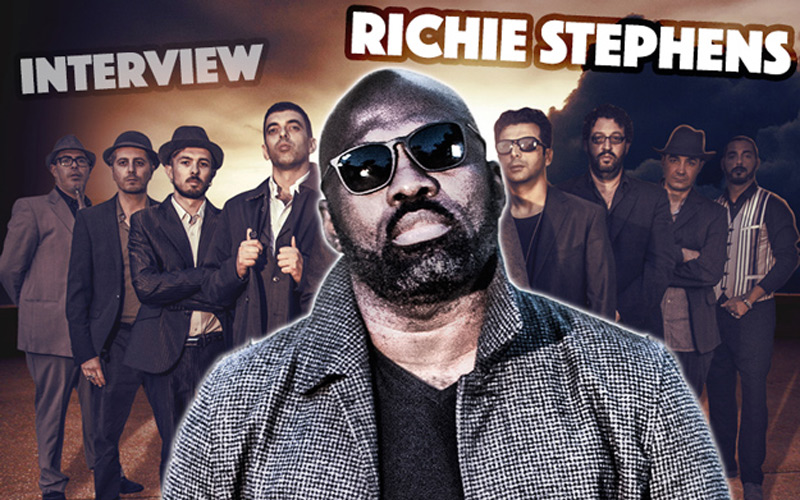 Your latest project is a Ska album entitled Internationally, which is indeed an international production of you as Jamaican and The Ska Nation Band from South Italy. Hearing you promote the record you seemed pretty excited?
As you said, I am very, very excited. Ska music has been one of my all time favourites for many years. I think it provides a lot of energy. It is very unique. It allows me to dance and I love to dance. It's just a great Jamaican genre that is not celebrated any more. I always felt that I wanted the opportunity to do a Ska album but my observation over the years was that to get into the genre is one thing, but if it's a genre that nobody believes in any more it would be difficult. So I searched and searched and searched until I found some guys in Italy and decided to work with them because they have equal interest in Ska music to do this project together. Ska music is well loved, supported and celebrated in South Italy, in a place called Salento. So I thought we could use there as a base and start this project called Richie Stephens & The Ska Nation Band. Yes I am extremely excited!

When and how did you meet The Ska Nation Band? How was the vibe, how did you know you wanted to do works together?
I was invited last year to do a festival called Casalabate Music Festival put on by Ranking Lele and Papa Leu. These are two artists from Salento. They're very known there, very well-respected. They were excited about my song Everybody Dance, which is a Ska song that I did two years ago, that did very well in South Italy. They expressed a lot of interest in doing a remix for the song. They did the remix and it impressed me so much. I really loved how it sounded, so I said to them I would like to do some more work and so we decided "Hey, let's do a project together!". I had this concept of Richie Stephens and the Ska Nation which included some dancers. We extended it now by saying Richie Stephens & The Ska Nation Band. They loved the idea. I still have the dancers all over the world, from Japan, Germany, Jamaica, America. They support what I am doing which makes it very exciting. I am serious about this project and we're gonna go all the way to make it work.

Half of the record was done in Italy, the other part in Jamaica. What was done where and how did the production actually work out? Have you been in the studio together at some point?
Everything about this project is unique and different. (laughs) What I mean by that is that the first song that was done between me and The Ska Nation Band was the remix for Everybody Dance, where I sent them the vocals and they did the remix. It was a totally different sounding song. Originally Everybody Dance was done in a Ska-Tech kind of style, where we put a little Techno in the Ska. What they did is bring it back to foundation Ska, which I really like and what I really wanted to do, but I was afraid that people wouldn't want to hear that because it was too old. But then I said to myself "Let's do Ska music in its original form" because I heard some criticism as well about the electronic sound in it. I like to listen to the voices and what people think. We decided to bring it back to undiluted foundation Ska, which is a good decision because a lot of people really prefer that. We did half of the album in Jamaica, half in Italy. How we did it? I went back to Italy and we did about five to six songs. We laid the tracks, I voiced them. Then I went back to Jamaica and The Ska Nation Band visited here. We got them in the studio with Sly and Robbie, Lenky Marsden, Kirk Bennett, Dean Fraser, and just did some collaborative production having great Jamaicans play with great Italians. I particularly loved the way the album was put together. Also half of the album was mixed in Jamaica by Jamaican engineers, the other half in Italy. So it's got a Jamaican-Italian flavour and that's what makes it so interesting.

How was working with The Ska Nation Band? What do you appreciate the most about their works and sound?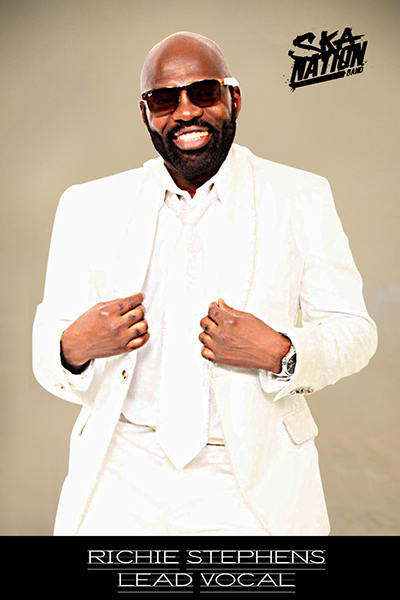 First thing, let me single out Papa Leu. Papa Leu is such a technical person and a workaholic. He is very detailed and I like that quality within him. Some things that I think are not a problem, he thinks we should work on it some more. In terms of the vibe and the energy now, Ranking Lele is always there to say "That groove could be a little more like this" or "I love that groove, I think we should work with it like that". But particularly what I love about the whole project is that the Italians interpret Ska a little bit different from Jamaicans and that makes an interesting blend, because some things that we're not even thinking about, they are thinking about it. They put a lot more colouring on top. If you notice the horns sections are very colourful and I ended up loving the way it sounds. They are more into horns and flair in the music, while we as Jamaicans concentrate more on the drum, bass and guitar. All together it made a really nice blend. And let me not forget Morello, who is a selecta. He is the one who reached out to me online and that is how the whole thing came together, about me doing the festival, meeting Papa Leu and Ranking Lele. Morello was always there during the production giving his advice as well.

Why did you turn your back on EDM and proceeded to do original Ska after the release of your Ska-Tech singles before?
Yes, I started out doing Ska-Tech because to be honest with you, I was kind of nervous about how people would receive Richie Stephens doing Ska. Especially here in Jamaica you don't hear Ska music on the radio at all. It is not celebrated. For that reason I was trying to put a little bit of what is going on now in the Ska. But after releasing two songs I listened to the voices of the people and people who really care about Ska are not into the Ska-Tech thing. They prefer Ska in its authentic and natural form, because it is such a pure music, it doesn't need to be diluted. I understood clearly and was happy to know that these people were assuring me that they love it in its original form. So it takes no effort at all to just go back to the foundation and that is what I wanted to do from the beginning. This is a good, good vibe to me. I like that. And if you notice the album starts with a song called Foundation Sound in which I am highlighting and bigging up all the veteran Ska musicians and singers from back in the 50s. They are the ones who created the music and opened the door so that Richie Stephens and The Ska Nation Band can now put together a wonderful album such as Internationally. So there were never worries to just x out the EDM.

On board for Internationally are some legendary musicians from Jamaica such as Dean Fraser, Sly & Robbie, and the Browne brothers Danny, Dalton and Clevie that were surely excited to return to the foundation of Jamaican music. How did younger musicians like Kirk Bennett and Lenky Marsden enjoy the project? We know them mainly from Dancehall productions like the infamous Diwali riddim or Busy Signal's Bedroom Bully.
If it was for the musicians Ska music would be produced and played on the radio every day but unfortunately there is a music industry that stipulates what is played. So naturally musicians will want to play what they can get out on the radio and in the music space much easier. Kirk Bennett and Lenky Marsden are very versatile, talented and into music for the music of it. When I came to them and involved them with this project they were very happy because they also wanted to express themselves doing Ska. We love and respect the music that we and our forefathers created. But unfortunately powers like the media here in Jamaica tend to just want to concentrate on one style and one genre. Even Reggae is not so celebrated in Jamaica as it used to. They tend to just want to give you 24 hours of Dancehall and that's really messed up. We need to highlight the different genres of Jamaican music in Jamaica.

On board as featured artists are your brother Gentleman and Sean Paul for Original Style but for Internationally also the great Italian group Sud Sound System, the pioneers of Italian Ragga. How did this collaboration come up?
Sud Sound System is without a doubt the heavy weights of Reggae in Italy. I truly admire how they stick to the music for all these years and the love and respect they have for Reggae. I learned about them being a band that looks out for the people. They use their talent in a positive sense and advocate for the rights of the people in South Italy. I grew a lot of respect for them. To do a collaboration with them is an honour. Going in their neck of the woods can only help me and help them around the world. It works for both of us and the long and short of it, I respect them as human beings and what they're doing, as well as their music. It was a great idea to do a song with them.

As you mentioned already, today very few Jamaicans still do Ska music. Why do you think that is? In other parts of the world Ska experienced new periods of hype with 2-Tone in the late 70s and the Third Wave in the 80s.
As I explained earlier you cannot ever think about the music that plays and has been produced here and use it as a way to judge the standard of music that we produce in Jamaica around the world. There are so many Ska bands around the world, even though you probably can't find one or two from Jamaica. That is unfortunate. The reason being it is not celebrated. When something is not celebrated in a particular country it's difficult to try to do it or stay with it. But the love that I have for Ska and the fact that I always travel, I know that there are people out there that appreciate me doing Ska. I think that there is a certain amount of people out there that really need Ska coming from Jamaica as well. As much as they enjoy Ska from other parts of the world they wouldn't mind Ska coming from a Jamaican, too. Me lending my voice and doing the Ska project I am not sure if we're going to do another album or two or three more, but I am particularly happy to know that the music that I love so much, the music that I grew up on I get a chance to do a complete album. Having The Ska Nation Band, a total set of Italian guys makes the project very interesting because this is a blend of cultures. Without a doubt I feel that this is going to create a new wave in the world.

Do you think Jamaicans should put more emphasis on their musical history, create a greater awareness? How should that be done?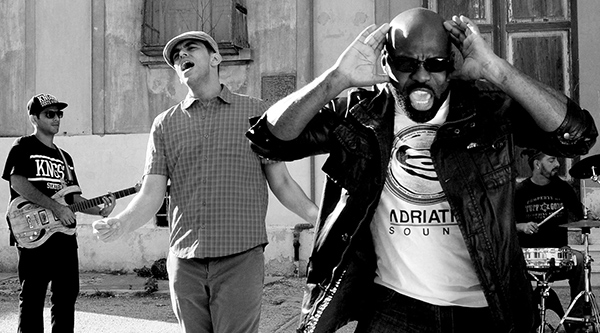 That goes without saying. As Jamaicans we are very creative people. A professor told me that Jamaica is the only country that created so many different genres in the last century. When I listened to that statement I said "Wow". She was talking about Mento, Kumina, Ska, Reggae, Rocksteady, Dancehall... We create a lot but we don't document a lot. There is no library to safe the history of our music. There is no place where young people can go and research. When I play Ska here to some 20-year old youngsters that don't know what genre it is. They don't even know that this music was created here in Jamaica and that's a shame. Hopefully this album Internationally will be a success and it will bring a certain amount of attention to the genre itself, that especially young people in Jamaica will be able to catch up and understand that this is one of our own music that we no longer celebrate and remember. I am just praying that this will be a tremendous success to not just do good for us but the entire industry and the Jamaican people, especially the young ones.

In the opening track Foundation Sound you mention many legendary musicians like The Skatalites, Prince Buster, Derrick Morgan, Toots & The Maytals, Byron Lee and the Dragonaires. Who are your favourite Ska artists? Whose music inspired you the most while working on this project?
When you talk about Ska music you have got to mention The Skatalites. To me they're the group that really pioneered the sound. A lot of the musicians I mention were are part of original The Skatalites. Later on some branched off into different areas but The Skatalites are credited for being the forefathers of Ska music. After that I mention Bob Marley and The Wailers. Tunes like Simmer Down or Put It On are some of the foundation monster hits. Millie Small's My Boy Lollipop is credited to be the first big international hit from Jamaica. That is also a Ska song. That is why I sing in Foundation Sound that "Ska is the original sound, our first international music".

Will you also tour the album with The Ska Nation Band?
Yes, yes, we will be touring together all over. We are going to Japan and several countries in Europe to start the promotion. The whole plan for this year is to make physical appearance and play with the band.

Wonderful! I already love the album and I am looking forward to experiencing it live as well. Do you have a final message you'd like to share with us?
I am glad you love it and I hope others will grow on it as well. (laughs) I want to send a shout out to the people in South Italy. Thanks for the support they have been giving me. Big up the whole crew there. One love and respect! Especially Luca Manno, the saxophone player of the band. He was very instrumental in helping with the production. Big up all the people involved in the album! Jamaica and Italy coming together... Richie Stephens and The Ska Nation to the wooooooorld!