Review
Album Review: Headcornerstone - Walk On
05/31/2021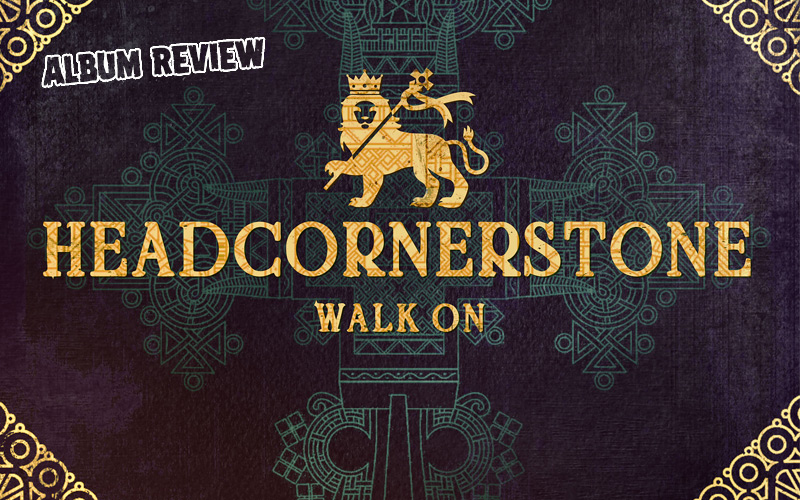 Headcornerstone is back - and it seems they were never gone
The stone that the builder has kept refusing for so long, that he has refused to use for any regular purpose, but has kept in reserve for a special place in time, that very stone has now finally and ultimately reclaimed its constitutional position. "IT", the Headcornerstone, that is put at the intersection of two directions, is a special stone. "IT" divides two roads leading into different spheres, and "IT" unites them at the same time.
But this is just one possible interpretation of the beautiful poem that opens up the third album from the Munich based Roots Reggae band Headcornerstone.
This is not a dream of an illusion
Nor is this some deranged confusion
This is not a figment of imagination
This is not reality, erased from past memory
This is certainly not a joke, nor a gest
This is IT
This cannot be bought with all the tea in china
Cannot be duplicated, plagerized nor prosecuted
This is not maybe, perhaps or possibly
This is not soon come, see you later
This is IT
This cannot be had for a billion dollars
This cannot be bought with corrupt gold and silver
This cannot be ripped off and made into a pretence
This is not of your making to use as you wish
This is not me, you, us, them, theirs or ours
This is IT
The album's emotive intro is spoken by Mihlawhdh Faristzaddi, mentor of Headcornerstone's lead singer Conscious Fiyah. Its central metaphor "IT" remains a mystic spiritual principle that, like a delicate red thread, pervades this album, for which many Headcornerstone fans have been waiting so patiently for more than 15 years now.
The intro seamlessly merges into the album's first song Greatest Joy, which elegantly ties up to the poem's metaphor through chants of praise to creation and its creator. Both poem and song are characterized by the drums of the Nyabinghi before the song finally rears up into a marching One drop riddim - what beautiful re-entry into the Reggaesphere after such a long break.
And what better time than now to call an album Walk On! The name-giving tune is a motivating one with a credo that supports the notion that there is no such thing as giving up.
Three digital and two vinyl singles have preceded the long awaited album since the beginning of this year. Those who have listened to Starvation, Farmerman and Suspicious, the three digital singles, may have felt nostalgic hearing Conscious Fyah's voice as it blends into backvocalist Sista Lou's vibrant alto, both joining into colorful collages and narrating choruses about the issue of world poverty, the beauty of nature and the dubious mentality of men.
Another tune opens with a sweet melodica melody in two voices over a hissing-hi-hat One Drop. A contrast suitably for the duality of the song's lyrics that deal with the inequitable distribution of wealth around the world. Spirited, almost angrily the instruments back up the singer's message on Crystal Tower. A song named Why similarly picks up the topic of "economical warfare" and connects it to humanity's greed and the corresponding sufferation. Both Crystal Tower and Why have been released as 12'' on Vinyl through New Flower Records including their respective dub versions, even before the three digital single releases. There is at least one more song on this album that needs to be highlighted. It is called Many Names and features Jahcoustix, who is the only feature on the album. A fantastic reunification that immediately brings to mind memories about a much earlier combination called 1492 from 2005.
Everything on Walk On, from the topics, the riddims, the verses, the vocals, the lyrics and the rhymes, the whole package evokes a memory of the previous - not to say the "old" - Headcornerstone albums Headcornerstone from 2003 and Stand Strong from 2005. It almost seams like Headcornerstone were never gone. One reason for that, besides the fact that the core formation of the band has remained, could be that Oneness Records founding member, now Dub Inc bassie and former Headcornerstone bass player Morry "Da Baron" has kept close ties to the band ever since they announced a musical break in 2005. Since then, Headcornerstone has remained in the heads of many as a conscious reggae band with a unique, bubbly and crisp, yet heavy and majestic band sound and the unmistakeable singing voice and pronunciation of its lead singer.
Should you just have discovered this band and their new album: congratulations, you have just found a crucial piece of the Reggae landscape puzzle. This album literally invites you to hear the band's full story, which is lyrically outlined in the biographical tune Dancehall Story.
And the best news is, Walk On not only marks Headcornerstone's comeback to stores, as soon as the circumstances allow, we will also see them return to the stage. Himself a huge Headcornerstone fan back in 2000s, aDUBta, Headcornerstone's second generation drummer and the producer and mixing engineer of Walk On remembers: "The group had a deep influence on my music and my love for Roots Reggae. And now, more than 15 years later I produced the third album; played the drums and almost all organs and keys; created the artwork and worked together with my musical heroes from my own beginnings."
Headcornerstone have established their standing. Their Reggae is uncompromisingly spiritual and critically confronts all materialist attitudes that cause the woe of the word. JAH is in the center of all Headcornerstone music, like the queen bee is in the centre of a beehive, protected and praised by the armada of musicians bustling in the stronghold of Reggae music. Walk On is a beautiful release, a real cornerstone, but also a gem and a milestone, not only for all Headcornerstone fans, but for the global Reggae community in general. Like both previous Headcornerstone albums, Walk On is highly recommended to all sincere fans of counscious Roots Reggae music. This Reggae is enocouraging and inspiring, solid and grounded, relentless and directive, a real Headcornerstone. Outstanding and everlasting, it marks the threshhold between the past and what is to come.
---
Release details
Headcornerstone - Walk On
DIGITAL RELEASE [Oneness Records]
Release date: 05/21/2021
Tracks
01. Greatest Joy
02. Crystal Tower
03. Dancehall Story
04. Suspicious
05. Starvation
06. Walk On
07. Why
08. Time
09. Farmerman
10. Love In Abundance
11. Many Names
12. Something