Munchy in Ethiopia - Observations of a Forenji (Travel Blog #1)
11/13/2015 by Munchy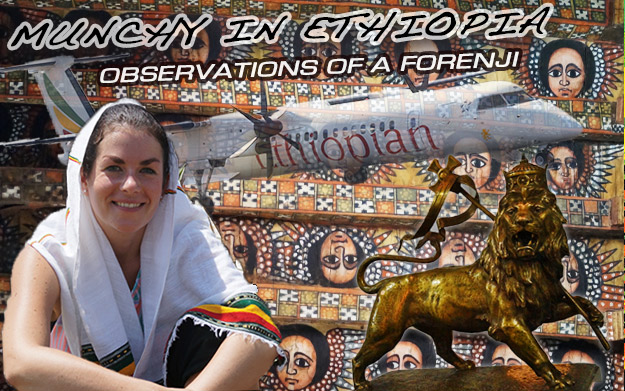 Munchy in Ethiopia 2015 - Travel Blog Day 1

CLICK HERE FOR THE PHOTO REPORT!

It is still early morning, just around 5 am as I land at Bole International Airport in Addis Ababa and quietly celebrate my first footstep on African ground as I leave the aircraft. A tiny, random step for mankind, but a big step for Munch. I feel well prepared for my journey, had a lot of friends supporting me with advice who have visited before, read up a lot, but the first doubts reach me quickly as I wait in the line to get my visa. Some people carry passport pictures. I don't. Should I have brought some? I have one. I might need two. There was airport staff with a camera as I walked by. Should I go back to have my picture taken? I don't, and get through smooth and faster than expected, without the need of pictures anyway – promising myself that this was the last time I would worry myself over foolishness on this trip.

The sun is shining, yet the air is still fresh after the cool of the past night. Outside the airport I enjoy a good view of the city while I await my colleague Valentin, fellow writer and journalist. He lives here since six months and has spent a lot of time answering all my questions, taught me not to apologize even when they seemed stupid. He will be my company here for the first few days in the capital. Together we approach a yellow and green taxi, as a guy jumps out of an old blue Lada car, also trying to get us on board. "Some random guy wants to make a hustle offering tourists a ride in his shaby car" I think – before I find out that he is also an official taxi driver and the blue Ladas are a rather fancy means of transport in Addis. The only place I have ever seen Ladas was many years ago in Jamaica, where jokes explained the acronym with "Life and death association".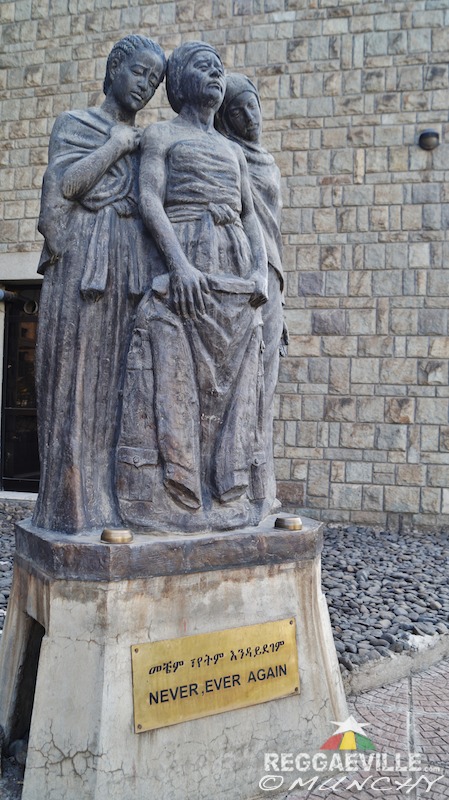 Valentin negotiates a good price for the ride – even though we are forenjis and charging us "people from far" more is like an unwritten law that will hunt me for the next three weeks. We make our way to the guest house in Atlas in the Eastern side of the capital, not too far from the airport. Our hood is called Chechnya and is well-known to the locals for its nightly activities when young ladies line up on the side of the road to finance their university study. Prostitution is legal in Ethiopia.
The area is nice though. Many lovely food places offer traditional food, pizza, coffee (buna) and fresh juices from mango and papaya. We enjoy a breakfast together and I am amazed by the calm of the place which is just a result of the early hours, as I will find out later. Around six million people live in the city.

Valentin has to go to work, so I decide to explore Addis on my own. As the bus system seems still a bit too much for my first day and maps have always been more my thing, I decide – the German I am, and yes, we walk a lot – to take my trip by foot. Down Ghana Street I wander by colorful shacks selling everything from fresh fruits, preferably banana, oranges and avocado, to kitchen utensils. The smell of fresh coffee, of course always accompanied by the incense that are mandatory for the Ethiopian coffee ceremony, is mixed with the disturbingly dark gray fumes of the cars. I meet a young Ethiopian named Thomas, who keeps me company for a bit and we visit the church Kidus Urael, but as this story will repeat itself quite some times in the next weeks I keep my description short like that.

Down Jomo Kenyatta Street I walk along the brand new light rail, the first one to be built in sub-Saharan Africa. The Ethiopians are very proud of it, as they are of a lot of things. The Chinese built it, as they do with a lot of things.
Eventually I reach Meskel Square, that I funnily also first heard of in Jamaica, where the restaurant Veggie Meals On Wheels uses it to describe its location in Crossroads. This intersection here on Meskel Square is so much bigger though than the one in Kingston. But that's kind of it. It is a huge wide space surrounded by lots of streets, lots of cars, lots of smoke, lots of people. The empty concrete field in the center sometimes turns into a location for official festivities, a bus terminal and taxi stand with hordes of neatly lined up blue Ladas or a football court. My original destination, the city museum of Addis Ababa is closed for maintenance but I get to visit the Red Terror Martyrs' Memorial Museum, an intense testimony of the Derg regime, a military junta that took power in the 1970s after Emperor Haile Selassie I. Up until 1987 they tortured, imprisoned and executed ten thousands of fellow Ethiopians whom they found to be "counter revolutionaries". I shiver looking at their pictures. Colorful artworks please my eyes at first before I look closer and discover that it's an illustration of a terrifying torture technique. When it started out originally in 1974 the people wanted the change. "Ethiopia first" was their motto, overcoming all ethnic differences to unite. Today the ethnic group you're from is mentioned in your ID again. Divide and rule or just regional patriotism? The recent government of Ethiopia won its last election with 100%. The country has moved from monarchy to communism to "democracy".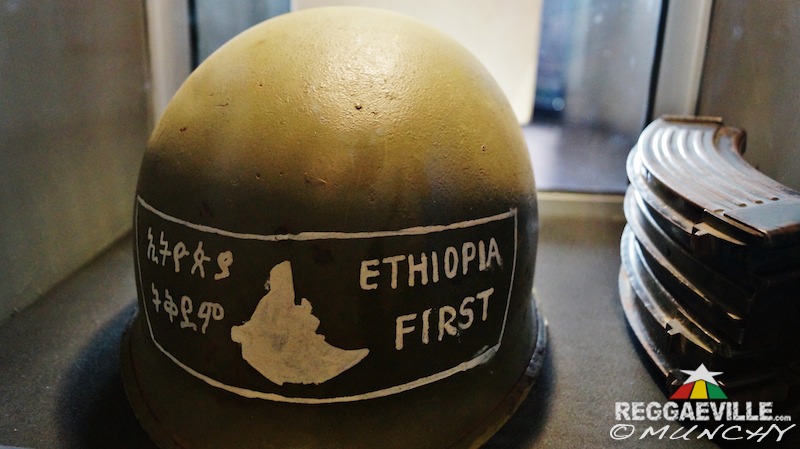 In general I will not hear much criticism from Ethiopians on my visit. They acknowledge their present and past without much complaints. I will hear someone say "We are a very poor country", neutral, without grief or pity, that's just it.

I visit another church, Kidus Estifanos, and meet another young, friendly Ethiopian to keep me company. Together we walk up Menelik II Ave, past the lush greens of Addis Ababa Park, Africa Hall, the UN and the ECA, huge buildings in vast contrast to the majority of houses here. The way didn't look so steep on the map – but I understand it as physical exercise. We end up in a park that belongs to the palace areal of former Emperor Menelik II, who founded the capital in 1886. By law one must not take pictures of governmental and official buildings and I am very happy to be guided by my new friend, who saves me from getting in trouble over shooting a photo of some bell tower and, of course, another church. Allowed gladly is taking pictures of Bete Maryam – hold it, yes another church – that is also Menelik's mausoleum. Just before they close I get to visit and descend to the crypt, where the bodies of the Emperor, his wife Taitu, the daughter Zewditu (who reigned with her Regent Ras Tafari Makonnen) and Haile Selassie's daughter Tsehai found their final resting place.

The sun almost sets as I return to daylight from under the ground. The tortoises that live freely in the park have already gone to sleep and couldn't care any less about my camera. Time to go home to Chechnya! My first mini bus aka "taxi" ride turns out to be very pleasant. The system is nothing new to me but familiar from Jamaica. There is no map and no set times. You have to know where you want to go and find that particular spot where the bus to this direction leaves from when it's full. Gladly I have my guide, who also happens to live in Atlas. He leads me to the right little blue bus. The fee is 3 Birr – 15 Cents – for both of us. Unlike Kingston, where loading a bus goes along with a lot of yelling by the conductor, rushing, banging against the metal of the vehicles, and massive encouragement to enter any bus whether this is the one you need to take or not, here it all happens rather peaceful. You enter voluntarily, at your own pace and law restricts the fares precisely as well as the amount of people to be carried. One whole seat to myself, yeah!

With traditional shiro, a spicy sauce made from chickpeas on injera, the flatbread from sourdough, the surprisingly tasty combination of coffee and tea (buna and chai), and some Ethiopian Dashen beers Valentin and I celebrate my first day in the country as well as the start of a fascinating journey.

CLICK HERE FOR A PHOTO REPORT!