Kingston Dub Club Invaded By Police
04/24/2017 by Gardy Stein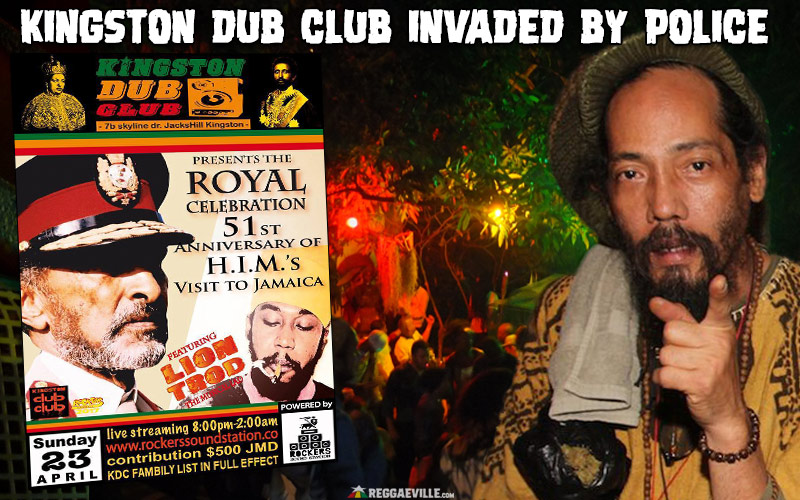 Last Sunday [April 23rd] was supposed to be a special evening at the renowned Kingston Dub Club. The announcement read: "This Sunday, all roads lead to Kingston Dub Club as we I-llybrate the 51st Anniversary of the VISIT of H.I.M. Emperor Haile Selassie 1st to Jamaica (April 21st, 1966).", and everyone who has ever set feet, eyes and ears on the place knows about its magic, knows that, as always, an enjoyable night filled with conscious music, heavy bass and inspiring conversations awaited its visitors.

Instead, the evening turned sour. Between 11 and 11:30pm, police appeared at the premises owned by Gabre Selassie and took the originator of the legendary Dub Club into custody.
Riddim Magazine editor Pete Lilly wrote on Facebook: "I hear police came into the yard because of nighttime disturbence. Gabre complained on the mic about naked people at carnival being ok while a peaceful rasta gathering is a problem. One hour later they came back to arrest him."

Reports differ as to the cause of the arrest, some claiming noise complaints, some the expiration of the club's licence. Whatever the reason, nothing justifies the harsh manner of arresting Gabre in full session of the peaceful gathering that established itself as a regular event over the last four years, bringing together locals, tourists and Reggae lovers from all corners of the earth. It is said that pepper spray has been used and the place was forcibly shut down. What this incident means for the future of the weekly event is not clear as yet.

As the social media explodes with cries of outrage and calls for answers, the Hon. Minister of Gender, Culture, Entertainment & Sport, Olivia Grange, issued the following statement:

"I want to quickly express my concern and regret that an incident like this should have happened on a day when Carnival, a quite different cultural event, was taking place. It is really unfortunate that something like this happened at the same time as Carnival, as it sends the wrong message that there are 'two Jamaicas'. Gabre Selassie is an icon who has dedicated and promoted roots reggae music for all these years, so he deserves some respect for his consistent support of our indigenous Jamaican culture. His work has grown out of a desire to promote our culture and he should be praised for that. The support his event gets from Jamaicans who love roots culture, tourists who come to Dub Club each Sunday night, as well as those who follow it online each week, underscores how world famous our culture is.

The Amendment legislation to the Noise Abatement Act is on the agenda and it is a matter that the Ministry which has responsibility for Entertainment, and I as Minister, have been in consultation with the Ministry of National Security to see how we can quickly advance the necessary amendment to avoid instances like this. I want to see a better relationship between the Police and our music communities. In the meantime, we need to show respect for all sectors and for each other."

Meanwhile, reports have reached us that Mr. Selassie was released from custody and is at home, resting. He has directly addressed the people who have expressed worries about his safety and well-being in a Facebook-Post, saying that he "just finished having a progressive meeting with the authorities and our charge of breeching the noise abatement act has been lifted." He goes on to say that "We are sorting out a proper solution once and FOR-IVER! They will have to realize one day that Rastafari is not an Enemy of the state but a protector of that state, to protect and serve/community building/nation building. (…) Strength and blessings to each and everyone."

UPDATE
Report from Maurice Robinson - Senior Superintendant of Police (St. Andrew Central Division) regarding Incident at Dub Club April 23.

"Officers went to Mr. Lee's house last night after report of loud noises. They asked for his permit and he showed them a KSAC permit, but when they asked for his Police Permit he said he had one but he had not picked it up. They then demanded he come with them as he could not show them a Permit, but he refused. They called for reinforcements. Both Mr. Lee and the DJ became boisterous so they sprayed and tazered him and took him away. It turns out that a Police Permit had in fact been granted and that the Police could have done several things to check on that, but they did not.

As far as recompense by Mr. Lee is concerned, if he wishes to make an official complaint he is within his rights to do so. He was just in my office and we had a good long talk.

As far as the arresting officers are concerned, I will have to interview them and take it from there. If I find any evidence of heavy-handedness, there are things I can do from my end, because I will not tolerate anything like that.

I think it is time we respect and treat each other with respect. Improving the Police Force is a work in progress and I want our officers to start showing more respect to other Jamaicans. No increase in police personnel or guns will stop the crime. It can only stop when our society starts showing more love to one another. I will do anything and everything to make sure we Jamaicans come to love each other more."