Review
Album Review: Seanizzle - Music My Way
08/22/2015
by Dan Dabber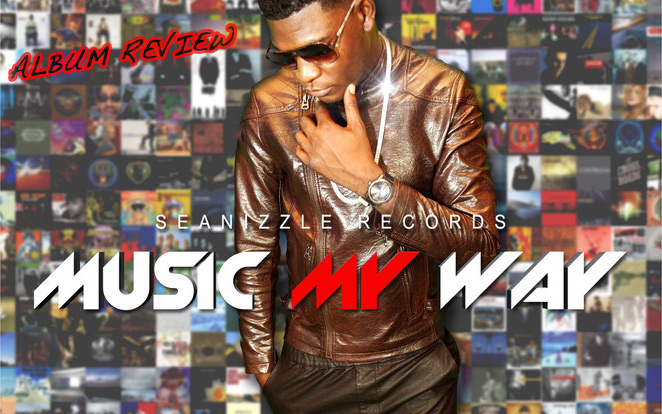 Sean "Seanizzle" Reid has been behind some big riddims and singles throughout his career. His most notable release was One Day Riddim from 2010, a juggling that was loaded with hits like Beenie Man & Fambo's Rum & Redbull, Khago's Nah Sell Out, Mr. G's Swaggerific, and, Seanizzle's own title track, One Day. The riddim was a huge success with dancehall's core market, both in Jamaica and abroad, and it also had exposure with other, more mainstream foreign audiences. Seanizzle's newest project, Music My Way may be his next stepping stone toward making an impact on global pop markets. It incorporates a wide variety of musical influences, including dancehall, soca, EDM, dubstep, reggae, trap, RnB, and Hip Hop. Although Seanizzle has occasionally performed as a vocalist in the past, this album is strictly a showcase of his diverse production talents, as well as a space to feature top dancehall artists. There are a few tracks on Music My Way that have been released in recent months, either as singles or as part of a riddim juggling, but the majority of the songs on the album are dedicated to creating a unique genre-bending vibe for this release.

Sexual Desire is a high-energy and emotional composition that is equal parts dancehall and dubstep. It features Jah Vinci on vocals, whose powerful singing and unique tone has been a staple in dancehall since he was introduced to the world by Vybz Kartel in 2008. Another highlight of Music My Way is Destiny, which contains elements of soca, dancehall, and trap and features Demarco singing spacey, tribal hooks over a riddim that, if presented properly, will most certainly go off in the club. Seanizzle's collaboration with Bugle, Rasta Party, also has a tribal vibe. This song has broad dance appeal, but it is probably too "cultural" for mainstream audiences. Popular tastes aside, the selection that stands out the most from the pack is the mellow lovers' tune, I'm Not A Cheater, which features a commanding and heartfelt performance from Pressure Busspipe. This song is possibly the most impactful music from Pressure since his breakout 2007 hit, Love and Affection. I'm Not A Cheater is voiced over a traditional, rootsy one drop riddim with an organic simplicity that is vastly different from the rest of this electronically-driven album.

Seanizzle is connecting many dots with Music My Way, and most music fans will be able to find something appealing about it. Even the harshest critics have to praise Seanizzle for the harmony he achieved with this album, balancing his uncanny ability to float effortlessly between dancehall and other genres with the skill required to create a cohesive album. Music My Way may not be a favorite with dancehall purists, but those listeners hoping for more cutting-edge material may find themselves wishing that Seanizzle did things his way more often.



---
Release details
Various Artists - Music My Way
DIGITAL RELEASE [Seanizzle Records]
Release date: 08/21/2015
Tracks
01. Seanizzle & Vershon - It's My Time (Mama)
02. Seanizzle, Jah Vinci & Nadg - Take Control
03. Seanizzle & I Octane - Suh Good
04. Seanizzle & Dexta Daps - Cheat On You
05. Seanizzle - Interlude (I'm Not A Cheater)
06. Seanizzle & Pressure Busspipe - I'm Not A Cheater
07. Seanizzle & I Octane - Ride And Wine
08. Seanizzle & RDX - Bad Gal Wine
09. Seanizzle & Demarco - Destiny
10. Seanizzle & Bugle - Rasta Party
11. Seanizzle & Jah Vinci - Sexual Desire
12. Seanizzle, Dexta Daps & Mr G - Me Nah Come Home Tonight
13. Seanizzle & Lisandra - Candy Rain
14. Seanizzle & Ambitious Chucky - Interlude Too
15. Seanizzle & I Octane - Turn Dreams To Reality
16. Seanizzle & T'Nez - Gangsta Tears
17. Seanizzle & Konshens - Look At Me Now


Produced by
Seanizzle
Featured artists
Bugle
/
Dexta Daps
/
Jah Vinci
/
I Octane
/
Pressure Busspipe
/
RDX
/
Demarco
/
Konshens