Review
Album Review: RDX - Level Up
10/20/2017
by Dan Dabber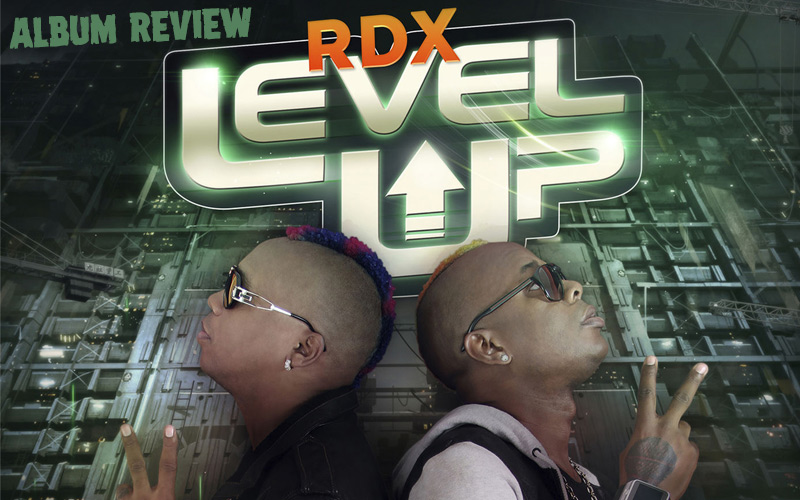 Hailing from a Jamaican tradition of deejay/singer duos that includes Chaka Demus & Pliers and Tanto Metro & Devonte, Renigade X & Delomar X have built a unique brand with their dancehall group, RDX. Visually they stand out with brightly colored mohawks and slick, flashy outfits. Their sound is both slightly quirky and a lot of fun, with lyrics that are nearly always focused on two vital topics - dancing and girls. They are gasoline for dancefloors, and RDX has been pumping out hits in both Jamaica and the global dancehall market for well over a decade. In recent years, the brand has integrated Apt. 19 Music, a record label that gives RDX a conduit for their self-produced music, as well as a platform to work with other artists. The latest project from Apt. 19 is Level Up, a full length effort from Renigade & Delomar that manages to experiment creatively while putting a polish on their sound for broader consumption.
Production sets the tone for all Jamaican music, and Level Up is no different, with Apt. 19 showing significant range while maintaining their core essence. That essence is exemplified with Roll It, a soca-inspired dance tune that will roll hips with its delicate synths and crisp, crusty snares. There's also Jamaica, which has the upbeat tempo and distinct drums Apt. 19 is known for, but it becomes something else entirely when it incorporates roots reggae elements like organ skanks and I Threes-style female backup singers. Grim Reeper is on the opposite side of the spectrum. An innovative blend of contemporary pop and 90's style digital reggae, Grim Reeper is a somewhat traditional sound killing tune, but the fresh, genre-bending, production pushes it into the experimental. RDX have voiced similar avant garde riddims in the past, but those versions are few and far between. It is even more rare to hear the dancehall tag team on a straightforward one drop riddim and, although it breaks down into an eight bar mix for Renigade's brief appearance on the track, the Tide Is High-conjuring Anything But Love is about as straight-forward as it gets.
Shake Your Bam Bam, is the lead single from Level Up, and it also identifies well with the RDX brand. It has both dancing and girls covered, as most listeners will probably discern from the title, and Delomar brings new energy to something familiar on the track, as he often does, by crooning a modified version of Sister Nancy's iconic Bam Bam. Production-wise, constantly shifting drum patterns infuse Shake Your Bam Bam with excitement, building gradually until it pays dividends with luxurious Dem Bow-style rhythms and the warm, comfortable horns from the intro of Sister Nancy's tune (which also happen to be similarly utilized in Bam, the lead single from Jay-Z's latest album). But, honestly, my favorite thing about Shake Your Bam Bam was the the deep gratitude I felt when I realized it was NOT a modified version of the famous Ricky Martin tune.
RDX also represents the brand well with tracks like the Coolie Dance Riddim-inspired Club Lights, the Diwali Riddim-inspired Island Boy, and the Giggy Riddim-inspired 4.20. The early 90's dancehall vibe isn't isolated to 4.20, as it reasserts itself every third or fourth track with tunes like Never Ever, Groupie, and the aforementioned Shake Your Bam Bam. From a selector's perspective, this throwback motif offers a fun, infectious energy that has instant familiarity, even with listeners who have had limited exposure to Jamaican music. It's the iconic dancehall sound, and investing in it in 2017, during a period when dancehall is looking outside of itself for most of its inspiration, is a good strategy for RDX to acquire new listeners while staying true to the strong musical tradition from which they have descended.
---
Release details
RDX - Level Up
DIGITAL RELEASE [Apt 19 Music]
Release date: 10/20/2017
Tracks
01. Club Lights
02. Never Ever
03. My World
04. Shake Your Bam Bam
05. Private Time
06. Island Boy
07. Anything But Love
08. Groupie
09. Grim Reaper
10. Roll It
11. 4.20
12. Jamaica
13. Anything But Love (Acoustic)