Review
Review: RC - Boss Man EP
07/03/2015
by Gardy Stein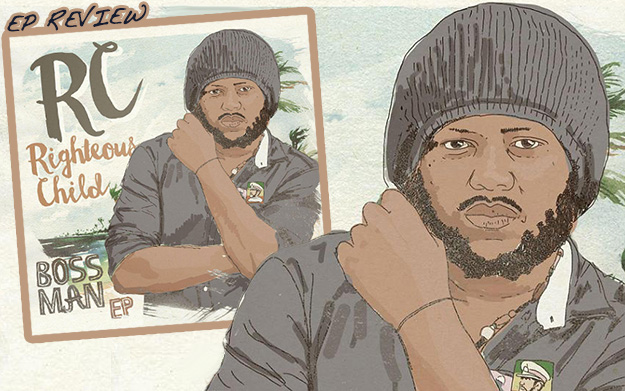 Seven counts as a lucky number in many cultures. Apart from this well-known fact, numerology claims that "it's also spiritual, intelligent, analytical, focused, introspective, studious, intuitive, knowledgeable, contemplative, serious, persevering, refined, and gracious and displays much inner wisdom." As far as I can assume without knowing him personally, many of these characteristics may actually describe Ryan Campbell aka Righteous Child aka RC. Coincidental or not, his new EP Boss Man has seven tracks that add some intelligent, analytical, focused etc. vibes to the world.

After his debut EP Rough Survivor made quite an impact last year and especially since the Busy Signal combination Dreams Of Brighter Days (which is still playing on every dance over here) propelled him forward to an international audience, the new EP gives fans something to hold on to while waiting for the first full album of the Jamaican singer (announced for release under Penthouse Records in 2016).

The title Boss Man is not a random choice. With this EP, Ryan Campbell, who is CEO at K&R Productions, satisfies his ambitions of working as an independent artist: "I wanted to do this as a self-achievement. My manager and producer Mr. D. Germain was very helpful in seeing this through. All of the producers I have worked with were very cooperative and happy to be a part of this vision." This can clearly be heard in the tracks, all of which have different producers.

With Propaganda, RC more than fulfils the high expectations anyone who followed his rise certainly has. The singer places his insistent voice with all the right notes on the beautiful Reggae Rock Riddim (produced by Turf Music Ent.) and takes a stand against malicious propaganda: "leave people business alone!"

The rather young Larger Than Life Records chips in with a riddim named after RC's gripping performance on it. Hungry Days is a reflection on the hardships a lot of people face when they "cannot find di food, not even water fi di pot".

Produced by Berlin-based Thilo "Teka" Jacks, the only combination of the release invites Lutan Fyah on the mic. Yadding talks about the general hardships Rasta encounters on the way to Zion, giving some quite specific examples as well. We stay in Germany for the next track (and, while we're at it, for the cover design, which was done by Hamburger Nico Lbtnz), at least when it comes to its creators. Jugglerz Records laid the foundations to Same Man, however RC immediately makes it his own by singing about love, sweet love – a touching hymn celebrating long-term relationships! A next beautiful love song, Won't Tell You A Lie has been contributed by Penthouse Records. Apart from the lyrics that will make you wish you are the one spoken to, the instrumental (a riddim with the odd name Miss Wire Waist) is my discovery of the month. Check out Shuga's version on that!

The last two songs struggle a bit to compete with all the above-mentioned goodness. Luv Number One Productions is responsible for the title track Boss Man, complaining about mean bosses who just exploit their workers, while One By One is another critical tune by the singer's own K&R Productions, questioning the "million troops marching inna di Armagiddeon".

This EP is no replacement for a longingly awaited album, but it definitely makes the wait for it worth its while. And whether or not you believe in numerology - lucky are those who get the seven Boss Man tracks‼!


---
Release details
RC - Boss Man EP
DIGITAL RELEASE [Turf Music Entertainment]
Release date: 06/30/2015
Tracks
01. Propaganda 
02. Hungry Dayz
03. Yadding feat. Lutan Fyah
04. Same Man
05. Won't Tell You A Lie
06. Boss Man 
07. One By One
Featured artists
Lutan Fyah