Review
Album Review: Shaggy - Wah Gwaan?!
05/13/2019
by Dan Dabber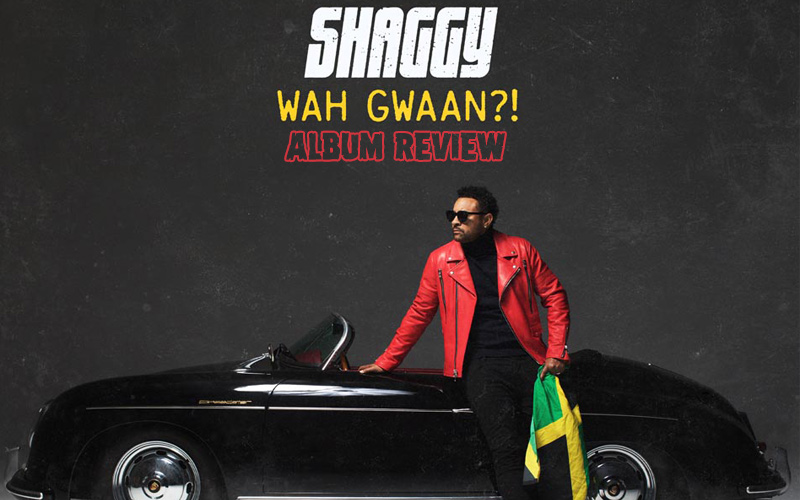 In recent years there has been a debate among fans about who currently holds the crown as the reigning King of the Dancehall. While most of these conversations revolve around Jamaican favorites like Beenie Man and Vybz Kartel, a global poll would likely yield different results. Though artists like Beenie and Sean Paul have had massive international hits, no Dancehall artist has infiltrated mainstream global Pop more consistently, or for as long as Shaggy has. Over the decades, Shaggy has made Dancehall marketable and the success of Boombastic in 1995 and It Wasn't Me in 2000 helped pave the way for artists like Sean Paul and Beenie Man, who started to show up on American charts a few years later. While Kartel has pushed the creative boundaries within Dancehall, Shaggy has found ways to tastefully insert Dancehall into high profile situations like feature films and late night talk shows, pushing Dancehall's geographic boundaries. If you're looking for a conqueror in your king, Shaggy has to be your guy. He even performed at Queen Elizabeth's 92nd birthday party last year.

Shaggy's new album is called Wah Gwaan?!, and after having worked on his last two projects with Sly & Robbie and Sting respectively, it is Shaggy's first solo effort in 8 years. A combination of Dancehall and various forms of Pop music, Wah Gwaan?! is representative of Shaggy's work in a historic sense, as it bridges gaps between Jamaican music and global markets. While he undoubtedly did just that with Sting and the 44/876 album, Wah Gwaan?! is more akin to the Dancehall-influenced Pop and Dance music that Shaggy was making in his prime in the 90's and 2000's. The new album has a contemporary sound more likely to resonate with younger generations than a collaboration with the guy from The Police, and Wah Gwaan?! further widens its appeal by drawing from a large pool of musical influences including Rock, Latin, Tropical House, Doo-Wop, and EDM.

Some of Shaggy's biggest hits have been in combination with other artists. Singer, Rayvon, has often been Shaggy's counterpart on those combos, their collaborative success peaking in 2001 with the smash hit Angel. This iconic duo teamed up again on Wah Gwaan?! for a Doo-Wop inspired, 808 driven track called When She Loves Me that appears to have enough Angel-style sentimentality and Rock nostalgia to win over Pop markets again. For the new album project, Shaggy also linked with Grammy-nominated artists like Gene Noble and Stacy Barthe, heavy Dancehall hitters like Shenseea, Noah Powa, and Nyanda from Brick & Lace, New York-based Latin star, Nicky Jam, and a Canadian Youtube sensation named Alexander Stewart. The track Stewart is featured on, You, is the lead single from the album, and the pair recently performed their song on The Late Late Show with James Corden.

Like much of Shaggy's catalog, Wah Gwaan?! has something for everyone, including your grandmother. If pure Pop is your agenda, then proven formulas like the Rayvon collab, When She Loves Me, and the Diwali Riddim-derived Friends are probably your best bet, though you may prefer the even sweeter vibes of You or the over-the-top drama of Wrong Room. If you're looking for an edgier, more dance-able vibe, check out Caribbean Way and Supernatural, and if you prefer your Dancehall in its rawest form, Shaggy has you covered with tracks like Ketch Mi Up and Frenemy. Although there are obvious benefits to having such a wide variety of music represented on one project, the flipside is that there are probably very few people who are going to like EVERY tune on Wah Gwaan?!, an obstacle Shaggy has defeated many times before.

When it comes to Reggae, there is almost no debate. Bob Marley is the king, hands down. But, why? Was his music THAT much better than his contemporaries? Of course, some will say yes, but the real reason is because, like Shaggy, Bob was a cultural conqueror. He pushed the culture he represented into every corner of the world. He made Reggae marketable. He made it Pop. Shaggy has done the exact same thing for Dancehall, and he's done it for much longer than Bob Marley was able to do. After 26 years, Shaggy is STILL pushing Dancehall to the world with Wah Gwaan?!, and there's a good chance that something from the new album will gain traction, proving once and for all that his relevance is timeless. Whether or not that actually happens is inconsequential, because Shaggy's legacy is already written in stone, whether Dancehall fans choose to recognize it or not. The inscription reads, "Long Live King Shaggy."

---
Release details
Shaggy - Wah Gwaan?!
DIGITAL RELEASE / CD [Cherrytree Music Company]
Release date: 05/10/2019
Tracks
01. Caribbean Way
02. When She Loves Me feat. Rayvon
03. You feat. Alexander Stewart
04. Friends feat. Gene Noble
05. Money Up feat. Noah Powa
06. Super Natural feat. Stacy Barthe and Shenseea
07. Wrong Room
08. Praise
09. Ketch Mi Up
10. Use Me
11. Makeup Sex feat. Nyanda
12. Body Good feat. Nicky Jam
13. Live
14. Frenemy
Featured artists
Shenseea
/
Rayvon