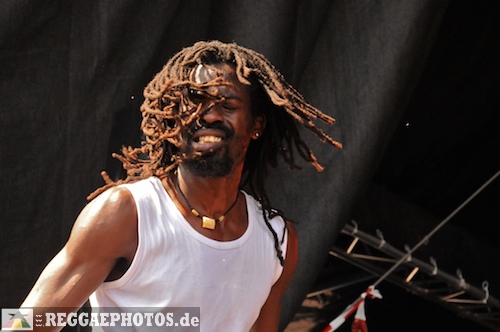 The Jamaican singer Raymond Wright is a very unique vocalist, who, no doubt, has a potential that can easily match the ones of singers like Luther Vandros, Beres Hammond, Luciano and Barry White. He is in excellent control of his very own variable, strong and husky voice. His voice perfectly gets across every single feeling that is expressed in his lyrics and surely gives you the creeps.
Raymond Wright was born on November 11th, 1971, and raised in St. Catherine (Jamaica). He started his musical career by playing a variety of musical instruments and singing in his local church, where he also conducted singing lessons. His spiritual devotion and love for the church, led him to study theology, which he successfully finished obtaining a theological degree. But his passion for singing and music kept being significant for his further path in life as he decided to follow his heart and to pursue a career within the music industry.
In 1998 he started working with the Shocking Vibes Crew for the following three years. Under their management handling the careers of Reggae-Stars such as Beenie Man, Bling Dog, Tanto Metro & Devonte, he released numerous singles, some of them in co-operation with producers like "Sly Dunbar" und "Barry Ohare".
Fully enjoying live entertainment he appeared on various local stages as well as on major concerts in Jamaica and throughout Europe.
When he performed in Italy at the Rottotom Sun Splash in 2001, he fell in love with the country and decided to pursue his musical career from there. He released his album "Point Black" and continued to perform on various local and major events around Europe.
But the music business also proved to be a hard business for him, with partners who turned out to be the wrong ones. At first his expectations were not fulfilled and the success he wished for had been missing. But despite all disappointments and because of his belief in love and the power of his music he stayed motivated and kept on working for the achievement of his goals.
God's words give a simple and right message in every situation and so they have always inspired Raymond's songs and lyrics. Furthermore there are his children who give him the strength and make him stay focussed when writing his songs on contents concerning love, truth, respect and education, because Raymond surely believes that LOVE is the most important asset of mankind and has the power to unite people in peace. Through his songs he wants to share this love and give the people an understanding of it. "In my heart I am always looking to find the "better place". There is still beauty in the world if we look deep enough. Places, people and the special moments of life that you share with your loved ones, all of this inspires me and motivates me to write and sing my songs."
Having gained more experience Raymond Wright now works with people he can trust and who have really identified his musical potential. Currently he finished his new album "Many As One" with 19 intoxicating songs as for example the eponymous track "Many As One" and the forthcoming single "Wify" which is about to be released by Pow Pow Productions. His energetic and melodic lyrics are touching and meditative. They are full of human emotions that will find their way into your mind and hearts when you listen to them. Though some are actually based on Raymond's own life's journey surely others will relate their own experiences to his messages.
With his roots Raymond Wright is a Reggae artist, but not only Reggae-Fans will find a way into his music. He is a versatile vocalist who serves R'n'B and Soul-Lovers the same way. The personable singer knows how to fascinate his live audience, and those who like honest and expressive music will definitely also love his new album.