Review
Review: Randy Valentine - Still Pushing EP
05/02/2015
by Gardy Stein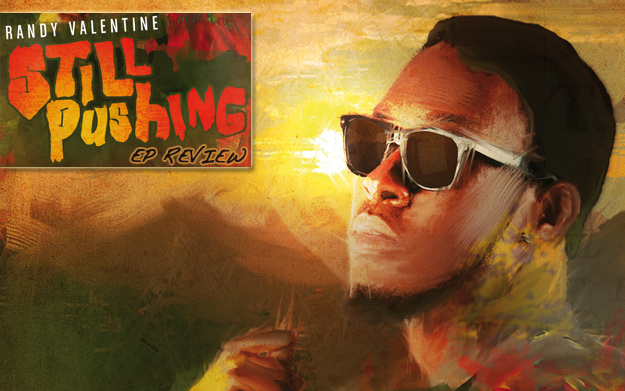 Nana woooy na wooooy... the first notes of the title track Still Pushing, opening the EP entitled likewise, directly invite you to sing along. It is a wonderfully arranged vocal-acoustic piece, full of conscious messages to set your mind right for what is to follow…

With Still Pushing, the Jamaica-rooted and UK-based singer Randy Valentine releases a tight package of 8 carefully crafted songs, a charming contribution to nice up your spring. His second EP originated in collaboration with Hemp Higher and Ariwa Music. Produced by Joe Ariwa, son of the one and only Mad Professor, it comes as no surprise that the tunes are mixed in a dubwise-style, a fantastic finishing touch that adds to the overall warm feel of the release (a feel aptly captured in the cover design by Gary 'Riga', too). The bass rolls deep and full from the speakers, the live instrumentation contributed by greats such as Wayne Horseman, Black Steel and Dennis Bowell set the stage perfectly for RV's crimson-like voice that make this production a joy to listen to.

Wake The Town seamlessly continues the sing-along-vibe and should be known by the accompanying video that's been out for a month now. The teaching goes on in Mamma Said ("Don't let them label you a sufferer, you are the governor of yourself!") and Consequences, a track no doubt inspired by the Police In Helicopter riddim.

Of course, Randy has a love song in store as well. With Black Cinderella, he will have females sigh with pleasure – I mean, which lady wouldn't go weak in the knees if she's told things like "You're the beat to my heart, the light to my dark" or "She's like heaven to me, the reason I breathe…"? Another clever conception is the subsequent combination of tracks 5 and 8: while The Question asks "Where is the love?", the last track, a wicked remix of the same, simply says Dub Is The Answer.

For me personally, the most important message is brought across in Roots & Culture. "If you knew you were protected by the Most High, you wouldn't worry about those guys and their words. Do you know your worth? You're stronger than you think you are!". Actually, every word of this song is a treasure, so please follow it carefully. And remember that the energy you put into worries and doubts is so much better invested in creative and positive thoughts – forward!

The young artist that has conquered the world with songs like Lock Me Up or Over And Over once again proves his vocal and lyrical excellence, at the same time transcending his image as a ladies' crooner. Besides the sheer quality of his music, Randy Valentine's ultimate strength is the encouragement, the upliftment that shines through all of his songs. Make sure you let it accompany you as well – Shalalaaaaa!


---
Release details
Randy Valentine - Still Pushing EP
DIGITAL RELEASE [Hemp Higher Productions / Ariwa]
Release date: 05/01/2015
Tracks
1. Still Pushing
2. Wake The Town
3. Mamma Said
4. Black Cinderella
5. The Question
6. Consequences
7. Roots & Culture
8. Dub Is The Answer (Joe Ariwa Dub Version)