Review
Album Review: Randy Valentine - New Narrative
11/10/2017
by Gardy Stein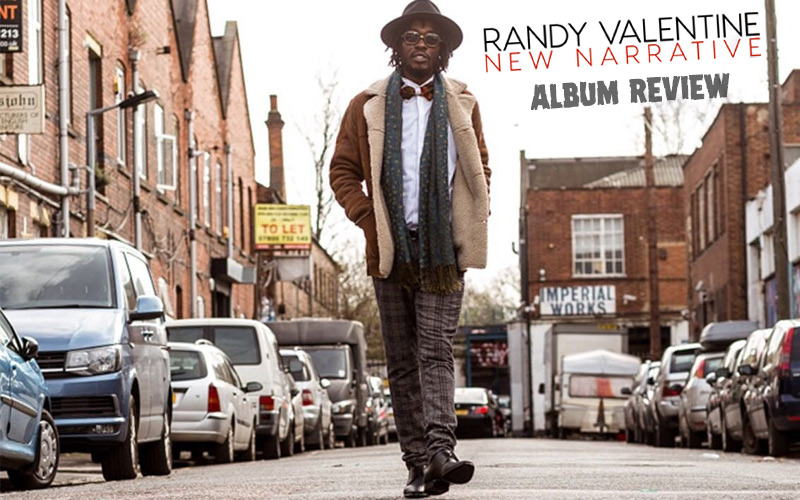 Narrative: a spoken or written account of connected events, a story…

The intro to Randy Valentine's New Narrative gives definition and explanation of what we can expect on his hot-off-the-press release. Best thing about it: his tales are not spoken or written, but sung with that sweet, gentle, emotive voice of his!

More than two years after his last EP Still Pushing, Randy now presents an equally well-crafted piece of artistry. Produced by Javier Cierra and Adolfo Comunale (Royal Order Music) as well as Dan Grossman and Michael Gore (Loud City Music) and recorded at London's Troots Music Studios, the release mirrors these people's different takes on Reggae. Both modern effects and very traditional Roots elements create a soundscape that will appeal to a wide range of listeners around the world, while still preserving that very unique Valentine flavour.

First stop: Happiness Station. Taking us on a stroll to his thus entitled destination, we accompany the singer part of the musical transportation that has brought him to where he is today. His journey so far has been a long one indeed, from radio host DJ Kwes over early production work at J.O.A.T. and Hemp Higher to evolving as an artist, touring and recording music as diverse as the Radio Music HipHop & Rap Mixtape premiered on BBC 1XTRA early last year and his phenomenal contribution Carnival to Havana Meets Kingston.

But back to the present release. "Stay vigilant, stand firm, don't you get mislead…" The track Vigilant (or rather, its credits) taught me what an interpolation is – in this case, an inclusion of certain chords and patterns from the song General by Dennis Brown. This certainly makes for a nice rhythmic spin and gives the deep, multi-layered lyrics a very fitting garment (much more so the corresponding Dub version at the end of the release).

Another of these interpolations is credited to Tupac's Thugz Mansion in Warrior Ah Road, a beautiful acoustic anthem that incites me right away to hold up a lighter and sing along: "Me write di one ya fi me friends dem, bare good vibes me a send dem, real to the core no pretending…" Real talk! This authenticity is picked up again in Real Like That, describing the everyday struggles of everyday people (shout-out to saxophone-player Daniel Halligan and backing vocals Sherieta Lewis and Nikki Burt who nice up the whole release!).

If you listen keenly to the remaining songs, a narrative indeed unfolds. While Too Late is the reproachful confrontation of a lady who didn't have enough trust and patience to stay with "the Natty", Just In Time describes how a new love can give new hope. Me and My Lioness, finally, celebrates the successful relationship that can develop out of mutual respect, support and understanding.

New Narrative brings us new music from a dedicated, hard-working artist who sticks to his Jamaican roots while continually breaking new grounds abroad. May his story never end!
---
Release details
Randy Valentine - New Narrative
DIGITAL RELEASE [Royal Order Music]
Release date: 11/10/2017
Tracks
01. New Narrative (Intro)
02. Happiness Station
03. Vigilant
04. Real Like That
05. Too Late (Natty Escape)
06. Just In Time
07. Me & My Lioness
08. Warrior Ah Road
09. Vigilant (Dub)