Interview with Randy Valentine
05/13/2015 by Angus Taylor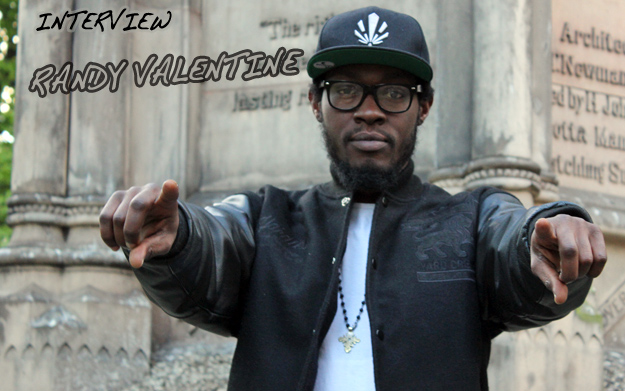 London-based Jamaican singer Randy Valentine has just released his second EP Still Pushing, produced by Mad Professor's son Joe Ariwa. Where his first mini-album Break The Chain was a mixture of reggae and related forms from balladry to dubstep, Still Pushing lets his golden voice soar across the hard drummed spaces of Ariwa style roots and dub.

Reggaeville's second written interview with Randy took place - once again - in his and manager Blemish's subterranean HQ beneath a church. It contains some surprising revelations concerning the new EP – such as him meeting Joe Ariwa because the legendary Mad Professor had been Randy's landlord in Croydon for many years.
Randy was also revealing about himself. When recalling seeing his grandmother in Jamaica after over a decade, he became so emotional that it felt like the conversation might have to end. But it is this sensitivity that makes Randy Valentine such a singular artist: a singer, deejay, songwriter and lightning rod for human feeling, who can turn his mind and voice to reggae in all its forms.

This same genuineness makes his answers on certain common topics refreshing: particularly the Jamaican "Reggae Revival" and Chronixx' criticisms of Barack Obama. Randy Valentine and his music breathe life into the cliché "a breath of fresh air".

We've heard Randy Valentine in a Studio One style, and in a modern reggae style, but now we're getting you in a roots style.
It was natural for me to gravitate towards. Spending most of last year in Europe, most of the music I've been listening to, where my inspirations were taking me, and maybe through going to Jamaica. But the main thing was linking up with Joe. I tell you the honest truth, before I knew who Mad Professor was - he was just my landlord. Just Neil, the guy we'd pay our rent to for years!

Really? (laughs)
"You need to pay your rent, you're late, yo Kevin wha' happenin'?" That was the only relationship we had with him. Then one time he came around and said "Oh, you guys make a likkle reggae stuff? Bring me some of yuh beats so we can hear it". It was the first time I went into Ariwa Studio, and I was like "This has been here for years! I didn't even know". They said "Mad Professor. This is what we do". I checked it and said "Yo, this is actually completely different" – and that's what led me into dub. I started learning why I love drum and bass, why I resonate so much with reverb. Then chilling with Joe and seeing how they create it, I learned why I enjoy listening to that analogue music more than music that comes out of Logic. It was a complete different experience.

Why did you decide to do the project with Joe?
I guess without attaching any ego to it, we were the voice of now? The younger version of it, you know? Everything he inherited from his father and doing it 100%, and me doing the same thing. We love it so much. 365 days of the year it's music. Plus he's my neighbour, we're only five minutes from each other (laughs).

You're from a family of selectors and he's from a family of producers.
Our conversations in the studio were always about how we had to create our own identity in what we've inherited but still carry that anyway. So he'd be listening to the sound and phone his father who'd say "Just do this". Watching them working together on the sound, that was sick. That reminded me of when me and my dad used to select tune in the domino tournament. Daddy would say "Yo, play me that tune" and I would go for it and like "Boom". If I played it and if I missed then "Yo, don't let yourself get down", or it could be the rough way "Yo, my youth, get it right" you know? I like watching that father and son relationship.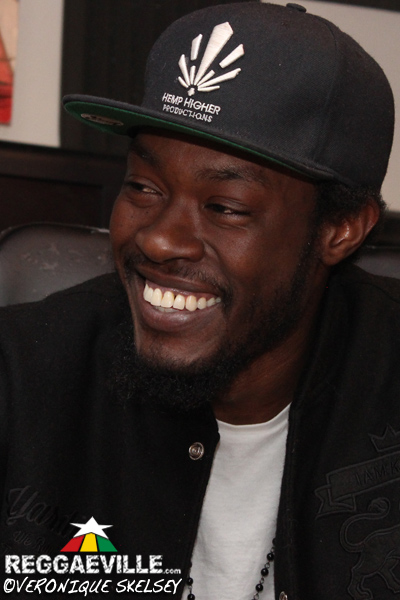 How much of the project was done in south London at Ariwa and how much was done east here in the church?
The vocal bits I did here, all the production happened in house at Ariwa. I started doing the recording at Joe Ariwa's but I really love recording myself. Most of the songs you've ever heard of me I record them right here in the Hub. I sit down, I doctor everything and go through all the vocals one by one. I add my harmonies even if I have to take three or four days. Not everybody's got that patience to sit down and do that. I voice here and I go down there and bring him all the vocals and we sit down, we chop it up together, and make it work.

How much was Prof, his dad, involved?
From the beginning of the selection of the rhythms. I remember we came in the first time and I didn't even know how they were going to approach it, because I am a fan, but how he approached it to me is like he's even more of a fan of what I am doing. So he says "Yeah man, try that beat". I won't say "No" but he's handing it to me as if he probably thought that I wasn't even sure. He gave me the rhythms and I sent them back songs within a week and a half because that connection was instant. I knew exactly what I wanted it to sound like. The songs kept on coming: Mama Said, Where Is The Love, Black Cinderella. There's even a cover that we recorded that's not on there.

In our last interview you said you suffered writers block during the Break The Chain EP sessions and you really had to crank it out to make it work.
Yeah, I was very comfortable with this one. For maybe two songs it took me a while. It took a couple of months doing the whole tour last year just driving, listening to the chorus alone and having no verses. It's just the verses. I needed to have the right conversation, so I had to wait until I went to Jamaica and when I came back it was just natural. Everything that was being said, it was like all the songs were connected. Everything made sense.

Is it the words or the melodies that you're waiting on inspiration from?
The melodies come easily. I have a million songs here on the computer with just melodies alone. It's the words… I want to say it right… it in a way where everybody can understand. I don't want to generalise certain things. I'm very careful with what I try to say. I'm not trying to make music for one set of people, so I try and have the same conversation with as many different people, get their perspective of what they think this point is and then I present it to them. Instead of just saying "Yo, this is what I think, this is how it is".

Tell me a bit about going to Jamaica. What conversations did you have that inspired you?
I wanted to see family. I've always wanted to go home. I remember the first time I came here I remember not liking it at all. I didn't like it until my uncle said "OK, we're going to show you a place called Brixton". So we went there and we saw the big tree and we saw Mass and it felt a little bit cultural and closer to home and didn't feel so cold again.

Going back to Jamaica I wanted to see Mama. I didn't get a chance to see my grandfather after I left in 2003. I can't remember the last time I saw him but I remember how bad I felt knowing I won't be able to see him again. But Mama is there in Jamaica, she's pushing up, still strong, nearly 85, so I had to go see her. I saw her and she started crying. I wasn't sure what she wanted to say but it was "Yo, what you did deh?" And I was like "Yow, Mama I'm out there doing it. You have to do sum'n".

(Becomes emotional)
And then she understood a little bit more, like two days in, after I played her Inna Di Ghetto and she heard the story about "Mama blow out fire burn her eyelash". She liked that and said "I know why I haven't seen you for ten years and if this is what you're doing, I'm good with not seeing you for another ten years because it's good - it's working."

Going back and seeing where I came from showed me how to appreciate being here more. Because I was a little youth in Clarendon coming here, seeing how accessible certain things are, simple conversations, what you can learn from just speaking with people, that you would never know if you were a little youth in the country. The only way other than TV is through music – that's one of the only ways information travels. That showed me "there is a definite purpose behind your thing". You go out there, you speak, you learn, you give back. If it's not money it's through what you say. That's why I have watch what I'm saying in the music. But that's still pushing and that's why we do it.

You've always been one of those artists who can sing and deejay. But on the track Wake The Town you really go into the deejay thing.
Yeah man! Double time! I remember General Levy was in the studio when we were doing it and he was like "Yow, it mad! Love it!" and for a wicked junglist massive to be saying that – I rate and respect that. Because I like that side of dancehall – double time pattern. I love grime music. I love the energy behind it.

You're like Tarrus Riley and Chronixx who can sing but they are equally comfortable deejaying.
I've never thought about that! Counting them out and seeing who did and who didn't! (laughs) But now you mention it I see it still. I can see if an artist is more of a singer or if he's more of a deejay but it's very rare that you see an artist so good at both that you don't say "That deejay a bad!" or "That singer a bad!" You just say "That artist a bad" because you don't know where to place him. I don't know if that's me! I was asked once "Which one do you prefer?" I prefer singing to deejaying. You're able to get more across and express more.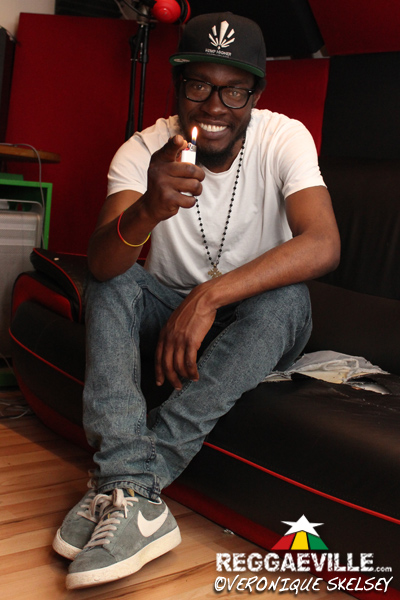 On Break The Chain you sang about your father with Carry On. On Still Pushing you continue the family theme with Mama Said.
I try to write from my experiences and most of the time my thoughts are directed towards my family. I didn't come here by myself. It was their sacrifices that brought me here. And they're not even trying to hold me and say "We did all of that so now you need to do this". It's "We did all of this so you can just go and do that". My mum didn't fight me when I said I was going to do music. She could have because she's had many fights with my dad mainly because he did music. But she said "If that's what you love – go" and I know it will work because she believes in it.

The rhythm to that song is based on King Tubby Meets The Rockers by Augustus Pablo. Mad Professor used to move with Pablo when he came to England. And you have linked with his son Addis on the song Ratrace.
There's this connection – it's true. We didn't sit down and plan it like "That sounds mad because it's connected". I heard the rhythm and was like "This sound bad. This sound sick. I have to do this song" and Mama Said came and then Joe showed me "This is where the song came from". I had no idea. I remember Straight Sound in Reggae Jam showing me a video of this song and me saying "This is sick" but never hearing the rhythm again until Joe said "Check this out".

Did you link with Addis when he came over recently?
Yeah, they were in the studio with Mad Professor and we linked up. We have a nice song with Ras Jammy called Winter Mornings that we're releasing in late winter which just came out on their mixtape with Mighty Crown. We're still working and we're always in conversation so it's a family tie like that.

The roots style of music on this EP is often associated with Rastafari. In your lyrics you say "Jah" but you don't say "Rastafari". What are your views on faith and spirituality in general?
Do I have to have a view?

That's why I said views!
I hear you! There are so many ways you can go with that. I could say one thing but I could have a different conversation tomorrow depending on what I've learned today. Right now I would say I don't have any one religion. I don't do religion really and truly. I even have a song with Stingray coming where I say "I and I make a decision to follow nobody religion because I believe religion is division and that is what's blinding the vision". As for Rastafari, I know that is a way of life and this is why I say "Jah" automatically without feeling like I'm segregating myself from anybody. I know I'm just living and there's so much love behind that so I can't not say yes to it. But then in Rastafari culture there are different groups that say "You can't do it that way" so even within a culture that promotes unity and oneness there is division. So until I understand it fully I won't take it unto myself and say this is who I am. The same thing with any religion. Until then I'm literally a spiritual being.

Your song Black Cinderella is an original song rather than a cover of Errol Dunkley. It's brave to take that title and sing something new, no?
Again it's inspiration. It's about where I am. I know this Black Cinderella and I needed to have some love in the Still Pushing EP because we're still pushing love and she's my Black Cinderella. I literally write about what I feel. You can question me about any song and ask what I was thinking when I wrote that because I know it was coming directly from me. I don't try to copy anything in terms of how somebody else would do it or put on a persona. It's not like it was in comparison to the next song. I felt like that was the best way I could describe that emotion. I'm still loving that tune same way because it's always going to be a classic.

You were in Germany and Switzerland recently.
Just three days ago. Did a nice show at Backstage in Munich and the next day did a show in Zurich with a live band. It's nice to bring out the songs from the EP completely differently. Because we are now in transition from the DJ selector thing – which we'll always keep because we love that side of things – to present a show where we want to go upon stage with a twenty piece band! I want everything. I want a full orchestra. I want to showcase music like this on a grand scale like nothing you've ever seen. I've seen somebody do a reggae orchestra before…

John Holt.
John Holt – that's who it was! I want that again, on a greater scale. Give thanks for internet where these things travel faster. Coming into the UK now I realize there's a bigger reggae scene that I didn't even know about and nobody talks about it. That's what we want to do – change the conversation.

How do you think reggae is received in England these days?
I live here but I don't hear it enough. It's definitely a lot more than two years ago. We have more DJs with passion coming through. It was definitely a hype thing before "I'm going to make some money so I'm going to do it fast and go through". But I'm meeting more DJs who have the genuine passion for it so it's growing. We have Christopher Ellis, we have Clay, I'm meeting so many different singers promoting love and a completely different thing from hype "Look 'pon me" thing.

In the last few years there has been a community of young roots reggae artists in Jamaica. Tell me what you think of them (and if possible try to avoid discussing whether reggae died!)
I don't think it died because we are still here in reggae music. If anything it raised the bar so I commend them on that. We shouldn't be looking back at how it was and saying it was rubbish. There's something happening. Look at what they're doing and celebrate that. Change the conversation. I love that the community side of it is back where artists are working together and bringing in other artists you've never heard of and if you're not in Jamaica you can still catch it online and feel a part of it.

If you hadn't come here would you be a part of it - would we be mentioning you with Chronixx and Kabaka and Protoje and Jah9 and so on?
I would have loved it. I would have hoped I'd find a way to leave from Clarendon and reach up of town and say "Yo Kabaka, somebody listen - mi have dem lyrics". It would have been a different route.

You commented on social media today about the riots and protests in Baltimore. We're seeing a lot of violence and racism and poverty in the world right now.
And it's always been there but it's just that there's a flood of it now and it's creating a panic amongst normal people. A month ago everybody got worried about Ebola, even those that will never see it. My mum had booked a ticket to go to Ghana and she said "I'm not going to go!" And she's being serious! I see how they create these conversations and have people panicking. It's not that racism is not real, it's always been there. Everyone is in this world of panic because now everybody's got phones and they can see and they can show what's there, but sitting down and panicking – I don't think that's the best way. I try not to have my thoughts or my views fed to me.

At One Love Festival last year there was a very sad atmosphere after John Holt collapsed on stage. The performance you gave the next day felt like the sun came out again. Music can't necessarily change the world in terms of lyrics changing laws but it can uplift people, change moods and give people strength, so music is still important work.
I believe it's very important. I know the vibe I get from it. I know sometimes it's so necessary to hear a song. I remember 2Pac Changes when I was in Jamaica and I as a little youth I was like "I don't fully understand this tune but I love it!" Lucky Dube Prisoner I listen to now and realise there was so much feeling in it and it was so necessary for me to gain some inspiration from that. It's like going to church. Some gospel songs, people hear them and feel so uplifted and forget everything that was bad yesterday. Music does that to people.

You were quoted in a recent article in The Voice by Nadine White, discussing reggae and politics and the recent furore over Chronixx' Obama comment.
I liked that he said something. I liked that he created that conversation. It was completely different from what everybody else was saying. Everybody was attacking that he said "Wasteman" – that wasn't the point he was trying to make. What was the root of the conversation? Focus on that. I liked that he raised that point but it got outweighed by the noise of everybody saying "Wasteman wasteman wasteman."

It's kind of a bit like the debate over "reggae revival" and "whether reggae died". People focus on the words. In reggae music where "wordsound is power" it is difficult to get away from the words.
It's true. Maybe he just said it without considering. But for me it's something you might say behind closed doors so why pretend and sugar coat it? There was a better way to say what he said, definitely, and if anything it just shows he is quite young. It's necessary for people to voice those opinions especially about politics. I know if I woke up in Clarendon and I was talking about anything unjust it probably wouldn't be coming from my brethren. It would be coming from the song playing, creating a vibe and we would say "That bad" and start talking about it. It would always stem from that. I know how necessary it is to speak about certain things and raise certain points because, as a little youth, you can't rely on the powers that be or most people to do that for you.

One of the social media comments quoted in that article said Chronixx "Set us back" and people in America "Are going to hate us". Is there a lot of fear of the disapproval of America?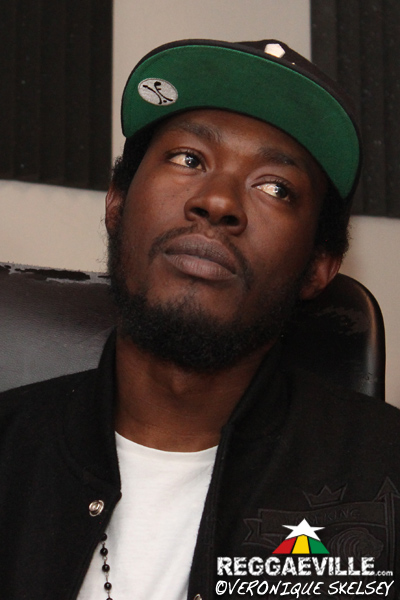 Growing up in Jamaica America was the big thing. A big deal. But now we have internet and a wider view of the world. We don't just think the world is America. Growing up in Jamaica as a youth all you would see is America upon your two channels. Anything that you glamourize and anything you fear will be America. Your whole experience is either Captain America saving the world or America smashing everything. Jamaica has its own style but it's also American influenced in most of the things they do.

A little young youth who does music is going to say "Well the music scene bigger in America and my thing have a shot in America so now people in America nah go like it so my thing mash up". He's not even looking at the fact that Sizzla said "Keep your visa America – me a go Africa and never have to come back America again". He's not seeing it from that angle because he's probably watching too much BET! (laughs)

I'd be afraid if I could never go back to Africa. Gambia was the first place went to that looked exactly like Jamaica after not being to Jamaica for so many years. If you wanted to pick a mango you could pick a mango. Meeting Kevin my manager from Ghana we were like "Brothers!" It was like I grew up in Ghana and he grew up in Jamaica so I see that connection.

Recently one of your favourite artists Tracy Chapman made a rare appearance on American TV. Could you ever see yourself doing that? Going into semi-retirement?
I don't know if I could be singing every year like this. It gets tiring. You probably want time to go create a family and live a completely different experience, so you can come back as a complete different person and write about new experiences. I want to write about having a son, from a dad's point of view. I don't want to just do it on the road. I want to go settle, build a family, and have that experience to talk about.

Is it even financially possible for an artist to retire these days? Back then three successful albums might set you up for life.
Yeah, you can but it won't be just music. You're going to have to venture off into something else. A next artist was just complaining to me saying "Yo, why the man not buy the music? They owe me a bunch of money". I said "I hear what you're saying. Buying the music is necessary. But really if you're saying "Buy the music" because you want to get rich you're in the wrong field. Because I don't know no reggae artist who does just reggae music and is rich!" I think you should do music for the love of it and realise money's a bonus and give thanks for that - but you can't make money the primary focus and be in reggae music. You're starting on the wrong foot if your purpose for reggae music is financially driven. People will hear that and not like it so you'll wonder why people don't like your music.

I hope I can retire. Because I know that me, I'm good, but I can't swear for everyone else. I might meet a girl who needs certain things or have a family and I would have to go and provide. I could live in this church studio for life but not everybody has the patience I have to just be ok and not worry and make the next move.


Randy Valentine launches his EP in London at the Jazz Café on May 25th with guests General Levy, Cali P, Sherii Ven Dyer and Dionne Reid


PHOTOS BY VERONIQUE SKELSEY